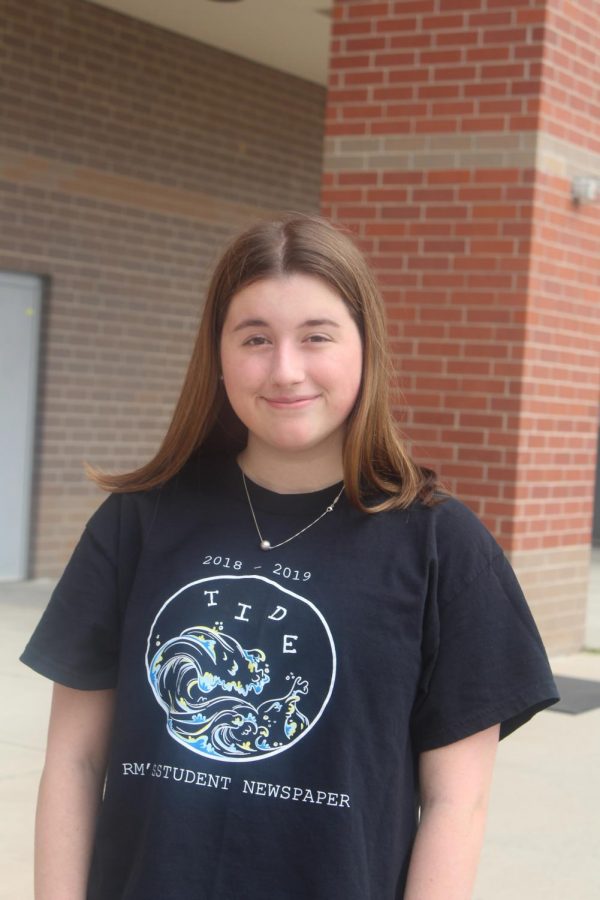 Grace Burwell is so excited to continue her role as the editor of the Tide's first-ever podcast, the TidePod, for her junior year. She
has written for various sections of the Tide since freshman year and is constantly looking to pursue her love of journalism any way she can.
In her free time, you can find Grace baking, hanging out with friends, or watching movies. In the future, Grace hopes to pursue her love of journalism and communications in college and hopefully work for a newspaper down the road. To check out her portfolio, click here. 
Grace Burwell, TidePod Editor
Mar 24, 2020

What to watch over COVID-19 break: Binge-worthy shows for this quarantine

(Story)

Mar 12, 2020

Photo of the Day: Guest Speaker Dan Reed

(Story)

Mar 06, 2020

MCPS remains open after three Montgomery County residents tested positive for coronavirus

(Story)

Mar 03, 2020

One student's foray into the foliage: The 2020 Philadelphia Flower Show

(Story/Media)

Mar 03, 2020

TidePod SGA Segment #2: RM's SMOB Candidate

(Media)

Feb 27, 2020

Student activists Fox and O'Looney stand up for school equity

(Story)

Feb 26, 2020

Trump becomes the third US president to face impeachment

(Story)

Feb 20, 2020

TidePod SGA Segment #1: Discussing Menstrual Equity

(Media)

Feb 18, 2020

"To All the Boys I've Loved Before" sequel is harder to love than original

(Story)

Feb 10, 2020

Espinoza v. Montana case to impact prayer in schools

(Story)

Feb 07, 2020

Photo of the Day: Blood Drive

(Story)

Feb 03, 2020

Debate over Montgomery County boundary analysis continues to spark tension

(Story)

Jan 30, 2020

Student Press Freedom Day encourages students to discuss the future of the First Amendment

(Story)

Jan 27, 2020

Trump becomes the third president impeached in US history

(Story)

Jan 23, 2020

Parking crisis continues to persist in the student lot

(Story)

Jan 21, 2020

TidePod Season 2, Episode 5: RM Students Talk Politics

(Media)

Jan 07, 2020

"Bombshell": Shocking, but not quite explosive

(Story)

Dec 19, 2019

"Knives Out": A sharp-witted murder mystery

(Story)

Nov 19, 2019

"Unbelievable" reflects a gravely believable reality

(Story)

Nov 12, 2019

TidePod Season 2, Episode 3: A Look Into RM's Fundraisers

(Media)

Nov 04, 2019

Overcrowded parking lots cause issues

(Story)

Oct 31, 2019

Scott MacFarlane and Corinne Dufka share journalistic expertise

(Story)

Oct 22, 2019

Still there for you: "Friends" remains popular after 25 years

(Story)

Jun 08, 2019

RM's quiz bowl team places in the top ten at national championship

(Story)

Jun 05, 2019

Bullying and harassment in the halls of RM

(Story/Media)

Apr 25, 2019

New MCR leadership will bring change for Montgomery County

(Story)

Apr 18, 2019

First Watch delights customers

(Story)

Apr 09, 2019

TidePod Episode 4: Fine Lines and Marooned Club Feature

(Media)

Apr 02, 2019

"Five Feet Apart" shines with romance and melancholy

(Story)

Mar 20, 2019

One year after Parkland, the student-led gun control movement marches on

(Story)

Mar 19, 2019

TidePod Episode 3: An In-depth Review of Mr. RM

(Media)

Jan 16, 2019

"Mary Poppins Returns" modernizes a classic but captures its original spirit

(Story)

Jan 03, 2019

RM conducts first active assailant lockdown drill

(Story)

Dec 25, 2018

Here are five festive movies to binge watch over winter break

(Story)

Dec 07, 2018

RM Journalism meets the Newseum

(Story)

Dec 06, 2018

MCPS returns to the 10-day spring break for 2019-2020

(Story)

Nov 06, 2018

Lady Gaga and Bradley Cooper are off the deep end in "A Star Is Born"

(Story)

Oct 25, 2018

RM's new International Film Club shows "Dancing in Jaffa"

(Story)

Oct 05, 2018

Voter registration drives arrive at Montgomery County high schools

(Story)

Nov 29, 2017

Wildlife abounds in new "Wild" exhibit at Nat Geo Museum

(Story)

Oct 31, 2017

Students consider differences between public and private school theater programs

(Story)