One student's foray into the foliage: The 2020 Philadelphia Flower Show
March 3, 2020
Last Saturday, I stepped inside the full-to-the-brim Pennsylvania Convention Center for the 2020 Philadelphia Flower Show, an event I had not heard of or known anything about until recently; coincidentally, it was also my first time visiting Philadelphia. I went with my mom, aunt, grandmother, and cousin, all of whom are Pennsylvania natives ‒ my grandmother grew up in Philadelphia, and my cousin lives there currently ‒ so they had much more knowledge of the city and show than myself. The building was so packed, we had to wait in line for nearly half an hour just to get into the show.
From the outside, the convention center does not look like anything remarkable, and until you get to the second floor of the building, the main lobby isn't very telling of any special event either. Where were all of the flowers? After waiting in line for a show that I knew nothing about, I definitely didn't anticipate the sheer size or contents of the giant, stadium-sized hall in which the flower show took place. Prior to this, I didn't know what a flower show was, let alone the history and popularity of this one.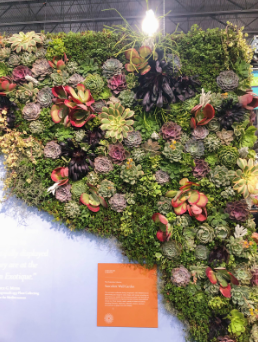 The Philadelphia Flower Show, which is run annually by the Philadelphia Horticultural Society, was started in 1829, and hosts competitions amongst landscapers, horticulturalists, botanists, and green thumbs alike. This year, the show is taking place from Feb 29 to March 8. According to the Philadelphia Flower Show's website, it is "the nation's largest and longest-running horticultural event," which was evident as soon as I walked in. 
Different sections and exhibits in the room were dedicated each to a specific plant or flower, ranging from tulips and orchids to succulents and terrariums, and the diverse variety of colors and displays was overwhelmingly lively.
There are three categories exhibitors can enter in the Philadelphia Flower Show: artistic, design, or horticulture, where the plants or exhibits entered are judged and then receive a ribbon ranging from first place to honorable mention. 
Additionally, each show has a specific theme ‒ the theme for this year's show was "Riviera Holiday," which is a tribute to Philadelphia native Princess Grace Kelly of Monaco, who was a long-time attendee and supporter of the show.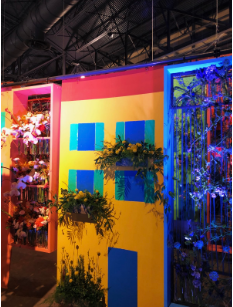 One of the exhibits that stood out the most was a multi-tiered, building front of bright, colorful houses adorned with different types of flowers and decorations that made you feel as if you were visiting a small village on the side of an island in Europe and certainly evoked the "Riviera Holiday" theme.
As someone with little horticultural experience or knowledge, I was very impressed. From the wide range of flowers and plants to the creative designs of the themed exhibits, the show was a pleasant surprise, and definitely a worthwhile Philadelphia attraction. The convention center itself is also located near Reading Terminal Market, a crowded but great place to get a bite of food after seeing the flowers.