First Watch delights customers
Discretely nestled between Spice Xing and Finnegan's Wake in Rockville Town Center, First Watch may not look like much from the outside, but the quality and flavor of the food makes up for the small space. The restaurant serves breakfast and lunch foods from 7 a.m.-2:30 p.m., and the menu is complete with a plentiful array of healthy dishes that appeal to all.
The restaurant's trademark is freshness. The ingredients are locally grown and made to order, and nearly everything is made entirely from scratch. The interior of First Watch is warm and inviting, with big booths and windows. The service is also great, and all of the people who work there seem genuinely happy to help their customers. However, the restaurant is a very popular and busy spot, so make sure to get there early for breakfast; otherwise, the wait time can be more than an hour long.
First Watch incorporates new dishes every season. For spring, the specials include a "Million Dollar" bacon plate, an Asian pork belly breakfast bowl, smoked salmon tzatziki toast, lemon blueberry quinoa pancakes and a "Spring Clean" green juice with apple and celery. Aside from the seasonal additions, the menu is extensive, but a familiar selection of classics appeal to newer diners.
The Traditional and Trifecta breakfast platters are both customizable and include different styles of eggs, bacon, a waffle or pancake, or toast and roasted potatoes. The menu encourages customers to choose their preferred style of eggs, as well as other types of breakfast meats and grains. In addition to classic breakfast plates, there are many other different egg dishes, like eggs benedict and omelettes. Also on the menu are diverse options like the breakfast tacos and farmhouse hash, which are both chock full of veggies and great for fans of savory breakfasts.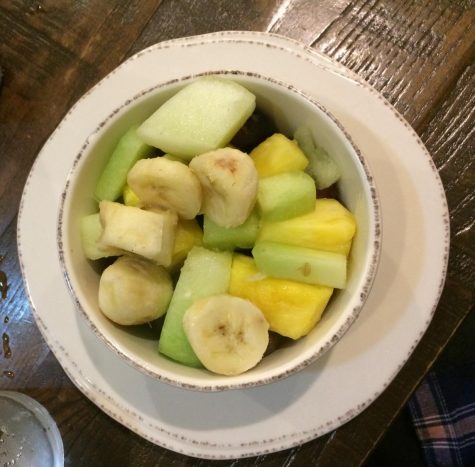 Freshman Ayellet Aharonovich enjoys the food and service at First Watch. "Meals usually range from $10-$15 so it's nice to go out once in a while. But the quality of the food makes up for the cost," Aharonovich said. While some items on the menu might be pricey, they are certainly delicious.
The "Healthier Side" section of the menu includes classic avocado toast, a personal favorite, as well as oatmeal and granola. If you enjoy a sweeter breakfast, order the AM Superfoods bowl, which includes chia pudding, fresh fruit, jam, granola and almond butter toast. If you're looking for a more filling breakfast option that still satisfies a sweet tooth, the standout item of First Watch's menu is certainly the lemon ricotta pancakes. The pancakes are so fluffy and delicate, yet satisfying when paired with lemon custard and strawberries. There are other griddle-made items, like a traditional Belgian waffle, multigrain pancakes and Floridian French toast, but the lemon ricotta pancakes are the winner in this category.
Overall, First Watch is a great choice for a fresh, delicious meal. The restaurant serves lunch foods like sandwiches and salads, but the main attraction of this local spot is its breakfast. Walking into the restaurant, one immediately feels at ease. Familiar flavors in many of the restaurant's traditional dishes and seasonal specials remind diners of a home-cooked meal in an upbeat, warm environment. Although some of the dishes are slightly more costly than others, it's hard to put a price on a comforting meal.