"Knives Out": A sharp-witted murder mystery
From just the opening scene of Rian Johnson's "Knives Out," you know you're in for a treat. The sprawling landscape of the Thrombey family's dramatic Victorian mansion (which one character compares to a real-life Clue board) complete with two large dogs running across the foggy yard hints at the suspense and intrigue of the film. Right off the bat, "Knives Out" presents itself as a classic whodunnit, but it's more than what audiences might presume. Avoiding traditional cliches and overused tropes of the mystery genre, Johnson does a stellar job incorporating duality in "Knives Out" by weaving in modern elements, such as subtle commentary on hot-button political issues and not one, but multiple surprising plot twists. This combination makes "Knives Out" a more contemporary addition to the mystery genre and genuinely interesting for audiences of all generations.
The film starts with the death of famous murder mystery novelist Harlan Thrombey (Christopher Plummer), who is found, throat slashed, in his study. Was it a murder, or a suicide? If you think you know the answer, you're wrong ‒ Johnson keeps audiences guessing until the very last minute of the film ‒ and like any good mystery, the truth is always multifaceted. Harlan's wealthy, privileged family, played by an array of familiar names such as Jamie Lee Curtis, Chris Evans, Toni Collette, Katherine Langford, chaotically attempts to get to the bottom of their patriarch's death. The nails in the coffin of the Thrombey family and key players throughout the film are brooding, smooth-talking Southern detective Benoit Blanc (Daniel Craig), who is hired anonymously to help solve the crime, and Harlan's empathetic nurse and close confidante Marta Cabrera (Ana de Armas).
Marta's character is relevant for many reasons beyond her actual involvement in the crime, and Johnson's choice to make her the center of the film is a smart one. Johnson incorporates the perspective and struggles of a woman of color working for a materialistic family whose underlying prejudice reveals itself nastily over the course of the plot. "Knives Out" also tackles the complicated issue of immigration: Marta and her family are immigrants, and her mother is still undocumented, something Marta has reluctantly shared with the Thrombeys. The Thrombeys threaten Marta's family's citizenship and even her race, but enduring their disrespect, she remains kind towards them. Marta is open-minded, compassionate, and hardworking, qualities that the Thrombeys constantly challenge, and she is never truly considered part of the family, despite her selflessness and dedication. Another element of Marta's importance is her friendship with Harlan. Johnson clarifies that Marta is more than just Harlan's caretaker; she eventually becomes his best friend. Harlan differs greatly from the rest of his narrow-minded family and recognizes Marta's altruism, which causes monumental problems for the Thrombeys when it becomes clear that Harlan valued Marta more than any of his actual relatives. 
There are several elements of sheer shock, countless nuances of the Thrombey family's dysfunctionality, and small details that eventually reveal the cause of Harlan's death. Each character is cast and played perfectly, and Johnson's cinematography keeps you on the edge of your seat for the entire film. There's no slow build-up or lagging plot; from the beginning, "Knives Out" is entertaining in every way. The jaw-dropping twists and turns, humorous subtlety of the characters, and thoughtful plot make "Knives Out" one of the most interesting, suspenseful movies to watch this year. Yes, it's a murder mystery, but it's also a modern commentary on the game of life: who has advantages, who will discover the cheaters, and who will win. "Knives Out" concludes with a satisfying message: kindhearted, moral people will eventually triumph, and the truth will always reveal itself.
About the Contributor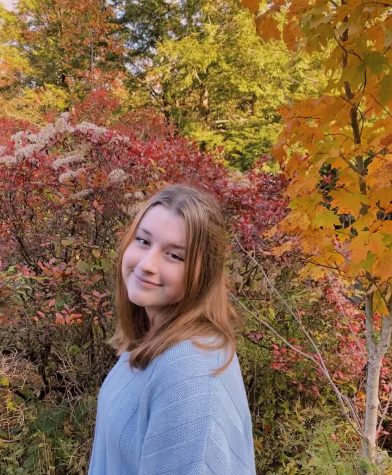 Grace Burwell, Editor-in-Chief
Grace Burwell is thrilled to be one of the Tide's editors-in-chief for the 2020-21 school year. Before becoming an EIC, she served as the first-ever editor...