"To All the Boys I've Loved Before" sequel is harder to love than original
February 18, 2020
After almost two years of anticipation, I, along with many other hopeful fans, sat down to watch "To All the Boys: P.S. I Still Love You," the sophomore installment of the "To All the Boys I've Loved Before" (or TATBILB) film series. The series, based on the young adult novels of the same name written by Jenny Han. "P.S. I Still Love You" and directed by Michael Fimognari, was released on Feb. 12 and hit screens just in time for Valentine's Day. 
When the first TATBILB film was released in August 2018, it drew in millions of views worldwide, making it one of Netflix's most successful original films to date. Though Netflix did not reveal the exact numbers, it has most likely garnered upwards of 80 million streams. The series has since been turned into a franchise, and the third film, "To All the Boys: Always and Forever, Lara Jean," is already in production and expected to round out the trilogy next year.
The TATBILB series has skyrocketed in popularity among teenagers because of the film's swoon-worthy plot and characters. It's no stretch to say that it has turned young actors Lana Condor and Noah Centineo, who play hopelessly romantic, introverted protagonist Lara Jean Song Covey and popular, dreamy love interest Peter Kavinsky respectively, into an overnight sensation. The pair's on-screen dynamic has gained them national recognition: Centineo, who was previously most well-known for his role as Jesus Foster on "The Fosters," has been dubbed the "internet's boyfriend" and starred in recent movies "The Perfect Date" and "Charlie's Angels," while Condor, whose cinematography was fairly unknown before her role as Lara Jean, has also grown substantially famous since and landed roles on other programs such as the new Syfy show "Deadly Class" and drama film "Summer Night."
So, why do people love "To All the Boys I've Loved Before" so much? And does the long-anticipated sequel live up to the original? The first film, which was directed by Susan Johnson, focuses on the beginning of Lara Jean's story‒how her precocious sister Kitty (Anna Cathcart) sneakily mails out a handful of love letters Lara Jean wrote to old crushes, which results in her and Peter pretending to be boyfriend and girlfriend for social leverage. In the end, Lara Jean and Peter's "fake" romance turns into a real one, an overused, but somehow still cute trope. 
In addition to Centineo and Condor's undeniable chemistry, audiences can easily relate to the main character. Lara Jean's shy, socially awkward personality is one that many teenagers empathize with. Take that and add a heartthrob jock, some old love letters, and a fake relationship that slowly morphs into something real, and you've got a hit. Lara Jean and Peter's story is a trope that audiences will enjoy watching unfold; the characters are slightly cliche, but that's half the appeal of a rom-com. 
From Peter twirling Lara Jean around by the back pocket to the sweet letters the two write to each other, "To All the Boys I've Loved Before" is packed with romantic moments and is perhaps a more fitting Valentine's Day binge than its sequel. Yet, despite having plenty of quintessential rom-com qualities, the first film also has substance, which is part of why the story has become so beloved. 
"To All the Boys I've Loved Before" does a wonderful job balancing the superficial reality of high school with more complex adult issues. Lara Jean and Peter's complicated family dynamics, as well as the character development they go through in their own relationship, remind audiences that high school students struggle with love, too. Lara Jean grapples with her lack of a mother figure (her mother died when she was younger) and Peter with his divorced parents and the absence of his father.
In "P.S. I Still Love You," these realities are mostly ignored, so the sequel lacks the same heartwarming verve of its predecessor. Save for a few amusing moments between Lara Jean and Kitty, as well as their father (John Corbett)'s awkward but sweet possible relationship with a neighbor, the Covey family barely makes any appearances. Margot, the third Covey sister who goes to college in Scotland, is absent.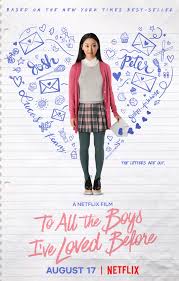 Instead, "P.S. I Still Love You" chooses to focus solely on the obstacles in Lara Jean and Peter's relationship, specifically the character of John Ambrose McClaren, one of Lara Jean's old crushes and letter recipients, played by Hamilton star Jordan Fisher. When John coincidentally shows up years after the two were crushing on each other, it needless to say causes problems in Lara Jean's love life. The appearance of John Ambrose has alienated TATBILB fans and caused a split in loyalty between Lara Jean's two paramours, and this "Team Peter" vs "Team John" dynamic is clearly the focal point of the film. 
Though the plot of "P.S. I Still Love You" is a big part of its appeal to fans, there are some points during the film where Lara Jean's love triangle seems more like something on the Hallmark channel. Lara Jean and Peter's seemingly perfect dates, the Cinderella-esque Snow Ball and Lara Jean being wooed by multiple guys are not experiences that many teenagers would call typical.
That being said, "P.S. I Still Love You" certainly has its moments. A few scenes were delightful and heartwarming, such as Lara Jean's scrumptious stress-baking and a rediscovered bond with an old friend that emphasizes the importance of platonic love, a message that gets slightly lost but still shines through at times. The film grounds itself in a more serious reality when Lara Jean's friend Kenny points out that she's lucky to be able to choose between Peter and John because LGBTQ+ students don't necessarily have the same kinds of romantic opportunities in high school Another plotline that stood out was Lara Jean's friendship with glamorous, wise ex-stewardess Stormy, whom Lara Jean meets through volunteering at her retirement home. The relationship between the two is a sweet concept, yet regrettably underdeveloped. At the end of the film, I didn't care as much about who Lara Jean ended up with as I did about hearing more of Stormy's life experiences and advice. 
Though Fimognari could have made this film much more nuanced and relatable for its target audience, it is still an enjoyable, lighthearted Valentine's Day flick. Does Lara Jean choose familiar Peter or alluring John? That's something you'll have to watch for yourself, but don't set your heart on loving "P.S. I Still Love You" as much as the original.