Voter registration drives arrive at Montgomery County high schools
October 5, 2018
This year, MoCo for Change, the MCR SGA, and the Montgomery County Board of Elections are holding voter registration drives at all Montgomery County high schools in hopes that students will sign up and register to vote. The drive took place at RM from Oct. 1 to Oct. 5 during the school day.
In Maryland, teenagers cannot vote until age 18 but may register at age 16 as long as they know their social security number. In addition to the voter registration booths, students can register online at www.vote.org. The site includes other information and services such as checking registration status, ordering absentee ballots, finding poll locations, and receiving election reminders.
Other groups such as the Women's March Power to the Polls and Rock the Vote have also offered online voter registration services. Through social media, meetings, drives, and rallies, these groups are encouraging voting in preparation for the midterm elections, which take place on Nov. 6 this year. The midterms are the driving force behind the push for voter registration.
"County-wide, we have an estimate of around 2,000 [people registering]," sophomore Anand Chitnis said. "Just having the ability to register that many people to vote will make them much, much more likely to vote in November."
Likewise, junior Tyler Guthrie said, "It all comes down to the numbers." Both Chitnis and Guthrie, who are leaders of RM's Gun Control Club, emphasized the importance of registering in preparation for future voting.
It's #TurnoutTuesday! We're halfway through our voter registration drive with @MCRSGA, and we've registered up to 1,000 new young voters over the past 2 weeks! Check the graphic to see which schools we're at this week. #GetOutTheVote pic.twitter.com/XPDyohxxeJ

— MoCo Students For Change (@moco4change) October 2, 2018
"We're the next generation, and it's going to be our responsibility to keep our country alive," junior Lydia Levy said. "When they [students] see that actual, physical voter registration booth with teachers that they recognize, with students that they respect, with official signs and things like that, I think they sort of get a sense of how broad voting really is, and how key voting really is. They [the voter registration drives] have done an incredible job of pulling students in from all different corners of the school and all different parts of the county to actually come out and exercise their rights."
Voting itself is a very important issue to Levy, who is a co-president of RM's Super Political Activism Club. "[Voting] is the centerpoint of our democracy, quite literally, but also because it's what keeps us all going… how we vote will directly impact the direction our country goes," Levy said in regards to voter turnout. While teachers do a good job of encouraging political knowledge, Levy explained, "Students should take it upon themselves to be aware of what's going on around them."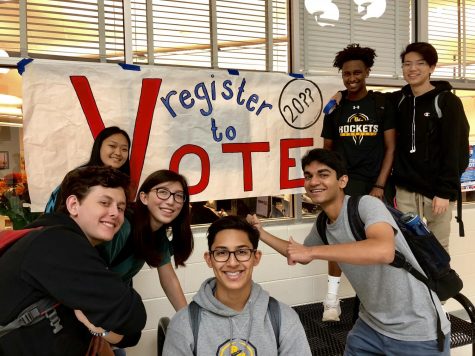 Many students believe that registering is one of the most important things 16-year-olds should do. "I think it's really cool and important that we're registering this many people to vote, but I think one of the more important ideas is just telling people why it's so important to vote, and that this is the first step in the grander scheme of things," sophomore Claire Gelillo, another leader of RM's Gun Control club, said. This cause is exactly what the voter registration drives are aiming to accomplish come Nov. 6.