Netflix's 'Hollywood' balances glitz and glamour with real world issues
Warning: this review contains spoilers.
"Hollywood," the newest drama miniseries from "Glee" creators Ryan Murphy and Ian Brennan, is nothing short of entertaining. From the cast to the costumes to the story itself, this show enthralls viewers with a glitzy retelling of the post-World War II film industry. "Hollywood" premiered on Netflix on May 1, and is only seven episodes long. The season flies by quickly, and leaves audiences with an ending that is quite literally picture-perfect ‒ the last episode of the show is called "A Hollywood Ending." Not only is "Hollywood" aesthetically enjoyable, but it also poses questions of how the film industry might be different if minority groups were not held back by their race, sexuality, or gender, while still keeping the historical accuracy of the time period.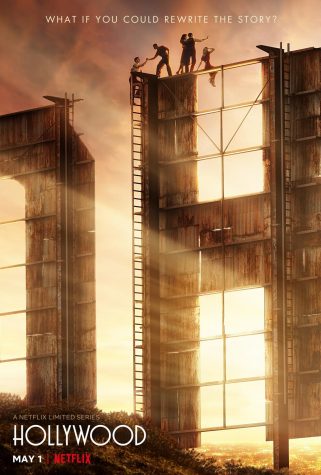 One thing about "Hollywood" that works very well is its star-studded cast, all of whom play their characters ‒ some real, some fictional ‒ with exuberance and verve. Darren Criss plays optimistic film director Raymond Ainsley, who is half-Filipino and passes as white. Recognizing this privilege, Raymond wants to use his position to change representation in the film industry for the better. Laura Harrier plays aspiring lead actress Camille Washington, a black woman whose previous roles were limited to stereotypical typecasts like maids. Raymond, who is Camille's boyfriend, encourages her to try out for the lead role in a new film he is directing, based on the true story of actress Peg Entwhistle, who jumped off of the Hollywoodland sign in 1932. Camille lands the lead, and becomes the first black woman to ever play a leading role in a major motion picture ‒ and later, the first to win an Oscar for it.
Other characters in the story include the screenwriter of "Meg," Archie Coleman, played by Jeremy Pope. Archie, who is black and gay, aspires to be one of the best screenwriters in Hollywood. Despite the progressiveness of his friends and coworkers, Archie's relationship with actor Roy Fitzgerald (Jake Picking) is the subject of homophobic backlash from the public. While Archie and Roy's openness is encouraging to see, this is one of many examples where "Hollywood" takes creative liberties. The real Roy ‒ who would later change his name to Rock Hudson and become one of the most popular male actors of old Hollywood ‒ spent the majority of his life in the closet, and was pressured to present himself as straight to succeed in film. Hudson, along with many other actors of the time, was taken advantage of by his predatory agent Henry Willson, played in "Hollywood" by a maniacal, sarcastic Jim Parsons. Though Rock Hudson's story is altered in the show, Willson's behavior of abusing young male actors is still very prominent.
David Corenswet plays war veteran and aspiring actor Jack Castello, who lands the romantic lead opposite Camille Washington in "Meg." Jack also works to make ends meet at the Golden Tip, a gas station that doubles as an escort service, run by failed actor Ernie West (Dylan McDermott). The Golden Tip is actually based on a real-life gas station and secret brothel run by Scotty Bowers. Later in the show, Jack begins a romance with actress Claire Wood, played by Samara Weaving. Ace Studios, the film studio producing "Meg," is run by Claire's stubborn father, Ace Amberg. When Ace has a heart attack, his wife Avis (Patti LuPone), a lonely former actress, takes over the studio. It is with Avis's green light and the help of driven studio executives Dick Samuels (Joe Mantello) and Ellen Kincaid (Holland Taylor) that the studio begins production on "Meg."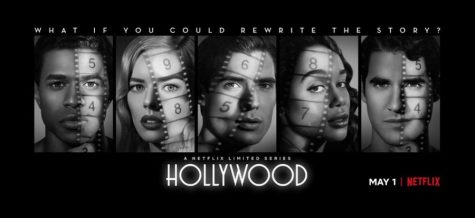 The story of "Meg" itself, while based on the real life tragedy of Peg Entwhistle, is rewritten by Raymond and Archie. After casting Camille as the lead role, they change the name of the film, formerly titled "Peg," to "Meg," and write an alternate ending. Peg Entwhistle is now Meg Ennis, and instead of jumping off of the Hollywood sign to her death, Meg ends up climbing down into the arms of her boyfriend and walks away unharmed. The motivation behind this is simple: Raymond and Archie wanted to give audiences a happy ending. Not only that, but they wanted to portray Meg as a role model, an actress who, despite the obstacles in her career, ends up changing her own path. 
"Hollywood" also has its fair share of cameos, ranging from real-life actresses like Hattie McDaniel (Queen Latifah), Vivien Leigh (Katie McGuinness), and Tallulah Bankhead (Paget Brewster) to prominent figures in the entertainment industry like George Cukor (Daniel London), and even Eleanor Roosevelt (Harriet Sansom Harris) makes an appearance. One of the most notable supporting characters in "Hollywood" who is based on a real person is Anna May Wong, played by Michelle Krusiec. Raymond promises Wong a role in "Meg," wanting to give the actress another chance at an Oscar after Wong was robbed of Best Actress for the film "The Good Earth." Wong, who gave an amazing screen test for the role of O-Lan, was pushed aside for a white actress, Luise Rainer, who wore yellowface in the actual film. The inclusion of the stories of actors such as Anna May Wong are a large part of what makes "Hollywood" noteworthy, and the plot goes beyond the dazzling lights of Los Angeles to examine the effects of deep-rooted oppression of people of color in film.
The show's romanticism of Tinseltown does not completely disregard the realities of the time period; before "Meg" is green-lit, studio executives attempt to bribe Archie in order to make sure nobody finds out that the film was written by a person of color, Archie and Roy are booed at while holding hands in public, and Camille and Raymond are harassed by white supremacists with racial slurs and a burning cross in their yard. The executives at Ace Studios are threatened by Southern theaters that won't premiere "Meg" because the film stars a black woman in the lead role. At the Oscars, Camille is told that she is not allowed to sit in the theater with the rest of the actors because she is black, to which she demands her rightful place in the front row. 
"Hollywood" is a commentary on many prominent issues in the film industry that are still glaringly relevant today. Racism, homophobia, sexual abuse, and more are all weaved in through the portrayals of actors, filmmakers, and Hollywood magnates. The first few episodes are ultra-glamorized and superficial, and it isn't until about halfway through the season that the story becomes significantly more nuanced and compelling. The show is a complete retelling of Hollywood's history, so it is fantastical and unrealistic at times, but it is also that dreamlike naivety that makes it so interesting and enjoyable to watch. While its aspirations may seem too good to be true, "Hollywood" is entertaining and thought-provoking. Each character has their own important, layered story, and will inspire you to learn more about the real lives of the prominent individuals of the era. Through its captivating rendition of a monumental period in the history of film, this show will leave you dreaming about what Hollywood might have been like with a few important changes to the narrative.