Debate over Montgomery County boundary analysis continues to spark tension
February 3, 2020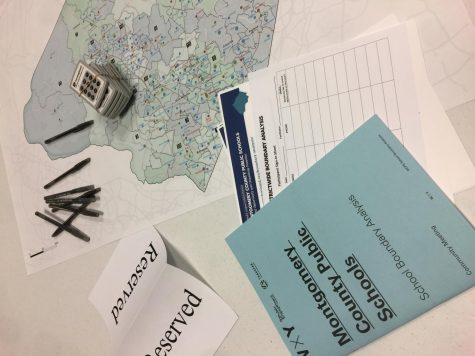 On Jan. 14, a crowd of 350 parents, students, and community members of Montgomery County gathered at Northwest High School in Germantown, MD, at the fifth of a total of six open community meetings on the topic of the District Wide Boundary Analysis being conducted by Montgomery County Public Schools.
In a letter sent out in December 2019, Board of Education president Shebra Evans and Superintendent Jack Smith wrote, "Over the last 20 years, MCPS student enrollment has increased by more than 30,000 students […] The goal of the districtwide boundary analysis is to help MCPS better understand the impact existing boundaries have on school overcrowding, student diversity and proximity to school." 
This letter encapsulates the three points emphasized in the study: utilization, diversity and proximity. The boundary analysis, which is being conducted by an architecture group, WXY Architecture + Urban Design, will have three phases, the first being comprised of six community meetings at local schools. Phase Two, which is labeled as "Testing Ideas and Metrics" on the MCPS website, is set to occur in the late winter and spring of 2020, and will also include area-wide open public meetings and smaller targeted meetings as well.
Of the six open public meetings being held in phase one, the meeting at Northwest was more productive in comparison to others. During a particularly heated meeting at Julius West Middle School in early December, a Montgomery County resident claimed that it was "one of the most hostile rooms [they] had ever been in," according to an article by the Bethesda Beat. 
During the Northwest meeting, audience members participated in a live polling survey to get a sense of demographics in the room. 29 percent of the people present were from the Bethesda, Chevy Chase, and Potomac area, while 23 percent were from the Poolesville, Dickerson, Boyds, and Germantown area (where Northwest High School is located). Additionally, about 60 percent of audience members identified themselves as either white or Asian. 
To many parents present at the meeting, the results from the live polling survey signified under-representation of various groups. "I don't think these meetings are representative of our entire community, just by looking in the room I can see that there are entire communities that are missing, there are very large pockets that are not here," parent Maria McClure said. "Unfortunately, those are the ones that we are trying to help, and for whatever reason, they are not here, but I hope that WXY is going to honor their commitment to reaching out to the harder-to-reach communities and make sure that their voices are heard as well."
On the other hand, some believe that the meetings are fairly representative despite the lack of presence by certain ethnic groups. "We've got big crowds at all the meetings, and so I think most sections of the county have been involved," public engagement associate Theo Brown said. "But in terms of racial and ethnic diversity we have not gotten as much as we would like, say of Latino participants, there are a growing number of students in the schools, and we've been low in terms of that. I think that's the main area."
Certain questions during the live polling asked attendees to rate their agreement with a statement on a scale of 1-10 (with 1 being not at all in agreement and 10 being in complete agreement). In response to a question asking if reviewing school boundaries occasionally is a good idea, 48 percent voted 1, resulting in a large portion of the audience clapping, and cheering. 
In addition to the vehement audience discussion, there were multiple moments of backlash against WXY's presentation ‒ during the Q & A portion of the meeting, an audience member asked WXY officials, "Do you think [your data] is going to hold up to litigation in the court?" 
Despite audience confusion and outrage about the possibility of redrawing school boundary lines, the WXY officials running the meeting assured attendees that the goal of the study is not to change the current school boundaries but to conduct an in-depth analysis of them. "The purpose of this study is not to redraw school district boundaries," WXY consultant Kushan Dave stated.
"I think generally, it's been a success," Brown said. "There was a lot of misunderstanding about this process when it started, and people thought that at the end of this we [are] going to draw new lines for the schools, and that's not what's happening."
Parent responses to the Northwest meeting were varied. "I think that there are still some closed minds and that people should just come and listen with an open mind and then make their judgments," McClure said. 
In contrast to more aggressive meetings such as the one at Julius West, the Northwest meeting was much more productive and informational, yet community members still felt that the atmosphere could have been better. "[The audience reaction] was pretty discouraging," parent Janelle Wong said. 
The final boundary analysis meeting occurred on Jan. 23 at Walter Johnson High School, concluding a major portion of Phase One of the MCPS boundary investigation.