Local drive-ins offer a different way to enjoy film during the pandemic
October 19, 2020
The coronavirus pandemic has forced people to find creative ways to enjoy popular activities in a socially-distant manner, and now, many are turning to drive-in movie theaters as a new source of entertainment. Drive-ins allow people to gather with their friends and family while appropriately spaced out in their own cars. This provides a safer experience than typical indoor movie theaters, many of which have closed due to the pandemic.
"I think [drive-ins] are in a prime spot to really expand on business because if we can't get into movie theaters […] this is the chance for drive-ins to step up where movie theaters are kind of falling short now," RM's IB Film Studies teacher Michael Arenas said.
Aside from temporary pop-ups, there are no permanent drive-ins in Montgomery County as of today, but there used to be. Rockville was formerly the home of a popular drive-in that ran from 1954 to 1981. The drive-in was located right next to the Carver Educational Services Center on Hungerford Drive, according to a 2013 WTOP article. 
After the Rockville drive-in closed, Montgomery County residents had to look a little further for an outdoor movie experience. One of the closest permanent drive-ins, Bengie's, located in Baltimore, Md., is a popular hotspot amongst RM staff and students and offers a classic drive-in experience complete with safe pandemic protocols.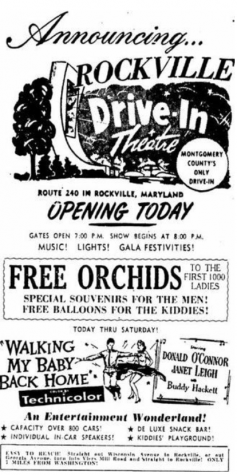 "Bengie's already had adjustments made for coronavirus concerns, each car had their own section and masks were mandatory but the experience remained pretty much exactly the same," RM junior Kira Miller said via text message. 
"In terms of affordability, it was great for families, and had I been closer to Bengie's, I probably would [be] going more often," Arenas said. 
This month, Montgomery County residents have the chance to visit a much closer drive-in theater. MoCo's Founding Farmers, a restaurant located in Potomac, Md., announced on Oct. 7 that they will be offering weekly drive-in movie showings throughout the month of October, and are enforcing appropriate pandemic safety protocols. 
On Oct. 14, the restaurant showed "Jumanji: The Next Level." On Oct. 21, the restaurant will be playing "Field of Dreams," and on Oct. 28, "Hocus Pocus." With limited parking and COVID-19 restrictions, tickets have already sold out for Oct. 28, but there are still openings to see "Field of Dreams" this Wednesday.
Though COVID-19 has changed our ability to enjoy popular activities such as going to the movie theater, drive-ins offer a safer, affordable way to watch your favorite films outside of your home. Many local residents feel that drive-ins are a better option for friends and family to get together while still following COVID-19 regulations.
"It's comforting that you're in your own car with your own family," Arenas said. "I definitely would prefer the drive-in now as opposed to a theater […] even if we were sitting six feet apart, it would still feel kind of weird." 
"I do think they'll become more popular because I know everyone, including myself, misses the classic movie theater experience," Miller said.