Student activists Fox and O'Looney stand up for school equity
There are many student activists in Montgomery County, but Richard Montgomery students Uma Fox and Hana O'Looney stand apart from the crowd. Both Fox and O'Looney have recently been involved in pushing for new, equitable standards and improvements in Montgomery County schools, and are extremely passionate and active about pursuing their goals as student advocates. 
Fox has advocated for a new LGBTQ+ class that will soon be piloted at Montgomery County high schools, while O'Looney for the implementation of feminine hygiene products in all Montgomery County school bathrooms. Both Fox and O'Looney are also involved with multiple advocacy organizations and clubs at RM and across the county and have worked together on activism efforts surrounding school diversity, equality, and climate change. 
Uma Fox
It's not every day that a high school student gets to create their own class, but sophomore Uma Fox embraces this unique accomplishment proudly. Fox, who is the founder of MoCo Pride, an organization focused on promoting LGBTQ+ justice and inclusivity across Montgomery County schools, was inspired by her upbringing to help start and develop Montgomery County's first-ever LGBTQ+ course. "I grew up as a lesbian in a diverse biracial family, so the importance of diversity was instilled in me from a young age," Fox said. "It's been something I've advocated for for a long time." 
It wasn't until early February this year that the course started being developed officially, and Fox's advocacy has led to the class being piloted at 10 MCPS high schools, which will start in the spring of 2021. The elective class will focus on teaching students about the history and importance of the LGBTQ+ community over the years. "It looks at a very comprehensive understanding of LGBTQ+ history, literature, philosophy, culture, current issues, etc, so [it will] keep a more holistic perspective," Fox said.
There have also been challenges in implementing this class. "I was surprised it [got approved], to be honest," Fox said. "It's not frequent that we add new courses, especially late in the season, and I think because of its subject matter we did face some backlash from community members and a little discomfort." 
"
We're all experiencing similar issues despite different contexts, so I think it's important to unite together."
— Uma Fox
While the course will be offered at 10 Montgomery County high schools, RM is not one of them. Still, Fox hopes that it will be added to RM's growing repertoire of elective courses. "[We're] hoping that they will sign on after this first pilot," Fox said. Regardless of where this course will be offered, it will no doubt bring a new, inclusive space for students to learn about the significance and culture of a historically marginalized population.
Fox also speaks out on the importance of diverse and equitable schools. "I grew up going to a variety of different schools [with] many different forms of the student population, and also schools with Title 1, so I've seen the importance of better equitable school funding," she said. Title 1 schools are schools that provide students with financial assistance to support the academic achievement of disadvantaged students. 
In addition, Fox also advocates for issues such as school diversity, gun control, and climate change. To her, these issues are interconnected. "I've worked with people from Poolesville down to Blair on LGBTQ+ issues, on stuff like diversity," Fox said. "I think we're all experiencing similar issues despite different contexts, so I think it's important to unite together." 
Hana O'Looney
It was just last year that sophomore Hana O'Looney began advocating for the implementation of feminine hygiene products in Montgomery County schools, and since then, O'Looney has lobbied for bills, testified in front of the MCPS Board of Education, and much more. 
"It's honestly ridiculous to me that in 2020, menstrual hygiene products are still not being provided in public restrooms, especially in public schools," O'Looney said. "The United Nations and Human Rights Watch have both declared pads and tampons to be fundamental human rights, and it should not be expected from students to come prepared with their own products every day ‒ after all, we don't ask students to carry around their own toilet paper!"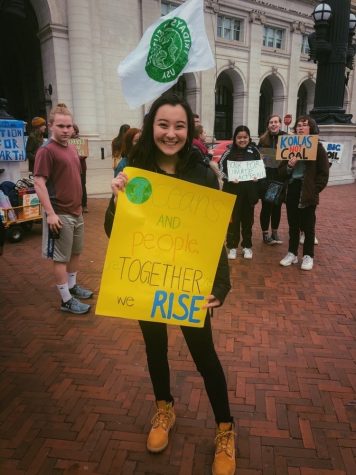 O'Looney has channeled her passion for the issue into advocating for bills that could require schools to provide menstrual products to students. Last year, O'Looney lobbied for House Bill 133. "[It] would have required every public school to provide menstrual products to students free of charge," O'Looney said. Bill 133 did not make it past the Senate, but that has not stopped O'Looney from continuing to push for menstrual equity. 
House Bill 208, which contains the same elements as Bill 133, is currently being developed. O'Looney is working with members of the House on a national level to help pass House Bill 208, as well as testifying in front of the Board of Education on a local level to try and implement these changes in schools. "Students are the largest and most important stakeholder in any educational system," she said. "I cannot emphasize the importance of student testimony enough." 
O'Looney is also involved in leadership roles in the county-wide student government association, MCR-SGA, as well as the female leadership organization MoCo EmpowHER. Currently, O'Looney is planning a menstrual equity campaign with the RM SGA and RM's Girl Up Club, which will be composed of a menstrual hygiene product drive and petition-signing campaign for menstrual equity efforts. 
"The menstrual hygiene products collected throughout the week will be distributed the following week to bathrooms throughout the school to promote awareness for the issue and take initiative at our school level, and we will be collecting letters from students to send to legislators in support of House Bill 208," O'Looney said.  
Both Fox and O'Looney have faced challenges with their advocacy, but they won't be slowing down anytime soon. "Although I think it's common for adults to dismiss student advocacy as inconsequential or even 'cute,' our generation has proven the power of the student's voice in creating tangible change for our future," O'Looney said.
About the Contributor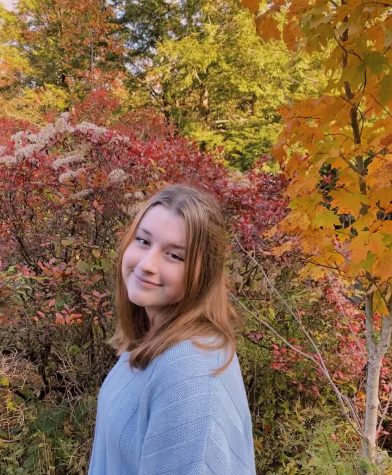 Grace Burwell, Editor-in-Chief
Grace Burwell is thrilled to be one of the Tide's editors-in-chief for the 2020-21 school year. Before becoming an EIC, she served as the first-ever editor...