RM's quiz bowl team places in the top ten at national championship
On Saturday, May 25, RM's quiz bowl team traveled to Atlanta and competed in the 2019 High School National Championship Tournament (HSNCT) against more than 300 other high school quiz bowl teams. The group was split into two teams which both made it to the playoffs, with the A team placing eighth overall, and the B team placing 31st.
Though the A team placed in the top 10, members of the team were still disappointed that they did not win the entire competition. "It was a devastating loss for all of us because we worked really hard and it was just by ten points," said sophomore Abhinav Karthikeyan, who was part of the A team. "We're going to work as hard as we can to win a national championship."
While sophomore Justin Posner also looks to improving scores at future tournaments, he remains satisfied with their overall team ranking. "Although both of [the teams] can definitely do better, and we should try to work to improve next year, we still did well at this tournament," he said.
Similar to Jeopardy, quiz bowl is a trivia game in which teams answer questions using a buzzer. The players on each team specialize in a variety of different topics that play to their academic strengths. Question topics include history, literature, science, arts, religion, mythology, philosophy, pop culture, and sports.
"
It's a pretty demanding extracurricular, but it's one of the most rewarding. Trivia is just something that everyone enjoys."
— Abhinav Karthikeyan
Studying for a quiz bowl competition requires hours of reading packets from previous competitions to learn question types, as well as sharp memorization, repetition, and recollection skills that players from RM's team have learned through constant practice. The RM team practices twice a week after school, as well as outside of school to prepare for their competitions. "Countless hours of reading, flash-carding, and practicing go into becoming a top national team," junior Derek Chu said.
The RM team competes in multiple tournaments each year, including the National History Bowl and the annual HSNCT and Partnership for Academic Competition Excellence (PACE) competitions. While RM's quiz bowl team has only won a national championship tournament once, in 2006, the team holds numerous accomplishments. "Our A team last year came in 9th at PACE and 2nd at the National History Bowl last year, which was very phenomenal," Karthikeyan said. "We hope to build up on our success at PACE [this year], and at future tournaments next year."
Members of the quiz bowl club encourage all students to join, especially those who are interested in academic competitions. "My favorite part about quiz bowl is how it rewards you for the interesting bits of knowledge you pick up here and there," Chu said. "It's really important to have a strong bond with your teammates because everyone has to trust one another completely to have each other's backs."
"I think camaraderie is very important," Posner added. "We're all dedicated to learning and expanding our knowledge." Although the quiz bowl club is not one of the most popular student organizations at RM, the members are close-knit, and they build trust and friendships by preparing for competitions together. "I really wish I had started a year earlier, just because of how amazing the people are and how fun the game is," Chu said.
Karthikeyan also finds the quiz bowl experience to be very fulfilling. "It's a pretty demanding extracurricular, but it's one of the most rewarding. Trivia is just something that everyone enjoys," he said.
About the Writer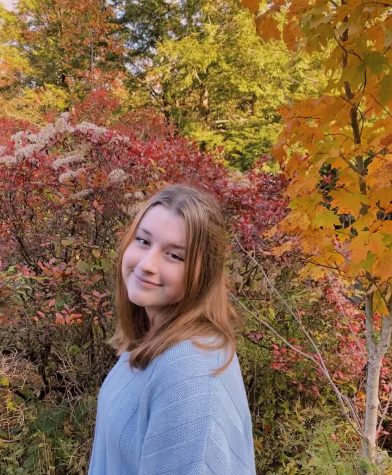 Grace Burwell, Editor-in-Chief
Grace Burwell is thrilled to be one of the Tide's editors-in-chief for the 2020-21 school year. Before becoming an EIC, she served as the first-ever editor...