Hulu's 'Little Fires Everywhere' weaves together complex characters and storylines
April 28, 2020
"Little Fires Everywhere," Celeste Ng's 2017 novel and the basis for the new television miniseries, isn't entirely fictitious. Ng grew up in the Ohio town of Shaker Heights, a suburb just outside of Cleveland. Though the book's characters and plot are fictional, the town itself is real, serving as the inspiration for the book. The TV adaption, starring Reese Witherspoon and Kerry Washington, is set in the '90s and follows two women and their families during a tumultuous time in Shaker Heights. The book was discovered by Witherspoon and Washington, who went to Liz Tigelaar to adapt the novel to screen. The three of them executive-produced the show alongside Ng, as well as Lauren Neustadter and Pilar Savone. The show was directed by Lynn Shelton.
Witherspoon plays an obsessive, type-A mother of four, Elena Richardson. Her character lives in a large, meticulously cleaned mansion with her husband, Bill (Joshua Jackson) and kids. Elena, a part-time journalist at a local newspaper, is a stickler for the strict rules and regulations of the Shaker Heights community—even its ridiculous limit on grass height. Elena ends up renting out her family's duplex to tenants Mia Warren (Washington) and her daughter Pearl (Lexi Underwood), who have moved to the predominantly white neighborhood. Mia, a mysterious artist, is not very outgoing towards the Richardsons, though Pearl ends up becoming friends with the family. The Warrens' vagabond lifestyle is not only off-putting to Elena, but raises lots of inexplicable questions about Mia's life and Pearl's upbringing as the plot develops.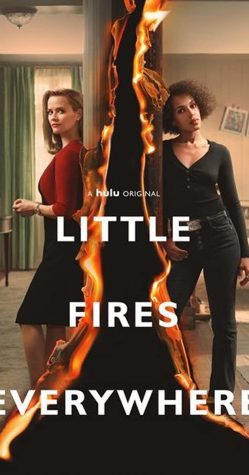 It's clear that Elena's hesitation towards Mia is rooted in more than just her parenting and nomadic lifestyle. Race plays a large part in the interactions between characters; Mia and Pearl, who are black, face backhanded comments, microaggressions, and at times, barely-disguised racist behavior from many people in Shaker Heights, including the Richardsons. At one point in the show, Elena asks Mia to come work in her house as a "house manager," which is a thinly-veiled code for "maid." Though Shaker Heights is presented as a "diverse, progressive suburb," the luster of the town quickly wears off.
In addition to the tense faux-friendship between Elena and Mia, Elena's eldest daughter, Lexie (Jade Pettyjohn), is part of another complicated racial dynamic. Her boyfriend, popular jock Brian (SteVonte Hart), is black, and the pair's relationship examines the complicated issues of white privilege, racial differences, and stereotypes. Lexie, who has her heart set on attending Yale University, is faced with a question about hardship on the application essay. Lexie—who grew up with immense privilege and no serious life challenges —steals Pearl's experience of being denied from taking advanced classes at school because of her race and paints it as her own for the essay. This causes significant problems for Lexie's relationship with Brian, and affects her character's decisions down the line.
Lexie is not the only troubled teen in Shaker Heights. Elena's other daughter, Izzy (Megan Stott), grapples with feeling out of place in her family and being ostracized in school. Izzy's struggles with her sexuality are a large part of why her family and friends alienate her. Though her parents are supportive, for the most part, Elena's lack of affection towards her youngest child is mainly because of resentment from her younger years. Elena did not want to have a fourth child, but ended up choosing her family over her career as a budding journalist. She harbors hopes of a different life, which is something she still holds against Izzy. Elena's rejection of Izzy eventually becomes increasingly intense, and this contributes to major conflict in the Richardson family.
The other two Richardson children, Trip (Jordan Elass) and Moody (Gavin Lewis), become caught in a love triangle with Pearl, causing problems for their friendships. Pearl and Izzy have a unique relationship with each other's mothers; Pearl becomes entranced by the Richardson's wealthy, settled life, and befriends Elena, while Izzy longs for the simplicity of Pearl's life, and starts working as Mia' studio assistant. The relationship that both Pearl and Izzy have with their parents is also reflective of Elena and Mia's lives, and their younger selves.
And then there's Mia's enigmatic past. Though Elena is a flawed character, her instinct to dig deeper into Mia's history and look past her secretive exterior reveals a lot of important, influential information. Mia's story is twisted and intricate, and her secrets have a huge impact on all of the characters, particularly Pearl.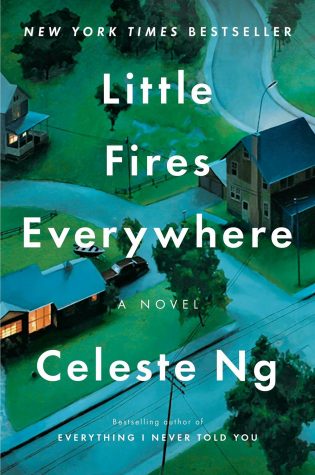 These tense relationships come to a head during the turning point of the show: the adoption of Chinese-American baby May Ling Chow—named Mirabelle by her adoptive parents—and the successive custody battle. May Ling's mother, Bebe Chow (Huang Lu), is an undocumented waitress at a local Chinese restaurant where Mia also works. Bebe, who was suffering from postpartum depression and unable to care for May Ling, abandoned the infant at a fire station. Months later, the McCulloughs, a wealthy, white family and friends of the Richardsons, are going through the process of adopting May Ling when Bebe fights to get custody of her daughter.
There are many factors in the adoption that add to the weight and nuance of the issue. The McCulloughs tried to get pregnant for years, and the wife, Linda (Rosemarie DeWitt), suffered numerous miscarriages. The McCulloughs have more money, while Bebe is an undocumented immigrant. Could they provide a better life for May Ling than Bebe? By abandoning her baby, did Bebe give up her rights as a mother? Would separating May Ling from her birth mother cut her off from her culture and heritage? These questions worm their way into the courtroom, and Elena and Mia take opposing sides of the battle. The custody battle reminds audiences of the tense racial and class politics during the time period that are still relevant today.
Another big question "Little Fires Everywhere" poses is, what qualifies someone to be a mother? Is it only biology, love, or both? This question is explored during the stressful court battle between the McCulloughs and Bebe, and also in Elena and Mia's own lives. The complicated dynamics between Elena, Mia, and their families fuel the destructive fire that burns down the Richardson house at the end of the show.
The last episode of "Little Fires Everywhere" weaves together several multifaceted experiences to paint a full picture of the show's themes. Several characters reach a breaking point, and the conclusion—though it differs significantly from the ending of the novel—is shocking, yet satisfying. This adaption of Ng's novel stays mostly true to the book, with a few details changed. Though some of the original plot points are different, the creators of the show certainly remained loyal to the themes and messages of the novel and emphasized the importance of sparking tough conversations.
One thing "Little Fires Everywhere" hits out of the park is its nuanced characters. Neither Elena nor Mia is ever completely in the right, and neither are their children, family, or friends. Everyone's previous experiences must be looked at from all angles to truly understand the weight of the story. All of the characters in Shaker Heights are flawed, and the show touches upon many morally debatable issues that keep audiences engaged.
Fans of many different genres and stories will love "Little Fires Everywhere," from the stunning acting to the compelling plot to the explosive ending—not to mention all of the 90's nostalgia that gives the show much of its captivating appeal. All in all, it is a very intriguing, eye-opening, and suspenseful show, and a perfect binge-watch to stream now.