Teacher runs for Board of Education
This November, school boards from each county across Maryland will be holding elections to decide their panel members. This means Montgomery County, the largest county in the state, will have three seats up for election out of the total eight seats. While terms are four years, a member can serve for multiple terms, and the majority of the current school board are incumbents, who have the advantage of experience and recognizability in future elections. 
Valerie Coll, a retired MCPS elementary school teacher,  is running for the District 5 seat on the MCPS Board of Education against incumbent and board Vice President Brenda Wolff, who has held her seat for four years. Coll aims to add to the many diverse perspectives already present on the board. With her experience working for MCPS for 32 years teaching grades three and four and her leadership positions in the Montgomery County Education Association, the county's teachers union, she aims to represent elementary school teachers. 
"That just seems to me to be, especially over the past couple years, a real glaring hole in the way that the board has been able to operate, it's a voice that's needed and it's representation that's needed." Coll said in an interview with Bethesda Magazine on the aspect of elementary school teachers and parents being underrepresented in the county's decisions regardless of being the largest population comparative to middle and high schools. 
Elementary school art teacher Gabrielle L Daniell admired Ms. Coll's drive to increase representation. "Percentage wise there are more of them, so they should be represented accurately. I think it is awesome that Valerie Coll is so passionate and wants to make a difference!" She also remarked that a change she was really looking for was more definite guidelines in contracts. "Guidelines" are defined as good practices that principals are encouraged  to follow. However, according to Mrs. Daniell, even though the guidelines are set in place, a lot of the decision making is left to the principal. "So even though the guidelines are the best practices, the principles can change them if they disagree without any recourse." she said. 
Mrs. Daniell further believes that a lack of representation could lead to incorrect decisions that don't represent the best interests of teachers, students and parents.
Elementary school teacher Swarnadevi Gudla agreed with this point. She spoke of how teachers and their families were put at great risk when schools were pushed to reopen and students were brought back into classrooms without teacher input. "Especially after the survey, with 60% saying they don't want to come and 40% saying they do want to come back to school, and the board took the lower side of the survey," she said, adding that this is one of many of the misrepresentations that have occurred pertaining to the pandemic. Whilst both Mrs. Gudla and Mrs. Daniell were not aware of Mrs. Coll running for a seat on the Board, they both wished her luck. "I worked with her on an MCEA committee a few years back and I think she would do an amazing job!" Mrs. Daniell said. The primary is to be held this July 19 and the final election is to be held on November 8.
About the Contributor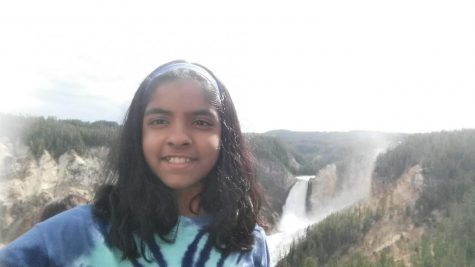 Akshya Mahadevan



Akshya Mahadevan is a sophomore at Richard Montgomery High School. She is very excited to be writing for the RM Tide this year! In her free time,...