PeaceJam club promotes youth advocacy in MOCO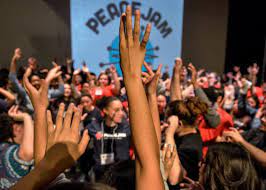 Youth advocacy has risen across the country as a result of various social movements. RM has followed suit with their very own PeaceJam club, a branch off of the larger organization which brings student activists together.  
The foundation was launched in 1996 by husband and wife Dawn Engle and Ivan Suvanjieff with the mission of creating a generation of young leaders committed to change through the inspiration of Nobel Peace Laureates.
The idea came to Suvanjieff after his encounter with young gang members from his neighborhood. While carrying guns, the boys admired activist Desmond Tutu's non-violent approach toward social change. Something clicked in his mind, and he realized there was power in connecting young people with Nobel Peace Laureates as role models for positive change.
The organization has semester projects for its youth members. Junior Elena Parisi is a member of the PeaceJam branch in Montgomery County, along with a few other students from Richard Montgomery. This semester is her fourth semester with PeaceJam. 
"It's a really great community…working together on those things you do get close," Parisi said.
During her first semester, she had the opportunity of creating her own podcast in order to educate the public on environmental protection, focusing on climate change in the Chesapeake region. 
"Our initiative was to make it composting, like reducing the food waste. So we had to find a composting company and we also have to educate the people who are at the conference about composting…" Parisi said. 
In April, Peace Jam held a conference with Nobel Peace Prize Laureate Kailash Satyarthi, an activist from India who has spearheaded a global movement to end child slavery and exploitation worldwide. 
With more than 1.3 million youth members, including the ones here at RM, PeaceJam has spread their message across 41 countries under the direction of 14 Nobel Peace Laureates. 
For more information about the organization, visit https://www.peacejam.org/about.