Magruder shooting spurs ghost gun crackdown
A student at Magruder High School was shot and critically injured in a school restroom in January. That was where a security guard found 15-year-old DeAndre Thomas, the victim, whose attacker was identified as 17-year-old Steven Alston Jr. In the month since the shooting, activists and Maryland prosecutors have taken steps to introduce legislation that would ban the sale of ghost guns across the state.
Magruder called emergency services at 12:57 p.m. upon discovering the incident, initially reporting an "injured person" before realizing the victim's injury was a gunshot wound and summoning police. Magruder then went into lockdown as backup units arrived.
These details were all reported by the Montgomery County Police Department, but many students first heard of the shooting through Twitter. Indeed, it was later discovered that there were student witnesses to the shooting who tweeted about the incident rather than calling for help, posting information about the shooter and the victim.
"It is wiser to get people the help… that they need rather than being the superstar on Twitter that day," said Montgomery County police chief Marcus Jones, who criticized the bystanders' actions but ultimately left the decision of whether to issue them disciplinary action up to the school district. "There is a place for social media. But then there's a time and a place when we need to help our fellow man."
"It's just like pouring salt in the wound," said Karen Thomas, mother of the victim. "It's already devastating enough that he was shot—period—at school. But to hear people tweeting rather than calling for 911? Of course that's super hurtful."
Alston was discovered in a classroom with other students two hours later, having already disassembled his gun. One part was in his backpack, one on the floor near him, and the loaded magazine in his sock. According to prosecutor Carlotta Woodward, Alston shot Thomas with a 9mm handgun, which he brought to school already loaded.
The 9mm handgun Alston used is what is known as a "ghost gun"—a gun that can be bought in separate parts and assembled at home, named as such because they are often untraceable.
Since the Magruder shooting, there have been renewed efforts to keep students safe from ghost guns through advocacy for bill SB 387, which would prosecute anyone buying or selling. These firearms have been used for crimes and violence with increasing frequency over the past year, and 12,000 were shipped into the state in 2021. According to Montgomery County State's Attorney John McCarthy, these weapons have increasingly gotten into the hands of school children, evidenced by seizures of ghost guns on five separate school properties since September. More recently, the weapons were involved in a shooting outside Germantown's Plum Gar Community Recreation Center and the arrest of a 27-year-old outside Gaithersburg High School in possession of a ghost gun—a loaded assault rifle.
Senator Susan Lee, who represents Montgomery County, introduced the bill onto the Maryland Senate floor on Feb. 15. The victim's parents, Karen and Dumba Thomas, are among its supporters.
"Schools must be free from weapons as students must feel safe in order to learn and so anyone with weapons in schools cannot be tolerated," said MCPS Department of Communications Director Chris Cram on behalf of superintendent Monifa McKnight.
"We need to keep guns not only out of our school, but also out of the hands of young people in the community," McKnight said.
Alston has been charged as an adult with attempted second-degree murder, first-degree assault, use of a firearm in the commission of a felony, possession of a dangerous weapon on school property, and posession of a firearm by a minor. He appeared in front of a Montgomery County District Court judge in January and is currently being held without bond.
Magruder administration instituted a half day on the Monday following the shooting in order to provide their students with mental health support and reflect on security. Other MCPS high schools, including RM, stood in support of the Magruder community by asking their student bodies to wear navy and white.
About the Contributor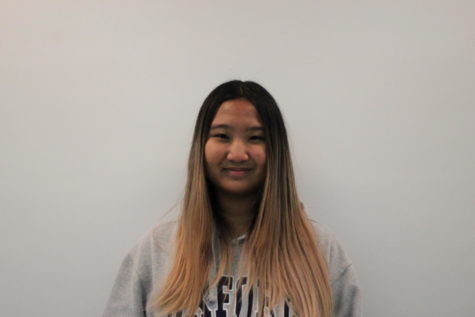 Julianne Cruz, Graphics Editor
Julianne Cruz is delighted to be working her first year as a graphics artist for The Tide. Outside of school, she likes baking cream puffs, making blankets...