A Beginner's Guide to RM Traditions
Pep Rallies
Pep rallies are an important tradition at Richard Montgomery High School that generally happen three times per school year: once in the fall, once in the winter and once in the spring. At pep rallies, students and teachers come together for performances by the cheerleaders, the marching band, poms squad, BOMS and so much more. From fun relays to loud chants, the pep rallies are an exciting way for students to garner school spirit.
"It's just great to see all the students get excited to see all the performances and really fun to perform as part of the drumline," senior Adam Owens said. Overall, pep rallies are an opportunity for students and staff to build community and have fun.
HoCo Hallway Decoration Competition 
In the week leading up to homecoming, students in every grade level can compete to decorate an assigned hallway based on a given theme. Having missed out on so much last year, this year's theme of teen movies was chosen in honor of nostalgic high school memories. Mean Girls for seniors in the social studies hallway, High School Musical for juniors in the English hall, Bring it On for sophomores in math and Grease for freshmen in Science. Decorations usually include colorful banners, giant paintings produced by students and even flashing lights. 
"HOCO decorations are so amazing every year," senior Jodie Ye said. "I'm really looking forward to seeing them at school, and all the hard work people put into it." At the end of the week, staff members will judge each hallway, based on how epic it is, and the winning grade level will be announced at the pep rally on the same day.
Spirit Week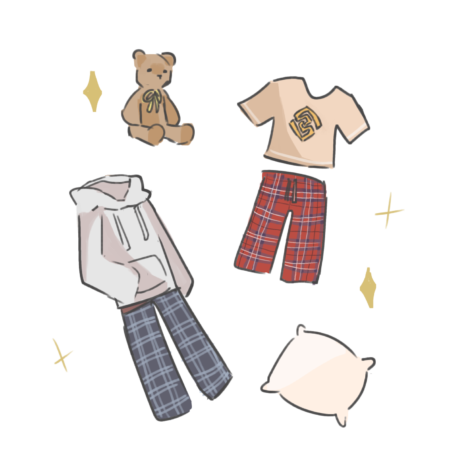 As a long-standing tradition at RM, Spirit Week is a cherished five-day celebration for students. Everyone dresses up for a fun theme every day of the week. "My favorite part of Spirit Week is seeing all of the people participate," SGA president Lulu August said. "Even if you forget, you see all the other people doing it, and it's just a great sense of community."
Spirit Week typically consists of Maryland Mondays, Tropical or Tacky Tourist Tuesdays and Black and Gold Fridays, with a few HoCo-themed and college jersey days sprinkled in between. There is also a special tradition for the seniors on Tuesday where they all wear a special type of clothing. "That clothing I can't say," August said, "but I think all seniors know. I remember every time I saw the seniors dress up, I couldn't wait to become a senior and also participate in that really special tradition." 
BOMS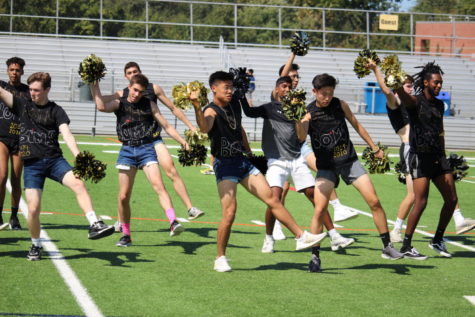 Each year, RM students cheer with laughter and joy as the RM BOMs team takes the field at seasonal pep rallies. This energetic group of RM seniors, usually dressed in the iconic BOM shirts and short-shorts, will hype up the crowd through performing dances with their hilarious moves and lively music. From Tik Tok dances to Mariah Carey songs, the BOMs will dance to anything to make the crowd go wild. "It's pretty fun because it's something that you don't typically see in many high schools," senior and BOMs member Henry Sonti said. 
The BOMs usually spend a month in advance prepping for the pep rallies, with practices led by RM poms captains. This is where they learn their dances and work as a team to prepare for the pep rally at the end of the season. "Just collectively coming together and being a part of a group activity that uses teamwork is really fun," senior and BOMs member Michael Fernandes said. Be sure to watch out for the BOMs and their exciting moves at the next pep rally!
Mr. RM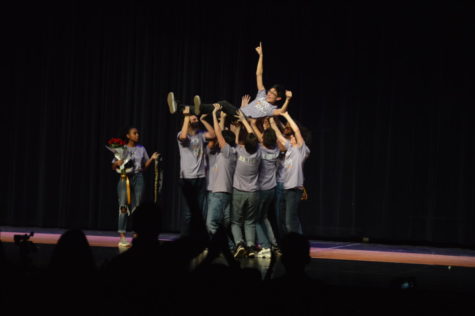 We have all heard of beauty pageants where the best talents and pearly white teeth are shown off in order for one lucky winner to be crowned Miss Universe. While our high school cannot crown someone Miss Universe, it can give the title of Mr. RM! Towards the end of the year, our most spirited and charismatic senior males showcase their abilities and personality in a competition called Mr. RM. 
From a talent competition to a swimsuit contest, the candidates participate in a variety of activities to win over the hearts of the crowd. "It's a good way to end off the year, especially for the seniors," junior Aarushi Gupta said. So if you are looking for an entertaining time full of excitement, make sure to keep an eye out for Mr. RM!
RM Idol 
One of RM's most hyped and cherished events is RM Idol. RM Idol usually takes place in December and this year will most likely be set on the 10th. The idea of RM Idol is similar to that of the popular television show, American Idol. RM students who, after auditioning, will sing a song or perform an instrument in front of a panel of judges in the auditorium. "Who are the judges?" you might ask. Each year a group of around three teachers gets to judge each student's performance and winners get cash prizes, usually consisting of lots of gift cards!
RM Idol is one of the fundraisers to raise money for RM's student magazine club, Fine Lines. "It's really fun. I would definitely recommend going especially to underclassmen since it is a good rm tradition," said Elizabeth Welbeck, editor-in-chief of Fine Lines.
Powderpuff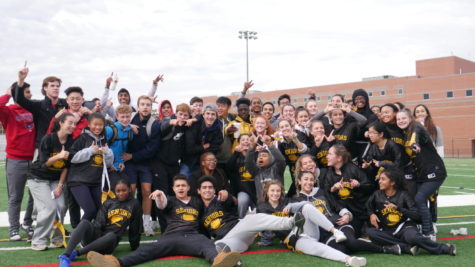 Each year, a league of girls from each class gather together on the field to play flag football and compete in a classwide competition in a tradition known as Powderpuff. Although each class competes against each other to be deemed the Powderpuff champion, the real purpose of Powderpuff is for girls to have fun and get to know each other.
The girls usually practice during lunch, and are coached by players on the RM football team. Practices are an enjoyable way for girls to work on their team-building skills and just have fun playing football. "My favorite part of powderpuff was the practices, where we got everyone organized and had a good time," senior Hazel Hoppe said. At the end of the season, Powderpuff gets together on the football field to play against other classes during lunch, where everyone is welcome to watch. Make sure to check out this year's Powderpuff games, or even join Powderpuff yourself! 
Singing Madrigals 
As the weather cools and frost accumulates, the RM Madrigals come in full force to break the ice and bring holiday cheer throughout the winter season! Following the days until winter break, the RM Madrigals take to the hallways to display their excitement and overall jubilance in the form of Christmas carols during the school day. "Every time they come in, I enjoy their performance completely and profoundly. They're so professional. It surprises me all the time," school secretary Ms. Mary Ayala said.
To usher in a new year, the RM Madrigals offer singing valentines on Valentine's day to help students reach out to friends, teachers and special sweethearts in the form of songs and remarks of admiration and gratitude. "The singing valentines are a fundraiser we do every year where people can pay for us to serenade a friend or lover of their choosing. I like to see the smiles or embarrassment on people's faces when they get serenaded in front of all their classmates," senior Nick Buckovich said. 
One Acts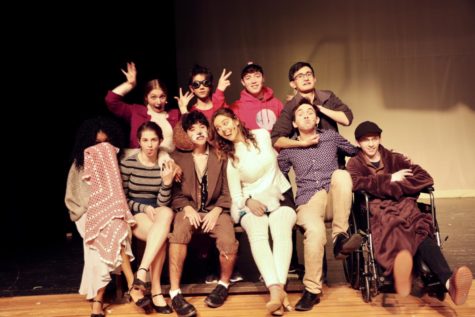 Every year, our largest and one of the oldest clubs at our school, Black Maskers, carries on an over decade long tradition of putting on a show in the winter called One Acts. This year One Acts will be taking place on January 28, 2022. Entirely produced by students, One Acts is a fundraiser for Black Maskers, where students write and direct their own one act plays. "It's really a group effort, but it's so much fun," said junior Allison Howlett, one of the producers of One Acts this year, and the junior member of the drama board.
From costumes to set construction, the students run it all. "One Acts is about building the community… it's a really amazing opportunity to step out of your comfort zone and try something new." Information about participating in the One Acts production will be coming out after the fall play, Blithe Spirit. Everyone is encouraged to check it out, either participating in the actual production, or just to attend the show and support your peers!
Blood Drive
For over a decade Richard Montgomery High School has held the annual Blood Drive. The Blood Drive is run by Inova Hospital, and donating is a great way to help out your community and others! These donations can be incredibly important as each donation can save approximately three lives. In one day about 60-65 pints of blood are collected, meaning that 180 lives can be saved in one day. Both RM students and staff are eligible to donate.
"As somebody who had two transfusions when I was going through cancer treatment, I know first hand the importance of donating blood," said social studies teacher  Mrs. Toni Kellinger. This tradition is run by the SGA, so keep a look out for the Blood Drive this year!