Blair stabbing raises questions about police in schools
On Monday, Nov. 8, a student at Montgomery Blair High School was stabbed by a classmate in the school's parking lot. The attacker has since been charged with attempted second-degree murder, first-degree assault, and reckless endangerment. 
The following day a relative of the suspected student was tipped off by Montgomery County Police that were already on campus for a follow up.  During a search, they were found to have a weapon and were then taken into police custody. 
In response, interim Montgomery County Public Schools Superintendent Monifa McKnight sent out an email to Blair students and parents reading: "In recent weeks, there have been multiple serious incidents on school grounds, including some that have involved weapons. Let me be clear: We will not tolerate weapons of any sort on school grounds. Anyone found to be in possession of a weapon at a school, on school property, or at a school-sponsored event will be referred to the police. Students will also face serious disciplinary action from school." 
The injured student was released from the hospital a few days after the incident. They suffered lacerations to their neck and torso. 
After the two incidents, Blair school officials requested uniformed police officers to stay in the school to assist the school security officials. Blair Principal Renay Johnson sent out an email to parents. "Out of an abundance of caution, Montgomery County Police are on campus to support school security efforts in ensuring a safe environment," Johnson said.  
Earlier this year, Montgomery County Public Schools removed police from schools, as part of a nationwide movement for police reforms, spurred by the highly publicized killing of George Floyd. The beginning of this school year marked the first time in twenty years where police were not present in school buildings. 
In place of police officers, schools throughout the county have implemented School Resource Officers, known as "SROs," in a similarly contentious policy.
In May, the Montgomery County Council approved funding for the retention of 23 school police officers, but rather than patrolling schools, these officers would maintain a presence in the surrounding areas. The council also added $750,000 to the budget to train middle school staff and administrators in restorative justice.
This action still raised complaints from student and activist groups, such as the Montgomery County Defund and Invest coalition. In a public email, the coalition argued that "the… initiative seems designed to build a case for the Community Resource Officer (CRO) model— which simply repurposes School Resource Officers into another harmful role."
The day of the stabbing Fraternal Order of Police (FOP) Montgomery County Lodge 35, "This social experiment to try something different with school safety has failed. There was never a plan in place on how to keep schools safe from removing police officers. Residents need to demand changes and to return police officers immediately." 
The incidents at Blair raise questions about the county's removal of police officers from school buildings.
 In a YouGov poll of more than 9,000 US adults, 45% feel that having police officers on campus makes schools safer for students, 29% think it doesn't have a significant impact on safety, and 14% said this makes schools less safe.
"I don't think that the police should be in schools because the police that sometimes come to school aren't being trained much specifically to work with students or kids," freshman Mia Kee said. "They were trained to work with adults so some of the things they do are not helping in the way it would work for adults. However I do think there should be a certain kind of new security officials that are trained specifically on how to work with students."
"I do not think schools are doing enough for school safety," Richard Montgomery parent Laura Ann said. "They removed the police presence but then did not put in any other resources that really help address problems as they arise. There also does not seem to be any accountability when there are incidents in schools."
About the Contributor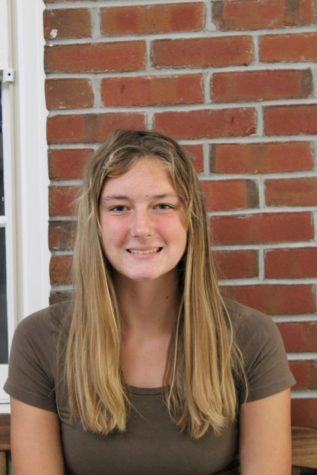 Shelby Roth, Sports Editor
Sophomore Shelby Roth is excited to start her second year on the Tide, this time as Sports Editor. She has previously written for the news section, and...