Autumn activities spur safety concerns
A brisk autumn breeze, sweeping trick-or-treaters from door to door as they compile a lavish stash of candy. Family and friends all gathered around a table a mile long covered with endless amounts of food; turkey, stuffing, mashed potatoes. Halloween and Thanksgiving are timeless autumn traditions for many, but the pandemic has raised many concerns regarding their safety.
A recent survey by the The Kaiser Family Foundation found that 56% of parents felt comfortable sending their children trick-or-treating.This activity raised concern for some parents because, being largely comprised of children under 11, a large portion of the trick-or-treating population was not eligible for the COVID-19 vaccine during Halloween. 
OSF Healthcare recommended the usage of masks for anyone two years old and older who are not fully vaccinated during Halloween gatherings. A Halloween costume mask is not a sufficient tool to prevent the spread of COVID-19. Families were encouraged to be creative in incorporating masks into their childs costume. 
"Let's say your child is going to be a cat, get a mask on which you can draw the cat's nose and whiskers. Somehow try to incorporate it (a mask) into the costume," Lori Grooms, OSF Healthcare Director of Infection Control and Prevention said. 
COVID-19 does not live on surfaces long, so authorities conclude that there is no need to "quarantine" or wash candy gathered during trick-or-treating. It is however advised to have children wash their hands before passing out and eating candy. 
On average 50 million people travel during the Thanksgiving holiday. The Center for Disease Control (CDC) released travel guidelines for the anticipated travel. They advised to avoid long distance travel through public transportation, avoid flights with layovers and to stay in a rental house rather than a hotel.
The CDC has also announced general holiday safety guidelines. They advise everyone who is not vaccinated to wear masks when gathering indoors, if mixing households during celebration take extra safety precautions such as taking a COVID-19 test and remember outdoors is always safer than indoors.
Local counties and businesses placed some cautionary measures about the Thanksgiving holidays.
"Other local school jurisdictions have made the decision to have the week after Thanksgiving entirely remote, which is a significant step to mitigate the risk of infections within the schools. This leadership should be applauded as they are looking at the science and making best practice recommendations to minimize the chance of infections," Vice President of Human Resources for a local Montgomery County business, Christi Davis, said. 
"It's really important to stay in touch with family and friends during the holiday season. As long as people are taking the necessary precautions and being safe it's possible to celebrate," freshman Deepa Shanmugam said.
About the Contributor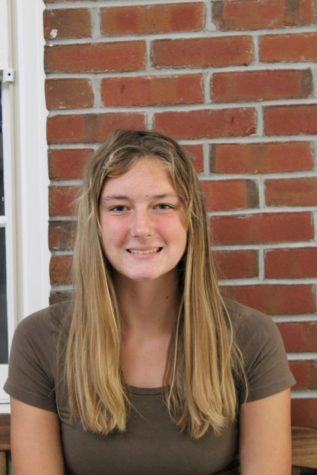 Shelby Roth, Sports Editor
Sophomore Shelby Roth is excited to start her second year on the Tide, this time as Sports Editor. She has previously written for the news section, and...