County Council reduces Ride On fares
On Oct. 5, the Transportation and Environment Committee of the Montgomery County Council introduced legislation to halve the standard Ride On bus fare from $2 to $1. The reduction will go into effect on January 2 of 2022, up until which point Ride On will be free, just as it has been since the start of the pandemic in March 2020.
Aside from indefinitely lowering the basic fare from $2 to $1, the bill also lowers express route fares from $4.25 to $1 and monthly passes from $45 to $22.50.
County Executive Marc Elrich proposed the fare reductions to Council President Tom Hucker in response to the Fare Equity Study, an investigation the Montgomery County Department of Transportation (MCDOT) conducted over the past few months that analyzed how Ride On fares affected their ridership and revenue in the long term, with the goal of improving overall ridership by making public transit more accessible.
The study found that the median income of Ride On users is around $35,000—around one third of the median income of $108,000 for Montgomery County residents in general. In support of these findings, one pre-pandemic chart also showed that over a fourth of riders had an annual income of less than $20,000.
"These pre-COVID survey results are now likely to be even more skewed towards lower-income riders," the Fare Equity Study stated, "as inquiries conducted by peer agencies have shown that riders who have continued to use transit during the pandemic, and who have come back as its effects became less pronounced, are more likely to be lower income and transit-reliant."
"We did not see the drop-off in ridership on Ride On that we saw on Metro rail as many low-income and essential workers needed to get to work," Hucker said. He noted in a media briefing that frontline workers were especially reliant on Ride On services throughout the pandemic.
As a result, MCDOT examined four possible amendments to the existing $2 fare—decreasing it to a dollar, a completely zero-fare system, a zero-fare system for weekends and holidays, and a means-based reduced-fare system.
Of all possible new fare systems, the $1 standard fee (referred to as Scenario C in the Fare Equity Study Findings and Recommendations memorandum from Elrich to Hucker) was most effective in the context of supporting low-income and economically vulnerable residents.
"Scenario C provides the best balance of benefits and costs, and you'll see that these benefits primarily accrue to the populations we are most hoping to support through these changes," Elrich wrote in that same memorandum.
"Reduced fares are a great benefit for the RM community," Magnet Coordinator Joseph Jelen said. The advantages of the fare reduction when it comes to the school are much the same as they are for Montgomery County as a whole, which means they primarily benefit students and families who are in those low-income or economically vulnerable target groups.
"Reducing barriers to mass transit lowers pollution and aids families who are struggling to pay other bills," Mr. Jelen continued. "At the same time, Ride On routes provide a transportation network across Montgomery County to enable students to take part in after-school activities."
While the fare reduction will go into effect come this January, it is only a form of immediate action."Most means-based programs have been implemented on a regional basis," Elrich said in an MCDOT press release announcing the fare reductions. "The proposed reduced fare option for all supports community members now, while keeping the door open for a broader, regional program."
About the Contributor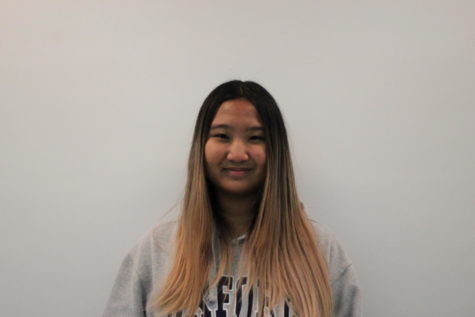 Julianne Cruz, Graphics Editor
Julianne Cruz is delighted to be working her first year as a graphics artist for The Tide. Outside of school, she likes baking cream puffs, making blankets...