Saturdays bring freshness at the farmers market
At nine a.m. Saturday morning, the jury parking lot at the corner of East Jefferson and Monroe Street is already packed. A few disgruntled drivers honk as still more cars pull into the lot, only to circle around and exit fruitlessly without a parking space. Rising above the commotion of cars are the pointed peaks of white tents that signal the bounty everyone has come for: the freshest selection of fruits and vegetables that money can buy, right here in Rockville.
The Rockville Farmers Market is held every Saturday from May through Thanksgiving. Open from 9 a.m. to 1 p.m., it includes more than 23 local vendors selling everything from peaches to pistachio pastries to pickles. One vendor, Jim Unger of Unger's Fruit Farm, has been a part of the market since it began in 1989.
"We're the only original vendor left. Everybody else is new," Unger said. Currently, Unger's farm has a colorful selection of apples, potatoes, beans and peppers out for sale (contrary to its name, the farm does not only grow fruit), along with their homemade apple butter.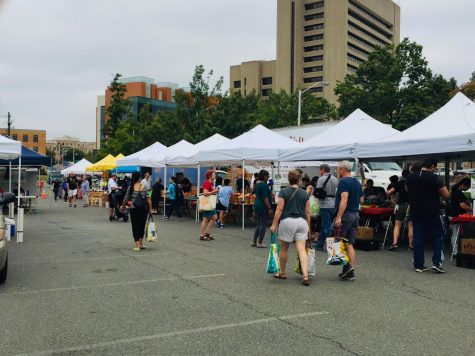 Unger has a faithful following, with some patrons having returned week after week for years. "We've had some people for 30 years coming to the market," he said. He believes that the reason why people keep coming back is simple: the freshness of his produce. "Everything—well, maybe the apples have been picked a week [ago]—but most stuff is picked the day before the market, so they're always fresh … And that's the big seller."
Although some customers frequent the farmers market every week, other buyers have only recently discovered the vast assortment of products available at the market. "We were actually driving somewhere else, and we saw the farmers market, and we pulled around and drove around a couple times to figure out how to get in," first-time shopper Keren Cummins said. Her favorite part of the market is by far the diversity of things for sale.
"The variety's really extraordinary here. The variety of cheese, the variety of microgreens, the variety of mushrooms—this florist here specializes in kind of unusual flowers—so it's all stuff you just can't find anywhere else," she said.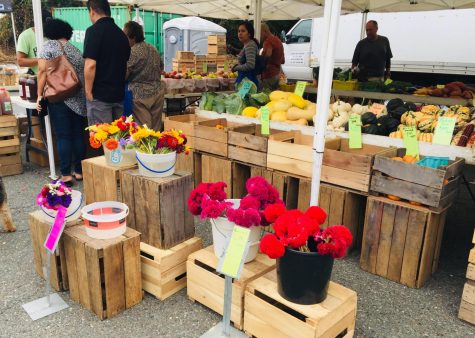 As the aroma of freshly baked scones, roasted coffee and handmade empanadas floats through the air, many shoppers flock towards the various businesses selling prepared goods. Charlie's Empanadas attracts lines with their golden-brown empanadas, the beef, chicken, ham or spinach stuffed inside ready to burst out after one bite. Grandma Vera's Bakery is a mainstay at the market with their gigantic scones a broad mix of imaginative flavors, and both customers and other vendors can be spotted with a steaming cup of Zeke's Coffee in hand.
Wander to the far end of the market, and a pleasant hubbub of conversation will fill the air at Scenic View Orchard's expansive stand. A vibrant spectrum of pumpkins, pears, apples, sweet potatoes and more, as well as a brilliant rainbow of flowers, peers out from underneath multiple white tents while customers mosey around an extensive selection of product.
Scenic View Orchard is another veteran of the market, having been a vendor at Rockville for at least 25 years. In addition to the beautiful fruits and vegetables displayed within their main tent, Scenic View also sells "seconds," produce that may not be quite as pretty as their more photogenic brethren. "We sell [these] at a cheaper rate, and a lot of people like the seconds because they don't care what it looks like. It tastes the same," employee Wayne Masser said.
"
I'm glad to see that there are local farmers still thriving. And I'll support that any day."
— Marci Maclin
The wide variety of goods on sale, the freshness of the fruits and vegetables and the tempting food selection are hardly the only outstanding features of the market. All of the vendors are incredibly friendly and willing to chat about their products, and even give cooking advice and insider tips on selecting the best produce. "Grocery stores kind of stress me out," Nora Lyle, who runs the stand for King Mushrooms Farm, said. "With the farmers market, it's kind of relaxing. You can take your time and get your coffee in the morning, and people will be a lot more helpful to you than at a grocery store. It's more personal."
Linda Miller agrees. She works for Keswick Creamery, whose tent at the market houses at least 20 different kinds of cheese and offers free samples of them all. Unusual cheeses among her selection include hot and spicy Dragon's Breath, soft and crumbly Bovre, and quark, a German-style cream cheese. "I think when you come to the market, you get to talk to the person that was actually producing the product, so it's very intimate—it's not like the grocery store and you have no clue where this milk came from or where this cheese came from," she said.
For many customers, being able to support their local farmers and producers is reason alone to come to the market. Marci Maclin, another first-time visitor, spent time overseas where she saw generations upon generations of the same family farming the same land. She sees this much less in the United States. "But I'm glad to see that there are local farmers still thriving. And I'll support that any day. I'll drive miles out of my way to get fresh produce," she said.
About the Contributor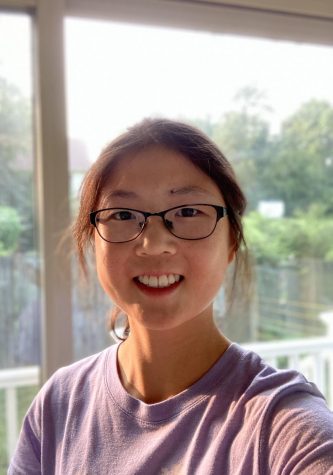 Victoria Tong, Features Editor
Victoria Tong is thrilled to continue serving as a Features editor this year, marking her third year on the Tide. She previously wrote for Opinions in...