RM athletes represent Team USA on national level
Lili Freeman
Senior Lili Freeman has been tumbling since she was young, but she is relatively new to the world of acrobatic gymnastics. Despite this, she has made many accomplishments and memories during her career. 
Acrobatic gymnastics, also known as "Acro," is a sport where athletes in groups compete in a mixture of balance and dynamic elements. In balance elements, athletes hold each other up in a pyramid, and for the dynamic elements, the top person is thrown into the air and does flips off the bases.
Freeman started the sport relatively late. "I learned about Acro through a summer camp at my gym I went to when I was 12. I saw all the elites practicing and I was so in awe of how flexible, strong and graceful they were," Freeman said. "I joined the team within a week with no previous gymnastics experience and super old to be just starting, but I fell in love with it immediately and have been involved in it ever since." 
Freeman has received several honors in the sport. "I've won five state championship titles, five regional titles, been awarded region seven most improved twice, won four national championship titles, competed internationally four times and won gold and silver medals," she said. However, there is one accomplishment that will always stand out in her mind.
"My favorite thing I have accomplished in Acro would be being awarded athlete of the year for Xtreme Acro in 2019 because it came from a community that has given so much to me, and to be recognized by them is my favorite thing I have achieved," Freeman said. 
However, Freeman faces one major challenge: her nerves. "One of the biggest challenges I faced in the sport was overcoming my fears of competing at the elite level in big crowds," Freeman said. "I had a lot of fun and was able to control my nerves while competing," she said.
One of the biggest things Freeman learned is confidence. "Being able to succeed at the elite athlete and get used to performing in front of a lot of people helped me to gain confidence in myself and that I can do difficult things, which has been one of the most impactful things the sport has given me and my character," Freeman said.
Though she is not competing anymore, Freeman now coaches younger kids in gymnastics.
Caroline Green
Though less popular than typical Olympic events, ice dance has piqued the public's interest since ice dancers Meryl Davis and Charlie White won the 2014 Olympic gold medal for the U.S. Now, Caroline Green is set to become the next generation of skaters that will represent Team USA.
Most teenagers play sports for fun and compete on behalf on their club or school team—however, Green is not your typical high schooler: unlike most people her age, Green competes nationally and internationally in ice dance for Team USA. 
Green's first encounter with the rink was at the age of five, when her dad took her to a public rink to show her and her brother, Gordon Green, the activities he did as a kid. "From there, my brother wanted to play hockey, so he was taking basic lessons, and then I saw him taking basic lessons and bugged my mom to let me do it too," Green said. Though she didn't know it then, she would soon find a knack for skating and years later, compete on behalf of her nation.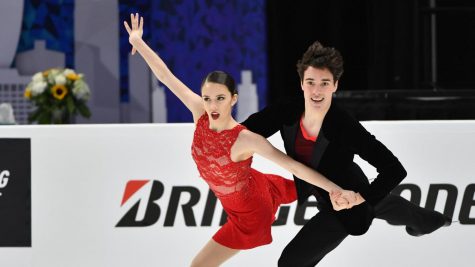 In ice dance, athletes compete with a partner in two separate programs, one in rhythm dance and the other in free dance. Practices usually consist of the skaters learning their choreography and perfecting their dances.
Elements of skating and dance are combined and twisted into one in ice dance. Green said, "On the ice, it's limiting in a way, but there's also so much more you can do with dance when you don't have friction holding you back. That's probably my favorite part."
Green is currently partnered up with Michael Parsons, a fellow native of Maryland. Prior to this new partnership, she competed with her brother Gordon. 
Alongside her brother Gordon, Green has placed first five times in the US Championships. They have also placed first the last seven years at the Eastern Sectional Figure Skating Championships. The Greens also placed top six at the 2018 World Junior Championships and won the 2019 U.S. Junior Championships.
Though there is no real off-season for skaters, who are expected to practice year-round, competitions usually occur between late summer to the middle of winter. This provides challenges for Green, who usually misses a week of school every time there is a competition. "Mainly just balancing school and skating has been difficult, there's a lot of competitions every year, so just trying to catch up and maintain good grades while skating," Green said. 
Up next, Green and Parsons are headed to her first Grand Prix in Las Vegas for Skate America, competing against fellow world class skaters. Following that, they will be headed to Kelownafor for Skate Canada International.