Students sign up for RM's new ASL class
Walking through RM's hallways, you will often hear the murmur of student voices arising from various classrooms. You might see rows of students listening to a lecture, or groups of students engaging in passionate discussions of course content.
However, in one classroom, it is completely silent. For the first time, RM is offering an American Sign Language class taught by Sean Gill. By keeping his classroom quiet, Mr. Gill hopes to immerse the students in a more realistic environment. "One of the rules he has is that we don't talk during class to create an atmosphere that is similar to a deaf or hard-of-hearing person," senior Elizabeth Mao said.
Mr. Gill emphasizes the importance of exposing students to a new perspective and spreading awareness about ASL. "Often, ASL is a language that is overlooked and not talked about. However, the community that relies on it to communicate is extremely prevalent," he said. "The Deaf community in the Washington-Baltimore area has one of the largest concentrations of Deaf and hard-of-hearing people in the United States…the estimate has been in the hundreds of thousands."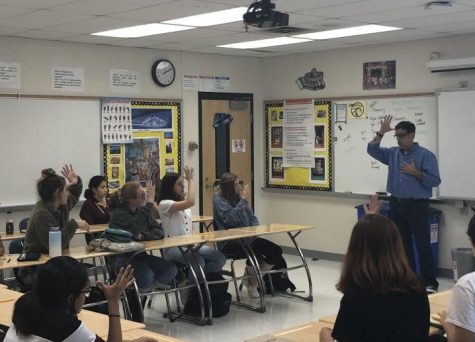 ASL runs in a similar manner to other language classes, with the study of how to communicate in the language and also the Deaf culture behind it. While deaf refers to the medical condition of hearing loss, Deaf refers to the community and cultural identity surrounding a shared sign language. "We learn vocabulary or watch videos about Deaf culture," Mao said.
Nonetheless, ASL still bears a number of differences, even in its physical arrangement. Whereas most classrooms are set up with rows or table groups, the ASL class sits in a circle. This structure allows both students and Mr. Gill to have a full range of view of everyone's signing. "It's way easier to see, and for Mr. Gill to see who understands and who needs help," senior Ashley Guevara said.
The type of content is also distinct. "The biggest surprise is that it's a non-verbal class and writing is minimal; the majority of the work is through media, the use of video and hands-on in the classroom," Mr. Gill said.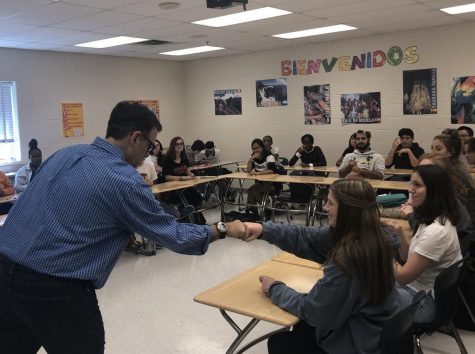 Many students decided to take ASL due to how important they thought learning it would be. "I felt as if switching to American Sign Language would be a new experience for me,'' sophomore Brandon Rosen said.
Others, many of whom are seniors, wanted to try something new for their final year of high school. "My goal was to pick something where I would focus more on the learning experience rather than solely worrying about the grade," Guevara said.
Learning ASL has changed the thinking of some students. "ASL has helped me adapt and become more observant overall … I feel by the end of the year I'll pay way more attention to detail and be more coordinated," Guevara said.
Although students can find some find familiarity in ASL's English words, ASL is far from spoken English. "ASL is not a foreign language. However, American Sign Language is related to English as English is related to Latin. None of their grammatical structures bear much resemblance because they are their own languages," Mr. Gill said.
The class opens up new opportunities outside the classroom. "The demand for nationally certified ASL interpreters is huge, and as a freelance interpreter and the usefulness of ASL in employment credentials extends beyond being an interpreter," Mr. Gill said.
About the Contributor
Matthew Wong, Features Writer
Matthew Wong is starting his second year writing for the features section of the Tide and loves to write about the different things happening in the RM...