October AOTI: Helena Chang
Senior Helena Chang's presence at Richard Montgomery athletics is unmatched. During the fall, she is a co-captain on the varsity soccer team, anchoring the defensive back four. In the spring, she is a starting midfielder for the varsity lacrosse team.
Being a two-sport athlete may be tough, but this commitment to athletics has helped Chang with her academics. As a student athlete, Chang represented Richard Montgomery at the 2019 MPSSAA Student-Athlete Leadership Conference.
"On game days, I usually only have an hour to get my homework done before I have to be at my game," Chang said. "Sometimes I just don't have enough time to get everything done and I find myself prioritizing sports over getting school work done, but in the end my grades are always where they need to be."
Along with her unwavering commitment, Chang is praised by her teammates for being a tremendous leader. As a captain on the soccer team, she is known for her reliability and tenacity on the field as a defender.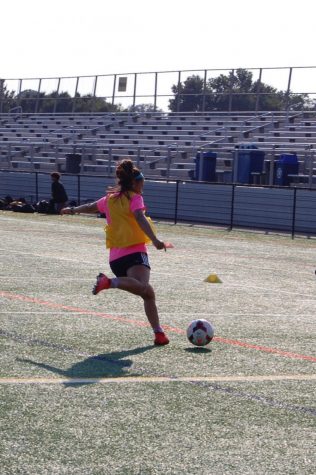 "She's a great communicator and one heck of a fighter on the field," said senior co-captain Lauren Willingham. "She does an amazing job at keeping the balance between keeping the team focused and making sure that people are still having fun."
"She isn't afraid to voice her opinion about what could change to make the team better," senior co-captain Abbey Geary said.
While Chang initially began playing soccer at a young age, her journey with lacrosse started much later, when she tried out in her sophomore year. "I had never played lacrosse before, so I wanted to try something new," Chang said. This interest pushed her to try out and make the junior varsity lacrosse team in her sophomore year.
While she admits it was difficult at first, she found that she enjoyed the atmosphere of lacrosse. "I started playing because it was fun and not super competitive like club soccer is," she said. Chang's background in soccer, however, largely contributed to her rapid acclimation to lacrosse. "My speed and aggression that I developed from soccer helped a lot with my later success," she said.
A big part of her overall success is her mentality to always improve and strive to get better. "There's always room for improvement," Chang said. "My advice is to always play to the best of your ability and to always strive to be better." That mentality would later pay off. In the midst of her sophomore year, her first ever lacrosse season, Chang was called up to varsity team.
Despite her natural athleticism and continued work ethic on the JV team, the move shocked her. "It was very intimidating playing with all the upperclassmen that had been playing for years," Chang said.
This move would only push her to further her skills. She also credits her varsity coaches for helping her adjust. "Their coaching pushed me to the next level," she said. "Without Coach Maggio and Coach Mullunix I wouldn't be the player I am today."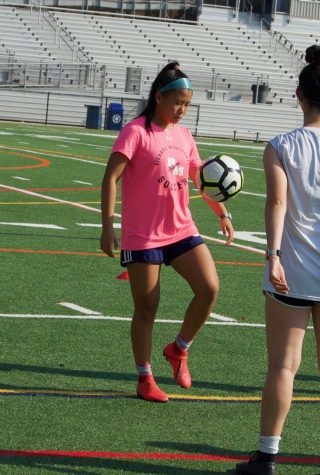 Chang has high hopes for her final seasons as an RM athlete. For the lacrosse season, she is  looking to add veteran presence on the team. After the Rockets' loss in last year's regional finals, she is looking to go all the way.
"Both the lacrosse and soccer team at RM are very successful which contributes to the fun and positivity within each team," she said. Most importantly, however, Chang's time spent playing both soccer and lacrosse have taught her the value of teamwork, companionship and hard work.
"At the end of the day when I'm having a rough game, my teammates are the ones always there to cheer me up and push me to do my best," Chang said.
About the Contributor
Kevin Zhang, Sports Writer
Kevin Zhang is a junior and a Sports Editor for The Tide. He enjoys covering all things sports, whether it be nationally, or across MCPS. His favorite...