"ME!" marks beginning of a new era for Taylor Swift
Hang on for a minute...we're trying to find some more stories you might like.
Remember when Taylor Swift proclaimed, "I'm sorry, but the old Taylor can't come to the phone right now. Why? Oh, 'cause she's dead."? Well, 610 days later, it seems that the old Taylor is in fact alive. On April 26, 2019, Swift released the music video for her latest song "ME!", featuring Brendon Urie from Panic! At The Disco. 
A 21st century pop anthem, Swift's new song, and persona, shows the dawn of a new era in her life. If Swift's first song off of her upcoming seventh studio album is any indication of her overall style, we can expect an album filled with catchy, upbeat music. This exceptionally well done video highlights Swift's comedic personality, her artistic genius and her love of cats.
The introduction to the video includes an animation of a pink snake slithering across a rainbow-colored brick pathway. As the snake lunges towards the screen, it explodes into multiple pastel colored butterflies. This carries obvious significance for anyone who's kept up with Swift the past couple of years: popular media has often branded Swift as a "snake," an identity which she seemed to embrace during the Reputation era. The transformation here into butterflies, which is also reflected in many of her social media posts, seems to indicate Swift's wish to rebrand and begin a new era.
The camera then cuts to Swift and Urie arguing in a hotel room—in French.  Swift has never featured a non-English language in her music videos before, and, according to Billboard Magazine, the French pronunciation took Swift quite a while to master. Its significance is unclear, but it adds a fun and different aspect to the introduction that fans seemed to love.
Eventually, Swift storms out, seemingly on the verge of tears. But in a split second, as the music starts, she turns back to the camera with a genuine and almost secretive smile. From here on out, she's untouchable, completely unaffected by the clouds swallowing her up or the torrents of paint raining down from the sky and focused on having fun, dancing in one colorful flash mob after another.
Throughout the video, Swift keeps her fans on their toes, hiding many "easter eggs" for them to analyze. For example, as she walks through the hotel lobby it is filled with 13 clouds, Swift's favorite number. On one of the clouds is a pink old fashioned dial phone, referencing her infamous phone call with Kanye West and the "dead Taylor" lyric mentioned earlier. The phone is also almost identical to the phone used during a video montage from her "Reputation" stadium tour.
Swift also throws in plenty of self-deprecating humor, most obviously her love for her cats. Two of Swift's cats, Olivia and Meredith, make an appearance during the argument scene as the couple's "young daughters." Later, Urie tries to prove his love to her by presents her with flowers and a ring, both of which she rejects. However, when he shows her a kitten—who is actually Benjamin Button, the newest addition to Swift's family—she finally accepts. This quirky sequence, which takes place atop a unicorn head hanging from a rooftop, featuring Swift wearing an endlessly ruffled pink dress, is the perfect addition to this bright, cherry, pastel colored video.
The music video is an artistic masterpiece, with the camerawork creating seamless transitions from otherwise disjointed scenes.  From the popping colors throughout, to all the easter eggs Swift has planted and, most importantly, the cameo's of her cats, it is no surprise that the video has broken multiple records, like making Swift the solo and female artist with the biggest 24-hour debut on YouTube.
After making her fans sit through a two week countdown and only revealing the slightest hints, were we really expecting anything less than a new beginning and a catchy pop hit? This catchy pop hit featuring an artist that is rising was a good way for Swift to get back in the game, and a good indication as to where her next album is headed. At first listen it might seem a little childish, but the more you listen it grows on you. I rate ME! seven out of ten cats.
About the Contributors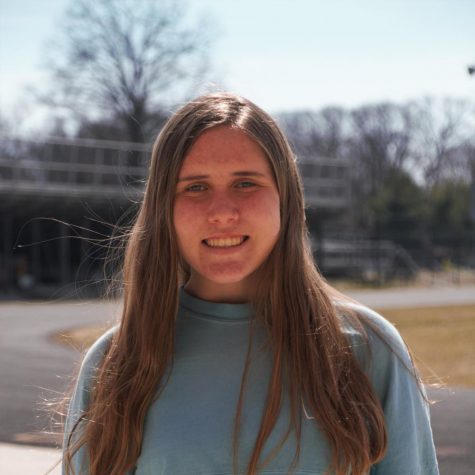 Cory Bucy, Sports Writer
Cory Bucy is excited to be a sports staff writer this year. This is her first year writing for The Tide and wishes she had done it sooner! When she's...