Lory Ivey Alexander reshapes family history through art
Born and raised in Washington D.C., artist Lory Ivey Alexander creates vibrant abstract pieces of art through mixed media and explores the stories of the intersection between Black and Indigenous cultures.
Ivey Alexander has been surrounded by art her whole life, as her parents were both graphic designers. Growing up around various advertisements and magazines developed her affinity for paper collage, a medium she used to create her 2020 series on Black masculinity, "it's hard being a black man in America." 
Ivey Alexander often uses cutouts from magazines in her collages and preserves the pictures' unique origins in advertisements through her designs. As a woman of color, there were times where she could not see herself represented by models on pages. Now, she highlights Black women in her collages.
She presents her own perspective through her art and usage of commercial cutouts. "I want to make that story personal in a way that I feel like maybe it wasn't before or couldn't have been," Ivey Alexander said, "And to try to tell the story of…the person that I see when I see that photograph."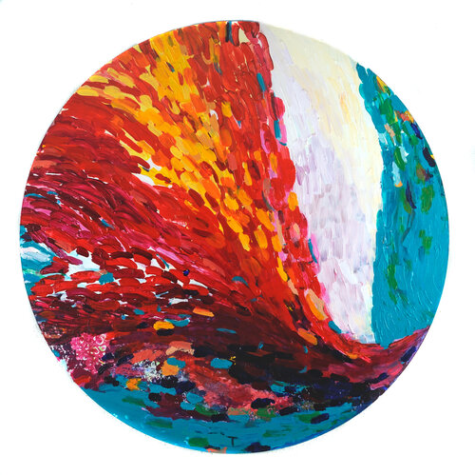 Ivey Alexander utilizes other mediums and techniques to create her work as well, including painting and stitching. "I really will pick up any sort of object that I think is beautiful, or that I think is gonna give visual interest to a piece, and potentially include it," she said.
Her work features a wide variety of colors, with her 2018-2019 collection "foremothers" being made almost exclusively of geometric shapes in contrasting hues. "I love color, and I think that especially like, against the white wall, I want to bring something that's gonna make you like, stop in your tracks," she said.
Ivey Alexander loves to collect and create work that has many possibilities and a variety of perspectives. "Every time you look at it, you see something different," she said. "That's part of why I like to paint with circles, like on round canvases or round wood. Because I think that you always can change the orientation and see something new."
Her inspiration often comes from interviews and stories from her family members. She turns those shared stories into something visual, focusing on translating the numerous components of their experiences into different layers in her art.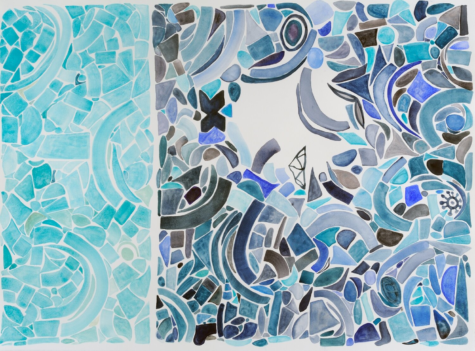 Some of her more reflective work strives to emphasize the complexity and numerous layers in her family history and Black culture. Her paper collage style is representative of this. "I didn't really realize until later in the practice that I was literally trying to represent those layers," she said. Those layers not only serve to show the depth of her identity, but also the relationships between people. "I'm showing the way that we function and the way that we interact with ourselves and with one another, sort of symbolically through the layers," Ivey Alexander said.
Ivey Alexander is also the founder of Abstract Sisterhood, a platform that consists of both in-person collective and an online photo blog, showcasing the work of female abstract and conceptual artists, especially those of Black and Indigenous descent.  "I know that there are many, many women of color…and a very select few get press. But it doesn't mean that there aren't millions of us out there making work. And so I just wanted to give a platform for that," she said.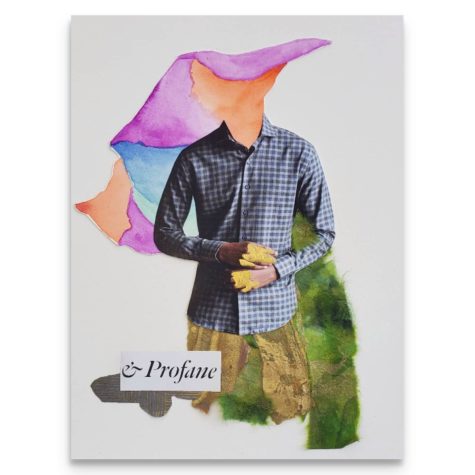 During the height of the pandemic and protests against police brutality, she began another project called "Black+Breathing," which, according to their website, is about  "the idea that communal trauma requires communal healing." The concept is centered around therapeutic devices, whether it be through art or yoga, and finding strength in the resilience and love among the Black community.
Currently, Ivey Alexander is preparing for an exhibit at the Caton Merchant Family Gallery in Manassas, Va., titled "Stories That End in Freedom." According to the show's website, it was inspired by "the fluidity and power of water" and how it has transported people all around over the centuries.The exhibit is scheduled to take place from the beginning of February to mid-March, and will feature her recent collages and paintings with the theme of Black and Indigenous perseverance and healing. She can be found through her website loryivey.com and her Instagram page, @loryiveyart.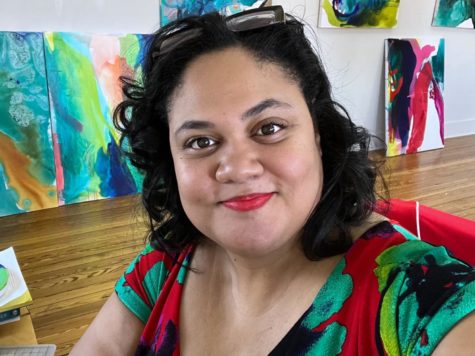 For those looking to improve their artistry, Ivey Alexander encourages them to simply get started. "Just paint, do it," she said. "Art is a practice. And that word is used intentionally, I think, because you just gotta keep doing it."
She also recommends learning to really notice the details in a piece of work, from the shades of color to the shapes. "I think that learning to see is more important than making art," she said.
"What are we really seeing?" Ivey Alexander prompted. "If we look at a piece of furniture, we can say a table is the shape of a box, but is it? Or is it a bunch of triangles?"