Unveiling the difference between cheer and poms
One major highlight of RM's football games and pep rallies is the performances of the cheerleading and poms teams. They raise the energy of the crowd and encourage the competing teams with their routines and stunts. But although the cheer team and poms squad both bring us dazzling performances in the stadium, many students don't know the differences between them—or even that they're different at all. 
Poms is a high school dance team. "We perform at football, soccer, and basketball halftimes, in addition to volleyball games and pep rallies," head varsity poms coach Mallory Bolling said.
According to Coach Bolling, poms is about much more than performing. "Poms is all about teamwork, the love of dance and becoming a better version of yourself," she said.
Similarly, cheerleading revolves around teamwork and performing, but serves a different role.
"Cheer is a team sport that involves getting the crowd engaged and supporting all sports. We do crowd engagement cheers, so we'll do chants and the crowd will respond back with the same energy," junior cheer captain Sophia Zhang said. 
According to Zhang, one main difference between cheer and poms lies within the performances.
"In cheer, we do tumbling, back handsprings and running back handsprings," Zhang said. "Cheer is more stunt-based, so we throw people in the air. There is a dance aspect, but it's not as prominent as in poms."
People are often confused when both teams perform. 
"I usually tell people that poms dances and cheer cheers," junior poms member Fiona Carter said. "Cheer does stunts and cheers on the sideline the whole game, but poms performs routines during halftime."
Apart from their performances, cheer and poms both require a large time commitment and strong time management skills.
Zhang has learned to make room for cheer and school. 
"Sophomore year was really hard to balance because it was right after the pandemic, but so far [this year] schoolwork and cheer are manageable," Zhang said. "You just need to do homework immediately after practice and you're good for the day."
Possessing the role of captain has taught Zhang many important life skills.
"I learned how to be responsible and show leadership skills. Our coach has a saying that 'if you show up early, you're on time. But if you show up on time, you're late.' I worked on my time management skills and being accountable and responsible for myself," Zhang said.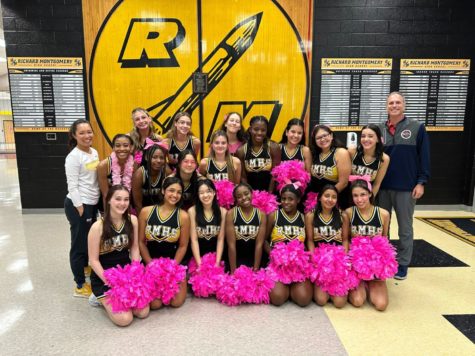 Balancing poms with homework is slightly easier for Carter than her teammates, although the schedule is still challenging.
"During football season, we have eight hours of practice a week. After football is over, we have 10 hours of practice a week, every week until January or February," Carter said. "Balancing everything is definitely difficult. I stay after school and do my homework then, so it's a little better for me."
Teamwork and community building events help to unite both the cheer and poms teams, who have members from different grades. 
"Our team has really improved by working to become stronger as a group. I've also met many of my friends through cheer," junior cheerleader Jillian Hilwig said. "There's been a lot of good team bonding through dinners, buses and getting ready."
Many people don't know that cheer and poms both have competitions apart from performing at sports games. 
"There's one competition every season. You spend a couple months preparing a routine for it, and then you're judged based on your routine's difficulty and execution," Hilwig said.
Similarly, poms participates in competitions, mainly during the winter season.
"We have invitationals in January and county's in February, and we compete against other schools' poms teams in our division," Carter said.
Last year, the poms team won third place at the Seneca Valley invitational. 
            "When we placed at our competitions, that was a really memorable experience for me," Carter said. "I just really enjoy performing, so I really like that aspect of poms. I enjoy challenging myself and learning new techniques and skills, as well as working together with the rest of the team."
Head varsity cheer coach Tanya Lee has been coaching at RM for three years now. 
"I love watching our athletes blossom, either athletically, academically, emotionally or a combo of all three. I have seen so many of them persevere through adversity, both on the mat and off," Coach Tanya said. "They have pushed through the hardest of times as a team. I am so incredibly proud of our athletes."