RM Swim and Dive splashes into a new season
RM's Swim and Dive team has won three State Championships within the last 8 years. The girl's team has never finished out of the top ten in the state.
The team is largely driven internally by their camaraderie and support of each other. Sophomore swimmer Katherine Blake said, "Teamwork got the boys to [state champions] and they had a very good attitude."
"We usually improve by listening to our peers feedback and trying new things," sophomore diver Jeffrey Vedrin said. "Everyone always tries their best. We're all supportive of one another even across swimming and diving."
Practice for swimmers usually consists of two practices a week, at the Montgomery College Pool in Germantown. "A typical [practice] of RM swim includes a warm up and then a set, which takes up most of the time," Blake said. "Sets" consist of an assortment of different distances, strokes and speeds to improve a swimmer's overall ability. They can vary from a 500m freestyle warm up to 25m sprint swims. 
"Practice is always a delight to attend because of the laid back yet focused atmosphere," junior Chris Ma. "It's all about having a good mindset and working on getting better." Many of RM's top swimmers have been swimming from a young age, which is part of the reason why RM sees so much success. "A lot of our fastest swimmers have additional practices for a club team which require a lot more in terms of practice hours and difficulty," senior captain Camber Vincent said. 
On the other hand, divers have three days of one hour practices in a week. "We give each other constructive criticism to try and make [sure] each of us can get out of our comfort zone and attempt new and more advanced dives," Vedrin said.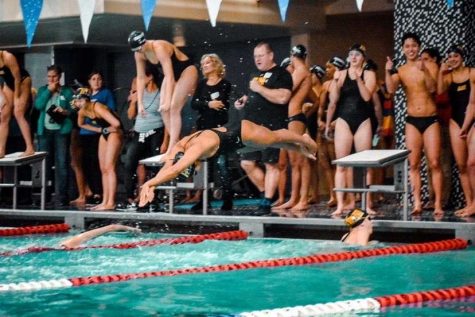 The dive team consists of only seven members but this feat becomes a key part of the team in earning points in meets against other schools. "It's quite difficult to be acquainted with everyone," Vedrin said, "but the divers, we're really close."
Family seems to be one of the defining points of the RM Swim and Dive team. "I've always considered the pool my second home, and the Swim and Dive team my second family," said Ma. "I feel like I can be myself and really just have fun with my friends at practice."
Many members of the team have created some of their best friendships in high school through the team. "Some of my best friends are on the team and spending meets and practices with them makes school a lot better," Blake said.
Swim and Dive also has many team activities that bring them closer together. "The team is so close knit that almost all of them came to school early so that we could all have team breakfast together," Vincent said. "My favorite part [of swim and dive] is going to team events like lunches after meets and outside activities like laser tag."
As for goals heading into the championship season, the team is poised to put together another great year and send many of their athletes to major competitions. "We hope to get as many swimmers and divers [to regionals] as possible" said Vedrin.
"I would like to see even more swimmers qualify for states," Ma said. "We have a lot of talent and I think it's time we show it off!" No matter how the team performs, every member of RM Swim and Dive will be there to cheer each other on and support one another like a family should.
"No matter what you are, swimming or diving, everyone supports everyone else" said Vedrin. The team is always encouraging one another. "You won't find anyone sitting down at meets, because we're too busy cheering for each other!" Ma said.