TidePod Season 2, Episode 6: A Look Into the Making of One Acts Festival
In the sixth episode of the second season of the TidePod, we interviewed the student producers of Richard Montgomery's own One Acts festival, an entirely student-run show comprised of four one-act plays that are often student-written and directed. Listen to "A Look Into the Making of One Acts" to find out more about RM's favorite winter show, and to hear from some of the students in charge of creating it!
The producers for One Acts this year are Ciara Culligan and Lilah Katz, and the assistant producers are Anand Chitnis and Rediet Ghebrehiwet. The technical directors are Rina Levy and Alisa Leung, and the assistant technical directors are Erin Sanders and Elsa Vincent. The assistant producers and technical directors will take over for the current producers and technical directors for next year's show.
The shows in this year's One Acts Festival are: Check Please, directed by Becca Howlett and Jordyn Gershoni, No Signal, written and directed by Tudor Postolache and Adam Winchenbach, Morally Grey, written and directed by Ali Saffel, and What's In a Name?, written and directed by JJ Kusnetsov, Ethan Hankins, and Julian St. Denis. The 2020 One Acts Festival will take place on Friday, January 31st at 7 pm.
Listen to "A Look Into the Making of One Acts" here.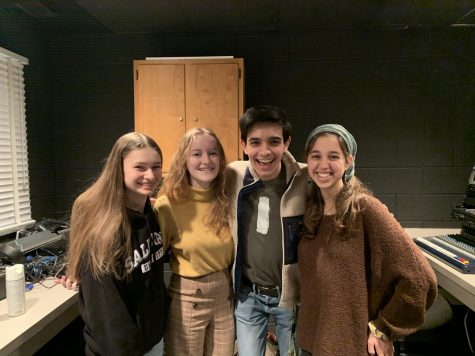 Featured guests: One Acts assistant technical directors Erin Sanders and Elsa Vincent, assistant producer Anand Chitnis, and producer Lilah Katz.
Hosted and narrated by Victoria Koretsky and Ruth Taddesse.
Script by Rediet Ghebrehiwet and Victoria Koretsky. Publicity and outreach by Brennan Rose. Graphic by Valerie Wang.
Music courtesy of Corrigan Peters.
Edited by Amna Shamim. Produced by Grace Burwell.
You can listen to the rest of the TidePod podcast here.