2020 Democratic candidates vie for presidency
During the 2016 presidential election, tensions ran high between the two candidates Donald Trump and Hillary Clinton. Next year will be President Trump's final year of his first term, which means that it will be time to elect a new president. 
Will Trump be reelected? Whom will he be running against? Will the next election be as aggressive as the previous one?
As of Sept. 29, 2019, there are 19 Democratic candidates running in the 2020 election, each with their own ideas and proposals for issues in the United States. The number of candidates in the race is rapidly narrowing down, with seven democratic candidates already having dropped out, and by the time of the general election next year, only one will remain.
According to a recent poll published by The New York Times, the three most popular Democratic candidates are Senator Joseph R. Biden Jr., Senator Elizabeth Warren and Senator Bernie Sanders.
Leading the polls is Biden, who served as Vice President from 2009-2017.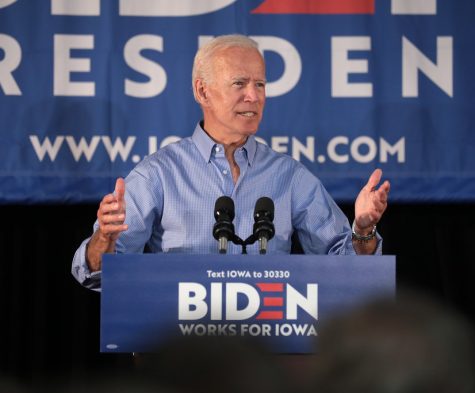 A supporter of gun control, he plans to implement universal background checks, an assault weapon buyback program and a ban on modifications or attachments to weapons that make them more deadly. He is also opposed to arming teachers.
Biden plans to reach a 100 percent clean energy economy and net-zero emissions by 2050, focusing on combating polluters who disproportionately harm communities of color and low income. 
To improve the education system, he will eliminate the racial funding gap in part by tripling Title I funding, the supplemental funding of schools with high percentages of low-income students. He will also improve teacher diversity and has called for "free community college for every single person."
 In support of Biden's education policies, freshman Katie Moorer said, "Biden's plan will allow students to flourish under any circumstance, no matter where they came from."
Warren, the second-highest polling candidate, has been the senior senator from Massachusetts since 2013.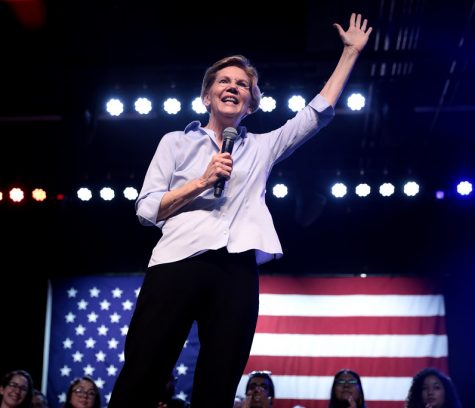 She has promised to sign gun violence prevention legislation into law within her first 100 days in office. She will make reporting multiple gun purchases mandatory, limit the number of firearms someone can buy, require the minimum age of gun ownership to be 21 and require more thorough background checks. She plans to revoke licenses for gun dealers who break the law and raise taxes for gun manufacturers. 
Warren also proposes to reverse the effects of climate change by investing in the research and use of clean energy in the electricity, vehicle and building sectors.
As a former teacher and someone who paid her way through college, Warren wants to make college free for everyone and cancel the student loan debt of nearly 95 percent of the 45 million Americans currently in debt. She said of reducing student loan debt, "[T]his touches people's lives. This is a chance to talk about what's broken and how we fix it. This is the American dream."
About her education policies, senior Declan Fiala said, "I feel like this is going to be very helpful for a lot of students around here, because college is expensive and if you don't have the money for it, you end up burdened with loans for the rest of your life, which is sucky. Maybe more kids will opt to go to college or try to go to better colleges."
The third-highest candidate in the polls is Sanders, who has been a junior senator from Vermont since 2007 and ran for president in 2016, but lost in the Democratic primary.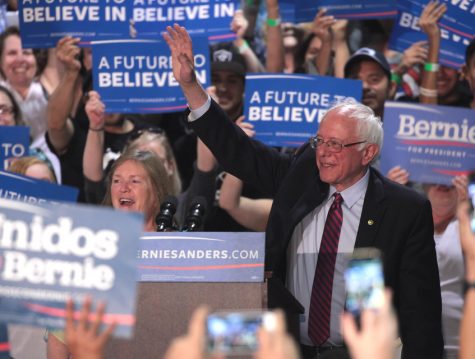 Sanders plans to cancel all student debt, increase funding for magnet schools and eliminate ACT and SAT testing fees to improve education in the states. He has said, "[E]very child has a right to a quality K-12 education, regardless of your race, regardless of your income, and regardless of your zip code."
Regarding the idea of canceling all student debts and loans, freshman Liz Frisbie said, "I think it's a good thing because tuition is getting more and more expensive, and people are taking longer to pay it off. Education should be for everyone, not just the top 10 percent."
As for gun control, Sanders wants to expand background checks, ban assault weapons and ban high-capacity ammunition magazines. 
Sanders chooses to tackle climate change by complying with the UN climate change goals to reduce carbon emissions in each country through the Green New Deal and through supporting research and development to increase the country's capacity for energy storage.
Pertaining to which issues they found most important in the election, most students said climate change, with a few also commenting on the large gaps between economic classes. Sophomore Johnny Newhouse said, "just generally like booming the economy, balancing it all out, tak[ing] money away from the super top rich people."