RM boys swimming comes out on top but girls fall short to Walter Johnson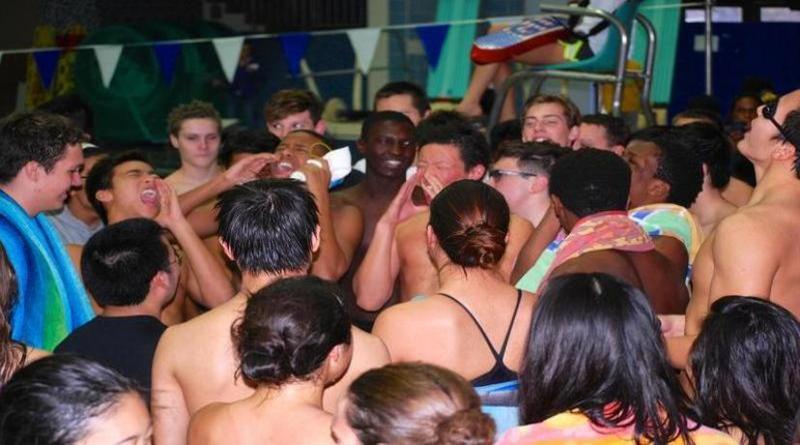 Irene Park
January 10, 2016
This Saturday, the Rockets returned to the pool for the first time following winter break to race against Division I superpower Walter Johnson. Though many team members had not been in the water since before Christmas, RM still finished strong, with the boys winning 111-60 but the girls falling short to the Wildcats, 67-104.
Several of the girls were notably absent from Gaithersburg Aquatic Center as a result of the approaching flu season–had they been there, the margin of loss would certainly have been much smaller. But that is not to say the meet was bad. In fact, quite the opposite.
Again, the meet kicked off with the divers. Particularly among the new freshmen, dramatic improvements in technique were clearly visible. "The divers were really majestic," said sophomore Emily Zhou. "You can really tell that they've been working hard."
On the boys side, sophomore Ian McBain and freshman Abram Brown took second and third, respectively. For the girls, junior Kamryn Umbel and freshman Lydia Harouna took first and fourth. "I love when you see someone do a really nice dive and then enter the water with no splash. It just looks so cool. There was a lot of that today," observed senior swim captain Helen Kent.
As per usual, the swim meet immediately followed, RM starting off with a 1-2-3 sweep in the boys 200 yard medley relay. The winning relay consisted of junior Matt Nguyen, senior Bouke Edskes, and juniors Kenny and Greg Afolabi-Brown. Other sweeps during the meet included the boys 50 freestyle and boys 100 breaststroke.
The Rocket girls fought hard as well, managing to take home several first places wins by seniors Audrey Richter and Sophie El-Masry. However, a controversial false start call for sophomore Michelle Li in the 100 backstroke disqualified what would have been a fifth place finish, therefore causing RM to lose a valuable point.
Ultimately, both the girls and the boys performed phenomenally. On the boys side in particular, the 51-point victory was even more meaningful than it appeared at first glance. Last year, RM just barely edged out a win over WJ, but fell hard at Divisionals and Metros, both arguably far more important than a regular season dual meet. The large margin of victory this Saturday, however, offered a renewed sense of hope for the post-season championship meets.
RM will compete next Saturday against Blair, a team that boasts one of the strongest group of girls in the county. Come out to the Olney Swim Center to recognize this year's graduating seniors and cheer on the Rockets as they complete their last scored dual meet of the season.