Karaoke Club started as a close group of friends sharing a passion for karaoke, but has now become one of RM's most popular clubs. The club allows students to share and enjoy music in a safe and welcoming space. From classic Chinese love songs to popular Taylor Swift breakup chants, Karaoke Club allows students to sing songs from various genres and cultures with their peers. Karaoke Club encourages students to express their unique backgrounds and feelings through music.
"We are a group of people who found joy in karaoking at East Dumpling House while eating dinner with friends, and we wanted to share this special experience with our RM community," co-president of Karaoke Club and junior Richard Zhu said. "We strongly believe that music is the most universal form of language to unite our community and provide a platform for students to express themselves." 
The Karaoke Club aims to unify students, growing to become a diverse club of students who communicate emotions through various songs they sing. The club values all its members' comfortability and self-expression. Although many students jump at the chance to sing, the leaders work to create an environment with no pressure for students who may struggle with stage fright. 
"Anyone who wants to sing in front of others with no judgment and lots of claps, or just chill and watch during lunch, can come hang out," co-president and junior Kaixin Hou said. 
Story continues below advertisement
The club initially started in room 317, but due to the immediate outburst of popularity for their first interest meeting, junior club officer Andy Zhang had to reach out to hold meetings in the auditorium. Extracurricular coordinator Miranda Mclain helped the leaders move the meeting location so students can now have an authentic experience of singing in front of a crowd on RM's stage. 
The explosion of interest in the club surprised some students, including the leaders who started it.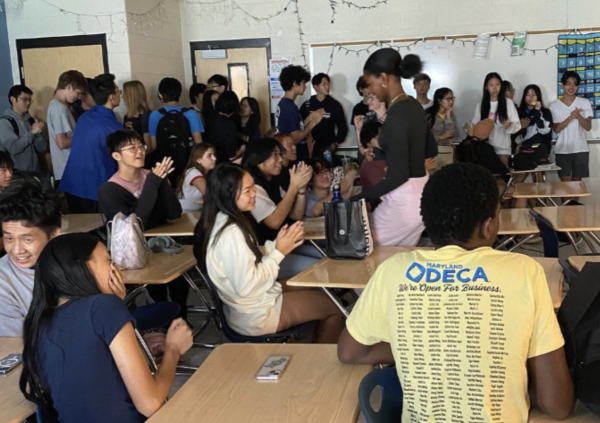 "I honestly did not expect to reach the caliber that it did. Initially, I thought it would be a small club with just our friends," co-president and junior Ruslan Akmyradov said. 
The club's popularity could be due to many reasons; however, Hou believes that the club's supportive and carefree nature resulted in so much interest. 
"We expected like six sign-ups max. I'm really happy because our consistently large attendance shows how much people want to let loose, and we can offer them the environment to do that," Hou said.  
Karaoke is not only a place to express oneself but also connect with those of different backgrounds and learn more about one another. The club's inclusivity and open-minded environment make it a welcoming space for all, fostering a sense of camaraderie among its members.
"Our club members are almost evenly distributed between the grade levels, and our participants were not limited to a group of friends, but mostly new faces each meeting," Zhu said. "We believe the power of music can eliminate all boundaries such as race, gender and age." 
In the near future, the leaders of the Karaoke club would love to experience more varieties of cultures and different backgrounds from students interested in singing their favorite songs or watching others perform. The leaders actively seek to attract students with a wide range of musical interests, backgrounds and talents and are dedicated to creating an inclusive atmosphere where everyone feels supported to share their unique voices.
"We've had traditional and pop Chinese music, K-pop, Western pop, rap, country and theater. We honestly want anything. That's the whole point," Hou said. 
The club's mission is clear: to continue harmonizing the voices and hearts of all who wish to be part of this musical journey, regardless of where they come from. 
"Whether students want to just chill in a room with great people, show off their vocal skills or join in a chaotic group chorus, they will find this experience meaningful and fun," Zhu said.