MoCo for Literacy holds book drive until Feb. 3
RM's student organization MoCo for Literacy is collecting books for the Maryland Book Bank from Jan. 3 to Feb. 3. There are five boxes set out for donations: one outside of the media center, and one near each of the two main staircases on the second and third floors. 
This year, MoCo for Literacy partnered with the Maryland Book Bank. "We make no money from the book drive and the organization we are donating to is not-for-profit," junior and MoCo for Literacy co-president Marissa Boucher said. "The goal here is truly just to give for a good cause and raise awareness about illiteracy."
This is MoCo for Literacy's second book drive. Last year, it ran a book drive for the Montgomery County Friends of the Library program and collected 600 books.  "We are fortunate here at RM to have a well-stocked library and be within walking distance from the incredible Rockville Memorial Library, but many are not so lucky. We hope to make this an annual project so we can continue helping the larger community," junior and MoCo for Literacy co-president Zaida Bowsher said.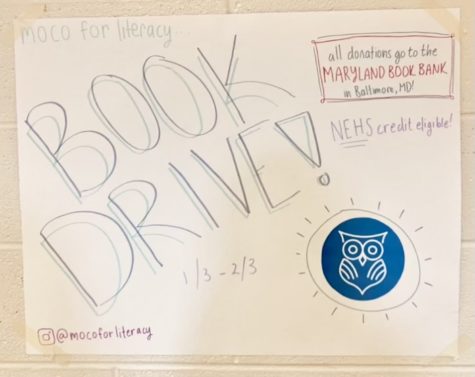 The drive is just one of MoCo for Literacy's community-driven projects. "This drive aligns closely with MoCo for Literacy's goals as an organization, and is an activity high schoolers can participate in easily," senior and MoCo for Literacy event coordinator Scout Pollack said. "Books are not an essential, so people overlook them for donating, but literacy is an essential part of life for all ages."
MoCo for Literacy is looking for new and gently used books, with a goal to collect about 150 books this year. The drive is not done yet, so students are still encouraged to donate.