Q&A: Behind the scenes of Puffs
Tara Amin, Centerspread Editor
November 16, 2022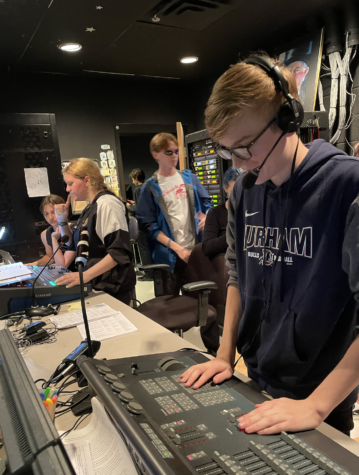 Isaac Gilchrist, Asst. Stage Manager
Interview by Natalie Pamboukian
What is your favorite character in Puffs?
Voldy, I think his acting is the best; he has the most animated personality and is the most unique of all the characters.
What do you do when you run into problems?
I turn to the Stage Managers, Ella Koenig and Michelle Wong, and my other assistant stage manager, Annie Guo. Annie always seems to know what's occurring, which is helpful since production is chaotic at times.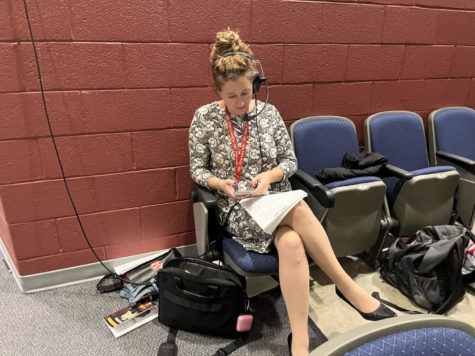 Mrs. Davis, Artistic Director
Interview by Shuxin Dai
Is there anything specific about this production that is unique?
Yes, this show is challenging and interesting because it involves a limited number of cast members playing many roles. They are changing characters based on their physicality and their voices, and just simple changes in costumes and props. 
What is your favorite scene in Puffs?
The first task where Cedric battles the dragon.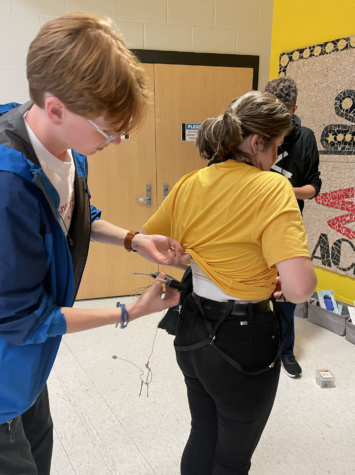 Alexander Vincent, Asst. Sound Chief
Interview by Dorothy Dang
Were there any challenges working on the sound crew?
Yes, the mics are a little bit rough. They're very expensive equipment…they're good, except they're bad. So they break randomly and are kind of finicky. Especially with how frequencies can interrupt other ones. Like if you have two mics, the frequencies [can sound] like they're transponding words too closely. Then [the sound frequencies] get intertwined and start messing with everyone's sound.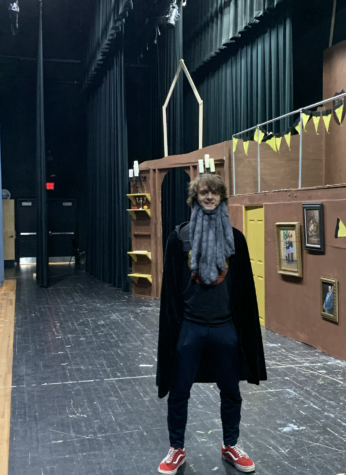 Daniel Murphy, Actor Ernie Mac and others 
Interview by Shuxin Dai
What is your favorite thing about your character?
How many there are! Getting to give each character a different voice and body is really interesting. It feels a little hectic to play so many characters, especially with costumes, but it's a lot of fun, I like it. 
Who is your favorite character that you play?
I want to say Hagrid as a joke but realistically it's Snape. He's just so much fun to play!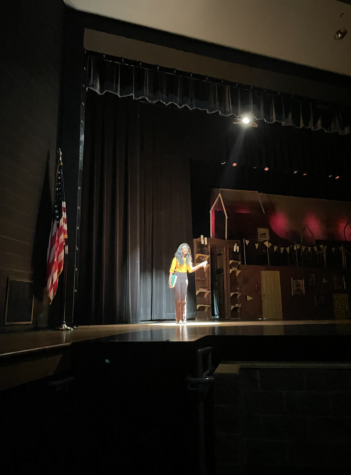 Diya Britto, Actor Narrator 
Interview by Sayeda Hasni
What's your favorite thing about your role?  
How sarcastic the narrator is at times and they have a very nice sense of humor. Normally I'm all over the place and my jokes are not as serious or put together I guess and the narrator just [knows] what they're talking about but they also make it fun. 
Do you feel your role as narrator is different from the other characters in the play?
Yeah, so the other characters are definitely more eccentric and you see them growing and changing throughout the play, but the narrator sort of stays the same. And the narrator breaks the fourth wall [and] connects with the audience while the other characters don't do that, so I think that's a really fun part of my role.