Girls Volleyball Soars Through Quarterfinals in a 3-1 Victory
The RM girls volleyball team took on the B-CC Barons at home this Friday, Nov. 3, to punch a ticket to the regional semifinals. The Rockets dominated the Barons, defeating them three sets to one. 
RM came out flying, winning the first set 25-13, racking up points front to back with strong serves and lockdown blocking. The Rockets took the second set 25-19 but lost the third set in a back-and-forth battle 23-25. However, they brought the hammer down in the fourth set with a decisive 25-8 victory. 
Coach Gretchen Barber-Strunk was happy with the girl's performance during the game. "I think they played pretty well overall. The defense was awesome," Barber-Strunk said. "I wish we wouldn't have dropped that third set obviously. We missed too many serves, but overall I couldn't be more pleased."
Sophomore middle blocker and right-side hitter Caroline Kaye agrees with her coach. "I think we played really well, we kind of let it go in the third set but defense was great, offense was great, and all around everybody was playing well," Kaye said. 
Kaye, at 5-foot-10, uses her height to dominate the net, and is always aware of her surroundings on the court. "I'm constantly thinking about, where I am in comparison to the ball, so I look at the ball and adjust my body to be where I need to be," Kaye said. "It's always being open to the court, always being open to where the ball is, never turning your back on the ball, and always being there for your teammates, ready to pick something up if they drop it."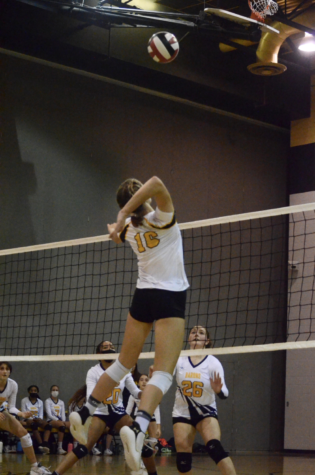 The girls were 9-5 on the season including a 3-0 sweep over B-CC in their previous meeting. One of their losses during the regular season was to Wootton, who the Rockets play next in the semifinals on Monday, Nov. 7. Coach Barber-Strunk believes only small adjustments need to be made in the upcoming practices leading up to the rematch, "We're going to prepare for what we've seen before…so we're just gonna tweak a few things here and there, and then work on the energy level," Barber-Strunk said. 
Kaye also looks forward to the matchup against Wootton, saying the girls need to be more aggressive. "This was not as hard of a team as we're gonna be playing on Monday, so we just really need to turn it on, not drop so many points, and reduce the errors on our side of the court."
The girls are pumped up for the next game and Coach Barber-Strunk is very proud of her Rockets. "They're just a great group of kids, they're like a family with each other, which is nice and I think when they're on the court they can work together and get that energy," Barber-Strunk said. "On the downside, they can kind of get in their own heads, but they were able to pick it up tonight and show up for one another."