RM's DECA partners with the Washington Commanders
RM's DECA went on a field trip to the Washington Commanders' stadium on Oct. 13. Partnered with DECA's Maryland and Virginia chapters, the Commanders will sponsor DECA's regional competitions this year. RM will host DECA Regionals in the auditorium on Saturday, Dec. 17.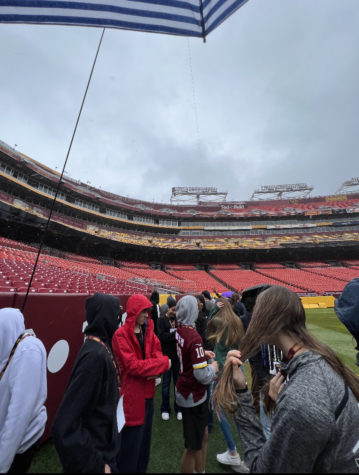 "Attendees had a panel discussion from Commanders executives, a tour of FedEx Field and a marketing competition," senior and DECA Corporate Liaison Desiree Chen said. 
DECA is a popular club at RM. "DECA is a business club that prepares emerging leaders and entrepreneurs in different aspects of business. It has four main categories: marketing, finance, hospitality and management, that students can choose from," sophomore and DECA Outreach Coordinator Chaiwey Chen said. Members engage in competitions involving roleplay and tests on business administration.
There are more field trips coming up for DECA members. "One of our upcoming field trips includes the Power Trip, which is a two-day business competition hosted at the Crystal Gateway Marriott in D.C. from Nov. 11-13," senior and DECA Vice President Claire Chen said.
DECA also takes part in larger state and international events. "The two biggest field trips we have will be the State Career Development Conference (SCDC), which is a one-day trip to Baltimore, and the International Career Development Conference (ICDC), which is a four to five-day trip to Orlando, Florida,"Senior and DECA President Jake Lee said. "These are both competition events, so those who do well in the business competitions at States will be able to compete in Internationals."
According to Desiree Chen, SCDC will take place next year, and ICDC will take place in April 2023. "Around 200 competitors will be here at RM on Dec. 17 to get their first try at business competitions like Sports and Entertainment Team Decision Making, Principles of Business Management, and Human Resources," Lee said. "This will be an amazing opportunity for students who are new to DECA and want to see what it's all about, since it's right here at RM."