Rocket boys and Khalid Aljirafi roll in a 4-1 playoff victory over WJ
Now, county runner-ups Churchill await in the second round
On Wednesday, RM boys varsity soccer demolished an unprepared Walter Johnson team, 4-1, in the first round of the county playoffs.
The Rockets had momentum in their favor from the first couple of minutes of the game. The WJ keeper survived a barrage of shots early from the RM attack, until a header in the 32nd minute from Senior Captain and Defenseman Robert Boychyn found its way into the back of the net. "I'm really happy with our performance," Boychyn said. "We beat WJ 4-1, I got a goal, I would've liked to keep a clean sheet, but good win for the boys." After this, WJ had no answer for the relentless Rockets offense. Senior Captain and Midfielder Khalid Aljirafi scored again for the Rockets in the 37th minute just before the half ended.
At the end of the half, the Rockets held a commanding 2-0 lead over the Wildcats. Even though up two with a half left, the Rockets did not slow down. They stayed the course in the second half with another goal from Aljirafi just four minutes in. The Wildcats, now down 3-0 late in the game, needed an answer. As the story had been all day, Aljirafi put the game away for the Rockets with over 20 minutes still left to play. After a penalty in the box, Ajijirafi stepped up to the dot and knocked the ball into the corner.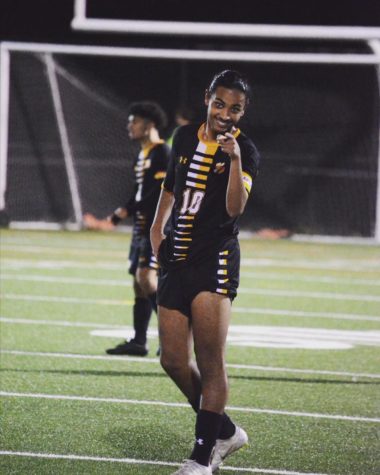 This goal made it three on the day for Khalid, capping off an unforgettable performance. "Honestly, I'm at a loss for words," Aljirafi said after the game. "You can ask any of my friends; I've been wanting to score a hat trick on this team for 2 years. To me, it's emotional, even if it's a high school game." WJ eventually put it in the net late in the game which was too little too late against RM's stellar defense, attack, and goalkeeping.
After the game, Coach Brian Urioste said this about his team's performance and growth over the season. "We had a lot of players step up, I think towards the end of the season they started understanding what their roles were and the movements on the field. They understood how we wanted to attack and it was a good performance and we stuck to the game plan and it showed."
After the remarkable performance by the Rockets, they look forward to visiting County Championship runner-ups Winston Churchill in the second round, Saturday morning at 12 pm.