Who's got spirit?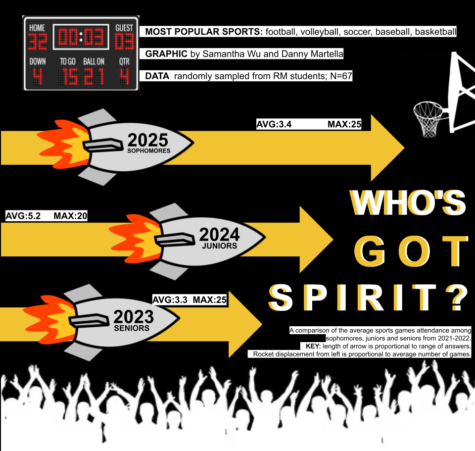 As bleachers fill and fall sports wind up, The Tide randomly polled 67 sophomores, juniors and seniors about their home game attendance across all sports during the 2021-2022 school year, to get a gauge for school spirit at each grade level. 
Between the three years, the class of 2024 students were by far the most committed, showing up and out with an average attendance rate of 5.2 games per year. Sophomores and seniors were similarly spirited, with means of 3.3 and 3.4 games respectively.
The mode, or most common number of games attended by students from each grade level, somewhat reflected this spread. The juniors led at five games, the seniors following with one, and then the sophomores at zero. There was a wide range of responses, but the biggest sports fanatics, reporting 25, 20 and 15 games in the classes of 2025, 2024 and 2023 respectively, shared a common spirit-related attribute: they were cheerleaders.
Many class officers, tasked with choosing football home-crowd themes and crafting a cohesive school-wide culture, feel that COVID has been detrimental to the sense of community that characterizes RM. "I feel like school spirit really decreased during COVID, but being a Rocket, we will always bounce back," junior class treasurer Angelina Xu said.
"I think even as seniors, we're still learning to really show up, and it's clear that some of these underclassmen came in during COVID and don't understand the spirit of pep rallies, " senior and schoolwide treasurer Paris Ye said. "It makes me sad to see people not standing and cheering, and that's something the SGA is trying to change."
Student government works to boost school spirit and promote RM sports teams through producing weekly hype videos and maintaining schoolwide social media accounts. "I would like to see more people do black and gold Fridays and participate in the pep rallies," senior Raya Arora, who works in the media division of the SGA, said.
Across all three grades, students overwhelmingly showed up for football games, with a nearly 80 percent preference rate. The energy of the student section, combined with the cross-county competition, drew the largest and loudest crowds. "I like the football games because they are hype and it's a great place to be with friends, it shows school spirit," senior Patrick Augustine said. 
But 10 percent of students considered themselves volleyball fans, and less than 5 percent preferred soccer, basketball, and baseball. These statistics, in the eyes of some SGA members, may signal a point for improvement regarding interest in sporting events overall. "I just want people to show up for the games, all sports games," Arora said.