Tri-M spreads appreciation for music
If you come to room 107 on a Friday during lunch, chances are you will find Tri-M Music Honor Society members meeting together to perform music. Started in 2004 by band and orchestra director Dr. Peter Perry, Tri-M is one of the longest and most sustained honor societies here at RM. Throughout virtual learning and now in-person learning, Tri-M has continued to operate, with members giving performances for each other, ushering at concerts and performing at senior homes.
Throughout the years, Tri-M has seen different sponsors, from Dr. Perry to former choral director Ronald Frezzo to now choral director Carrie Eyler. "Tri-M is great– they help out with our concerts here at RM and have done a variety of performances, like at the Senior Living Center Ring House," Eyler said.
Senior Corrigan Peters, one of the two Vice Presidents of the club, has  been a part of Tri-M throughout his time in high school. He plays piano and is also a member of the Madrigals choir ensemble. For him, the low pressure environment of the club ,even though it is an Honors Society, is something he enjoys.
"There are always challenges, such as being nervous about performances, and wanting to do your best and not being able to meet your own standards for yourself, but in the end, Tri-M is a very low-stakes environment to practice your performance skills," Peters said.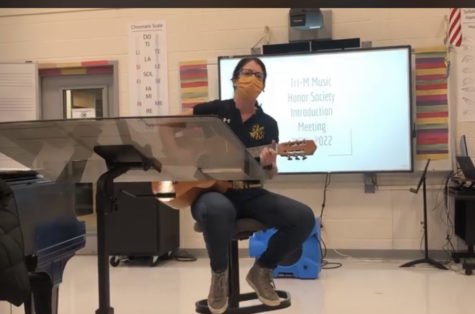 Senior Adam Owens likes how student musicians are able to have  a safe space to share and perform their pieces. 
"The club is always fun and it's great to see all the talented musicians in the school to get a chance to shine as a soloist instead of performing as a group. And the same for students who aren't even in a band or a music class-they just get a chance to play," Owens said.
Like many people in the club, Peters joined the club to express and share music with RM students and the Rockville community.
 "I was interested in joining Tri-M because I wanted to hear all the amazing musicians at RM perform and learn about music as a way to bring lots of people together in a community," Peters said. 
The strong sense of community harvested within the club is what drew Owens to join. 
"I thought it was something where I just learn about music, but it became a lot more for us getting to hear a lot of beautiful pieces. It was a good community and great experience which I appreciate," Owens said.
Tri-M can be difficult for some musicians to manage, especially those like Owens who play percussion instruments, which are large and difficult to maneuver between the music classrooms. "If you play a bigger instrument or if you live in a household where you don't always get time to practice because of parents working or anything, then it could definitely be discouraging to play," Owens said. 
Joining Tri-M at RM is relatively easy. In order to be an official member, you must be enrolled in a music class for at least one semester, and if you are, you can begin earning credits towards being inducted as an official member at the end of the school year. 
Many students recommend the club to anyone eligible.  "You get to have an intrigued audience that gets to listen to your performances," Gibson said.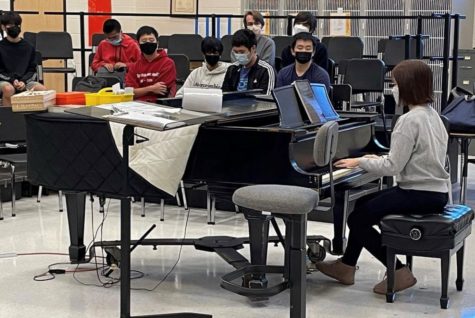 Tri-M continues to operate and share music for more than a decade here at RM. "At the beginning, we had about 25 members in the old [RM] building," Perry said. 
Now, the club continues to maintain steady membership with its biweekly meetings where students perform for each other and even had Principal Alicia Deeny perform.
Tri-M also boasts unique traditions, such as traditionally throwing a party for composer Ludvig van Beethoven's birthday every December. "A good memory is when we went to a Senior Assisted Living home to perform and play for them. They definitely liked it a lot," Gibson said.
Tri-M plans on visiting senior homes consistently throughout this school year. Preferably in person, as last year, all performances for senior homes were conducted virtually.
Ultimately, Tri-M continues to live up to its former name of "Modern Music Masters", which the musicians at RM display in their commitment to music and service. Take a look for yourself and stop by room 107 on a Friday during lunch to see Tri-M and follow them on Instagram @rmhs.tri.m– or follow the music to see where it takes you.