Top 10 Halloween movies to watch in quarantine
There is nothing better than pale skeletons hanging outside doors, spooky pumpkins carved the day before this magical night, or fake cobwebs stuck in between the naked branches of your neighbor's tree. Whether it was going out to trick or treat or staying at home, it's safe to say that many of us share good memories on Halloween. 
This year, this holiday takes place on Saturday, October 31, which is the perfect Halloween night: we'll have no homework and lots of free time to do all those activities we might not be able to do any other year. However there is just one colossal problem. Unless you live under a rock, it is pretty clear that Halloween will, unfortunately, be cancelled this year. Due to COVID safety precautions, we won't be able to party all night or hand out candy to cute little kids dressed up as stormtroopers. 
Even though our traditional halloween trick or treating won't happen, an important component of Halloween culture is, of course, the movies. How could we possibly forget all the amazing Tim Burton movies and classical horror movies? Us Halloween fanatics practically cling onto them all year as if they are our life support, so without further ado, here are ten Halloween movies to watch on this quarantined, bone chilling night.
1. The Nightmare Before Christmas 
When I think of my all time favorite Halloween movies, the 1993 film, "The Nightmare Before Christmas," is always one of the first to come to mind. Even 27 years later, it is still hard not to love the great Jack Skellington, or "This is Halloween" blasting on every Halloween song playlist. I watched this movie about 2 years ago, and until then, I never understood the hype surrounding it. But once I finally watched the film myself, it changed my view on Halloween altogether. The eerie aesthetic of the stop motion animation, the beautifully diverse set of characters, and the incredibly iconic musical numbers, all work together to make a film for a great range of audiences to watch on Halloween. I could probably spend ages writing about why you should watch this movie but there are still nine more movies to get through, so let's get moving. 
2. Beetlejuice
Beetlejuice, Beetlejuice, Beetlejuice. As seen on multiple occasions, you probably wouldn't want to hire this former assistant now freelance "bio-exorcist" ghost to get your work done. The 1988 Tim Burton movie, "Beetlejuice," which also has a Broadway musical of the same name, is a hilarious dark comedy that will never get old. While not necessarily centered around the idea of Halloween, Beetlejuice and Lydia's contrasting "creepy-old-guy" and gothic looks, the comical interpretation of the afterlife, and even the bizarre moments of the movie that don't necessarily make any sense, is what makes this movie such a spectacular choice for a Halloween movie night. 
3. Coraline
Most of my friends say that the movie "Coraline," originally a book written by Neil Gaiman, scared them as children because of its terrifying chase scenes and buttoned-eyed character designs. Looking back on it now, the slightly imperfect effect of the stop motion animation, once again enhances this unsettling creepiness during the entire movie, and the fake mom Caroline must defeat at the end of the movie still sends chills down my spine every single time I think of her. If I could describe this movie in a few words, I'd say it definitely aged well, especially since the main heroine's dad has became a joke on the internet a few months ago. If you didn't watch "Coraline" as a kid and want to get a sense of this brilliantly told story, this year is the time for you. 
4. Jeepers Creepers
If you are looking for a somewhat scary movie to watch this Halloween, then "Jeepers Creepers" might be for you. Last year when I started watching this movie, I didn't realize it was a horror movie until my dad walked into the room 20 minutes in and asked me when I got into those types of movies. Despite my hatred for anything frightening, I ended up watching it all the way through and realized it wasn't as bad as I thought it would be. It definitely has sort of a weird charm to it that I can't really describe, but if you're looking for a horror movie that is not exactly filled to the brim with jumpscares but is still terrifying nonetheless, this 2001 film could be your pick for this year's Halloween night.
5. Corpse Bride
If there is one topic that just keeps getting brought up over and over again during Halloween, it is definitely the topic of the dead. In fact all the movies on this list so far have some sort of connection with the undead: whether it is ghosts, skeletons or zombies. In Tim Burton's 2005 film, the "Corpse Bride," the whole entire plot focuses on the battle between two brides, one who is alive, and one that is not. Like the other previous Tim Burton movies on this list, everything from the stunning visuals, to the original plot that blows me away, is what makes this a movie worth watching. Not only that, but if you grew up watching these creepy stop motion films as a kid, this one definitely gives off nostalgic feelings.
6. Hocus Pocus
At number six, there is the well known 1993 Disney film, "Hocus Pocus." There is nothing that screams "Halloween!" more than a movie about three witches resurrected on Halloween night and a group of kids trying to stop them from achieving immortality. It manages to not only make a hilarious scene play for the audience, but also has an engaging storyline that is easy to follow and entertaining to watch. As Grant Watson states in his film review, "For its target audience of children and young teenagers, this Halloween blend of comedy, fantasy, and mild horror is wonderfully effective."
7. Goosebumps 
When the movie "Goosebumps," originally a children's book franchise by American author R. L. Stine came out in 2015, I was surprisingly delighted at how well this live-action adaptation came out. The story is incredibly immersive and the many twists and turns the plot takes only makes the movie more engaging and interesting. It is also very funny and while it does play a bit into the overused teenage romance stereotype, it still manages to execute these elements incredibly well. Overall this movie left me in a good mood and I'd definitely recommend it to anyone who wants something exciting and adventurous to watch on this spooky night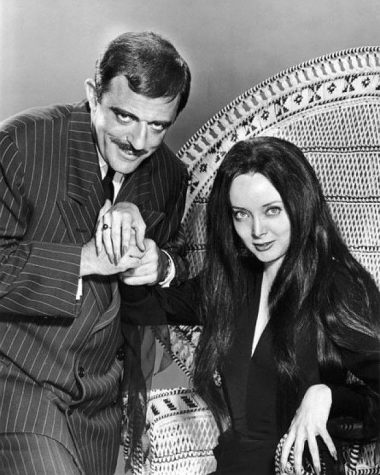 8. A Quiet Place
The Quiet Place, released only 2 years ago, got a lot of attention during its first few months out, and for a good reason too. This movie will definitely keep you awake at night when you hear the floorboards creak or the leaves rustle outside at 3 am, but the unsettlingly horrifying elements of this movie should not be the only thing concerning you. The plot manages to captivate the audience and keep you hooked to the very end despite the lack of action at all times. Because the story takes place in a world where even the slightest of noises might mean certain death, the anticipation of what could happen next due to a character's slip up builds up to the point where it becomes nerve racking. It is all worthwhile and this sci-fi horror movie is a perfect choice to watch on Halloween, especially on a windy cold autumn night.
9. Ghostbusters
The 1984 original film, "Ghostbusters," is an iconic comedy, almost as known as the genre of ghost movies themselves. There has been a sequel, multiple remakes and hundreds of references among other movies and songs, including the Netflix show "Stranger Things." Every year, there is a great chance that there will be a "Ghostbusters" costume at your local halloween shop and there hasn't been at least one year where the unforgettable "Ghostbusters" theme didn't get overused on the internet. As film critic Roger Ebert says, "This movie is an exception to the general rule that big special effects can wreck a comedy… No matter what effects are being used, they're placed at the service of the actors; instead of feeling as if the characters have been carefully posed in front of special effects, we feel they're winging this adventure as they go along."
10. The Addams Family 
Finally, last on this list, is the 1991 film, "The Addams Family." When I watched this movie earlier this year, I was surprised to find so many lovable characters and at how amused I was by its stale, yet hilarious, jokes. Despite the Addams' strange and sometimes unpleasant nature, it is very easy to fall in love with the main protagonists, especially since they have such a strong bond between each other. The plot may be a bit slow during the middle, but it compensates with entertaining and incredibly funny little adventures the characters take leading up to the climax. In the end, the story is unexpectedly pleasing and the side jokes don't distract too much from the main plot, which is why this movie would be a great pick if you want something that's not horror but still has plenty of dark humor to keep you interested.
While going outside and trick-or-treating is something irreplaceable, I highly encourage you to keep your distance so that together we can fight COVID and go back to the way things used to be before it became such a massive problem. According to the official Maryland website, here are a few things you should do, to slow the spread of this virus: 
Avoid non-essential travel

Avoid crowds
And of course:
Practice social distancing! 
So make some popcorn, get your favorite pillow, turn on the TV and get ready to spend this special Halloween watching some unforgettably spooky films!