Hogan postpones Maryland primary election to June 2 amid coronavirus concerns
On Tuesday, March 17, Governor Larry Hogan announced that the Maryland primary election, originally scheduled for April 28, will be postponed to June 2 amid concerns of the coronavirus pandemic. Maryland is the fifth state to move the date of its primary, following the lead of Louisiana, Georgia, Kentucky and Ohio.
"It would endanger public health to allow thousands of people to assemble in places like schools and senior centers which are already closed under the state of emergency," Hogan said during a March 17 news conference. Hogan had declared Maryland to be under a state of emergency almost two weeks earlier, on March 5. With a state of emergency in place, Maryland law granted the governor the authority to issue a special proclamation to postpone elections or specify alternative voting systems without legislative approval.
Hogan also directed the Maryland State Board of Elections to develop a "comprehensive plan" by April 3 to administer the primary in a way that will protect the health of election workers and voters and maintain the integrity of the election.
As of March 19, there are 107 confirmed cases of the coronavirus in Maryland. 33 of these are in Montgomery County.
"
I have two main priorities: keeping Marylanders safe and protecting their constitutional right to vote."
— Governor Larry Hogan
There will still be one election taking place on the original April 28 date. The special election for Maryland's 7th Congressional District will move forward using mail-in ballots only. The special election is being held to fill in the seat vacated by the late Rep. Elijah Cummings, who represented portions of the City of Baltimore, Baltimore County, and Howard County.
"It is imperative that the people of the 7th Congressional District have a voice in the House of Representatives and that Maryland has a full delegation representing our state in Congress," Hogan said during his press conference. 
In addition to voting in-person, voters will also have the option to vote in the primary via mail-in ballot. Maryland is one of 28 states plus D.C. where voters can request an absentee ballot without any justification. The new deadline to request an absentee ballot for the primary is May 26 to receive the ballot by mail, or May 29 to receive the ballot electronically. Returned ballots must be postmarked on or before June 2.
Hogan said that while it was feasible to enact a mail-only ballot system on a "small basis" for the 7th District, the State Board of Elections could not prepare mail-in ballots for the entire state in time for the April 28 election.
Despite this, there has still been a push to conduct the primary with a vote-by-mail only system. Some have brought up that in-person voting, delayed or not, would violate the federal recommendation of avoiding social gatherings of more than 10 people. 
In a letter to the governor, several groups that advocate for voting rights also wrote that because most poll workers and election judges are retirees — the demographic that the coronavirus poses the greatest risk to — many such workers may stay home on Election Day, leaving polls around the state understaffed. These groups expressed that voters should be able to exercise their right to vote without compromising their health.
A number of other states already administer their elections entirely by mail, including Washington, Oregon, Colorado and Hawaii. 
Supporters of a mail-in only ballot system cite its convenience factor, which could end up boosting voter turnout. Voters would be able to avoid waiting in line during working hours and the social contact that comes with Election Day crowds, and they would have the opportunity to study the ballot for as much time as they need in the safety of their own home.
"We are emphasizing to our citizens that they do have an option to vote by mail, so that if they do have concerns about being in the polling place, there's still a way to get their ballot," Julia Douglass, the lead trainer for the Election Worker Program of the Montgomery County Board of Elections, said during an Election Judge training session on March 14.
However, opponents of a mail-only ballot system cite concerns over cost, as expenses to print additional paper ballots and pay for postage could quickly add up. "I know Rockville did their latest election, they did mail-in, and it cost them I think $200,000 — so it would be very expensive for the state of Maryland to [administer the election by mail only]," Cindy Luongo, a Montgomery County election judge, said during the Election Judge training session on March 14.
According to the Baltimore Sun, mail-only voting substantially slows the final vote counting of election results. There are also concerns over the security of a mail-only system, as it would likely be more difficult to curb voting fraud and prevent voter coercion.
For now, the Montgomery County Board of Elections has enacted a general plan for conducting the primary election during the coronavirus pandemic. In addition to heavily encouraging voting by mail, every surface in the polling places, including chairs, tables, voting equipment and the touch screen surfaces of electronic pollbooks, will be frequently sanitized with Clorox wipes. 
The Board also recommends voters to bring their own pens to vote with, and hand sanitizer and gloves will be widely available to election workers. Training for the Future Vote program, where students from sixth to 12th grade act as student election aides by assisting at the polls, has been canceled. Previously scheduled election worker training has also been suspended until further notice.
More changes to the Maryland primaries may be announced within the next couple of days, including any changes to polling place locations. "I have two main priorities: keeping Marylanders safe and protecting their constitutional right to vote," Hogan said. 
About the Contributor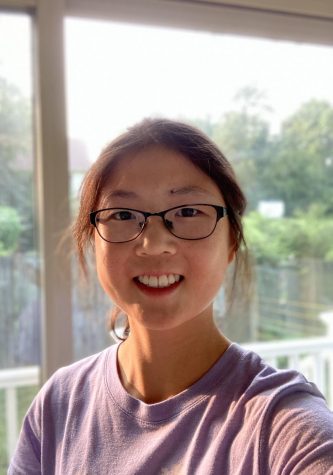 Victoria Tong, Features Editor
Victoria Tong is thrilled to continue serving as a Features editor this year, marking her third year on the Tide. She previously wrote for Opinions in...