Give Chick-fil-A a chance
Recently under fire for its indirect support of anti-LGBT organizations, Chick-fil-A does not deserve the public backlash.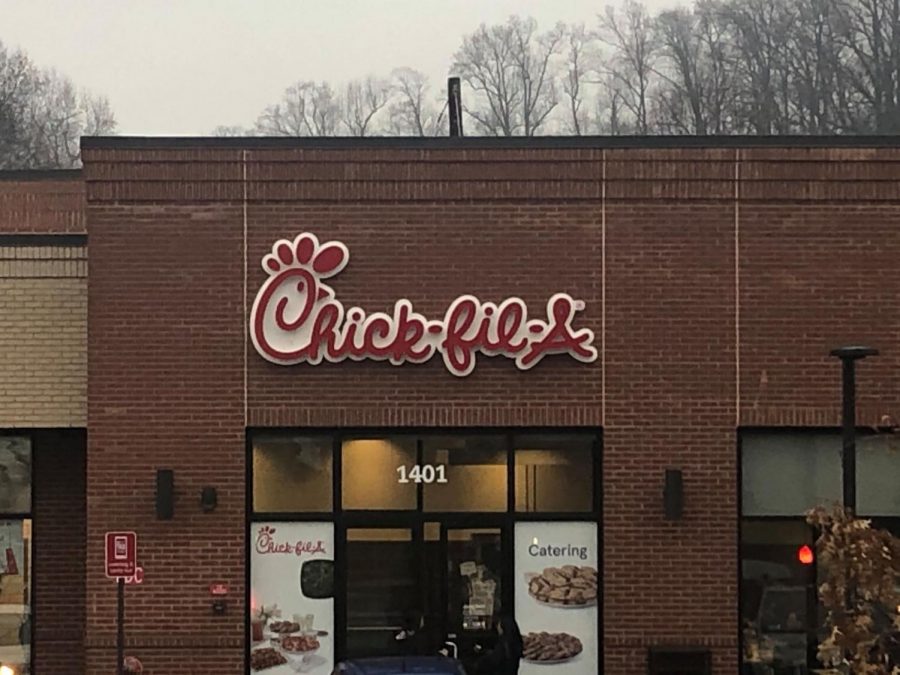 Chick-fil-A has long been considered a tasty, more-nutritious fast food option and revered for its excellent service. Many Christians across the country also appreciate its unashamed conservative values. However, these conservative values have led to misconceptions, including the erroneous belief that the company is anti-LGBT or even that the company will discriminate against potential employees based on their sexual orientation.
Recently, Chick-fil-A has been under fire because of their perceived anti-LGBT stance. Many customers have stopped patronizing the popular chain and, while they may mean well, they are simply taking the wrong attitude. Even hardened progressives should think twice before boycotting Chick-fil-A.
Recently, many colleges including University of California, Los Angeles (UCLA) and Rider University have even taken steps to prevent Chick-fil-A from building locations on campus.
These claims against Chick-fil-A are misguided, but they are worth noting. This sentiment originated when Chick-fil-A CEO Dan Cathy famously spoke out against gay marriage in 2012, saying that it violates the "biblical definition" of marriage. Whatever you may think of this statement, it is only a personal, religious conviction held by Dan Cathy, not the company at large. 
If you are uncomfortable about supporting Chick-fil-A because of these statements from their CEO, consider that you have most likely never inquired about the political positions of other CEOs. Maybe this is because they don't really matter. Far more important are factors like price, quality, and service. If we only buy from people with the same political affiliation, we will end up with a group of disparate factions, not a union.
Perhaps we should be more concerned with the company's principles than their stances on social issues. If you are more concerned about a private opinion here or there but not worried about supporting a decent, moral company, your priorities are simply backward.
Many people also allege that Chick-fil-A donates to anti-LGBT charities, which is greatly exaggerated. One more audacious claim is that they pledged money to Uganda, supporting a measure to make homosexuality punishable by capital punishment. According to left-leaning Snopes, Chick-fil-A did support conservative Christian organizations such as the WinShape Foundation and the Salvation Army, but there was never any Ugandan death penalty law that was funded or supported by WinShape.
The WinShape foundation, founded by Chick-fil-A founder S. Truett Cathy, hosts overnight summer camps and provides homes for homeless children. The Salvation Army helps the homeless, refugees, and the hungry. There are no accounts of either organization discriminating against the LGBT community, and the Salvation Army even has a specific ministry to support the homeless and hungry in the LGBT community.
Furthermore, several weeks ago, the chain released extreme revisions to its charitable giving structure. They have transitioned from giving to charities such as the Fellowship of Christian Athletes and the Salvation Army to a more specific structure that includes charities in the categories of education, hunger and homelessness. This should have served to eliminate any doubts about Chick-fil-A's neutrality, because they ended support for the major organizations that caused the opposition in the first place. 
But groups like Gay & Lesbian Alliance Against Defamation (GLAAD) have still complained that this is not enough, and that the company must take further steps to show support. This is an unfair standard to which we would never hold other companies. Chick-fil-A has agreed to step away from the political sphere on this issue, and there is no need for them to enter it again, just to support a cause you like.
Ultimately, you should simply give Chick-fil-A a chance. Most criticism against the company is unfounded or misinformed, and they are unfairly held to a double standard.