AOTI: Ayoola looks to football career after high school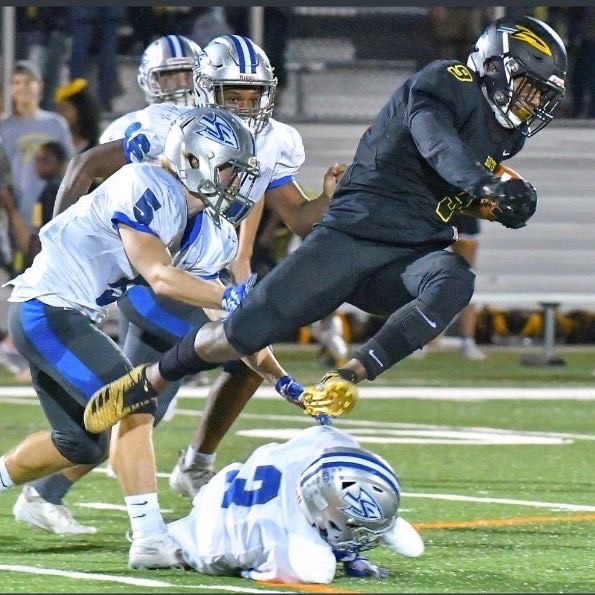 Senior T'kai Ayoola, a running back for the RM varsity football team, is the most recent recipient of the University of Maryland's Preferred Walk On scholarship.
Ayoola has been playing football for the past nine years and he continues to further his athletic career into the college level. His career started off with his first team, the Howard County Terps. "I've been playing since I was eight years old. It's a love," Ayoola said.  His love for football has only continued since, as he played through high school as well.
This past season, Ayoola scored 19 rushing touchdowns. He has been a starter on the varsity team since he was a sophomore and has been on the varsity roster since his freshman year.
Ayoola thinks of his fellow football players not only as a team, but also a family. "Football is definitely a team sport. It is not just about me or any other person, but I feel like whenever my team needs me, I'll be there to get the job done," Ayoola said.
As the top scorer for the varsity football team, he helped to secure the team an overall record of 8-3, a 35th rank in the state of Maryland, and a spot in the Division 4A playoffs.
Despite the pressure for the football team, Ayoola tried his best to keep his head clear. "You know, coming into this as an underdog, as long as we stay focused and stay motivated and stay into the season, we can win, for sure," Ayoola said.
Ayoola's contributions to the team also hasn't gotten unnoticed by his teammates. Junior Dylan Lowe said, "He's a really hard worker, at practice he is always focused and never talks or goofs off, he's reliable and all these things make him one of our best players."
Although the Rockets fell just short of a state championship showing, the team is still regarded as one of the top in the county, though it wasn't always this way.
Ayoola said, "It's been a couple years since we've won the first round of playoffs, you know, so being the underdogs we have to fight even harder to beat Northwest. It's not always easy, but everything worth fighting for isn't easy."
Individually, Ayoola has also seen his fair share of setbacks over the past few years. For instance, he dislocated his right shoulder in both his sophomore and junior year. "Being able to come back and play on it and still do well is one of the best feelings," Ayoola said.
After the accidents, he pushed harder to become an even better athlete than what he was. "When I got brought up to the varsity team (freshman year), I knew that I would have to train even harder because I had never played varsity before, so I knew that I would have to work out and prepare my body before I stepped onto that field." With this in mind, Ayoola began training and gained 25 pounds in between his junior and senior year.
As the years passed, Ayoola's statistics have only improved. During the senior night game against Wootton, Ayoola averaged 18.25 yards per carry, ran a total of 146 yards, and also scored four touchdowns.
After this seasons performance, Ayoola plans on taking his football skills to the next level at the University Maryland where he has received a "preferred walk on scholarship." This scholarship will almost guarantee Ayoola a spot on the varsity roster for the University of Maryland, a Division One school.
His contribution to the football team has been a major one, and his impact on the team as a whole will be remembered for years to come.
"I just want to say thank you to everyone who shows me and the team support and love and thank you for picking me as athlete of the month," Ayoola said.