Tik Tok soars in popularity among students
TikTok, the social media platform launched just three years ago, has now garnered over 500 million active users worldwide and 110 million downloads in the US alone. The app that allows users to create and share short videos with special effects and musical overlays is now one of the most popular apps among teens. People dancing in front of their phones during lunch is not an uncommon sight in the hallways. Indeed, 41 percent of TikTok users are aged between 16 and 24. However, the users are not just teenagers: companies, ranging from the NBA to Chipotle to the Washington Post, have also gained massive fan bases on the platform, and the influence and popularity of TikTok only continues to rise.
But what made the platform's popularity skyrocket the way it did? Junior Taylor Schoonmaker, a frequent TikTok user, says that TikTok is better than other apps because there's more flexibility in content creation. "There are so many things you can do, and it's different, there are more possibilities," she said. "It's like Vine mixed with music." 
The fresh, quirky content on TikTok particularly attracts and engages younger audiences. "I definitely relate to a lot of the content on TikTok and I think a lot of students do too," sophomore Natalie Weger said. "It's also a good platform to connect to others. I know a lot of people who have made friends and talked to new people through TikTok."
"
Recently, I made one randomly while at home and it blew up overnight and has reached 3 million views."
— Camber Vincent
Many students believe that TikTok gets its popularity from the ability to go viral at the simple tap of a finger. In fact, some students have even gone viral on TikTok themselves, just from casually making videos. Senior Camber Vincent, who has amassed a substantial following on TikTok, can testify to this. "Starting in the summer, I made some videos with friends. Recently, I made one randomly while at home and it blew up overnight and has reached 3 million views," he said.
Despite all the perks, students admit that TikTok does have its downsides. Being addicting is one. "A lot of people download TikTok as a joke, but I did that and I actually started liking it," Schoonmaker said. "It's kind of addicting." 
"There's times I can't get my homework done because I'm on the app too much," Weger said. 
Some even find TikTok more of a waste of time. "I think that TikTok is a well designed app, which means that it is set up to steal your time, and make you unaware of how much time you are truly spending watching and making TikToks," freshman Kevin Baer said. "I just think that they are really weird and I just don't understand the entire premise."
But the app may have a much darker side than just being addicting. Members of Congress have asked U.S. intelligence officials to determine whether or not TikTok poses a national security threat due to accusations of illegal information collection and censorship. TikTok agreed in February to pay a 5.7 million dollar fine to the Federal Trade Commission over allegations of illegally collecting personal information of children under 13 without parental consent, which violates the Children's Online Privacy Protection Act. 
"I'd have to learn more about it before I decide what to do," Weger said. "I definitely can see that it's probably not one hundred percent safe because no app really is."
However, other students are not too concerned over the possible security issues. "In my opinion, the app has every right to decide what is appropriate or not, as long as they are upfront about what they are censoring, and what they are doing with it," Baer said. 
"Users of the app know that what they post is going online for anyone to find, and there isn't much valuable information that can be found on the app," Vincent said. 
"Facebook, Snapchat, every app is like that," Schoonmaker said. Indeed, an Oxford study found that nearly 90 percent of Android apps are set up to track users and share data. "So it's your choice whether you want to stick with it or not," Schoonmaker said.
About the Contributor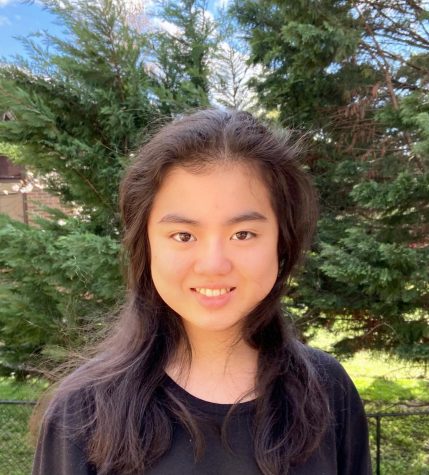 Evelyn Shue, Graphics Editor
Evelyn Shue is so excited to begin her second year on The Tide as co-editor of the Graphics section. She was a writer for Arts and a graphic artist in...