Making space for diversity in the book room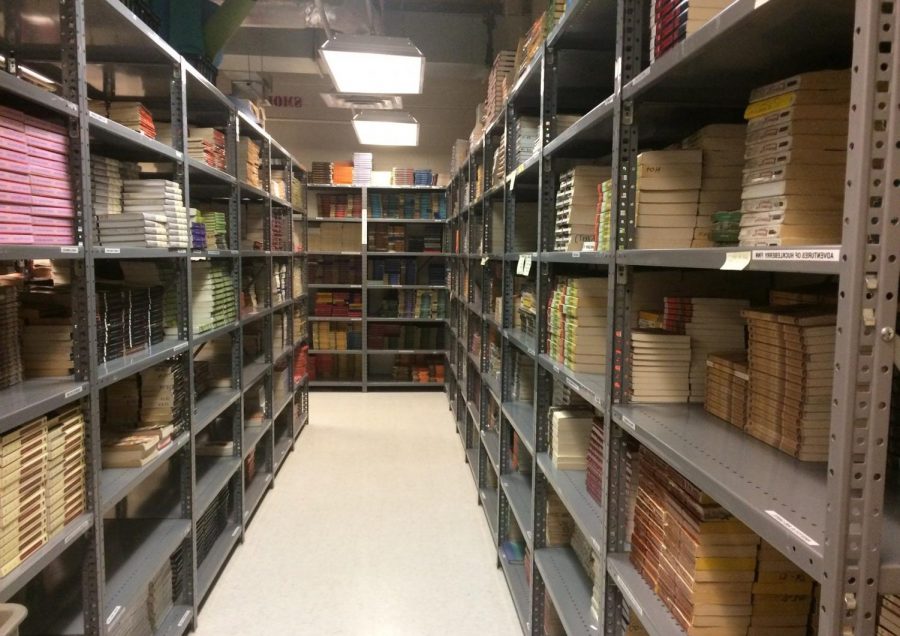 Subjects such as English are often left to the discretion of the teachers as to what the assigned reading will be for the semester. How do English teachers decide which books are studied over the course of the semester?  
"It's really the county who gets to approve the list of books for every grade level," English resource teacher Leah Michaels said. "The county dictates some books as core texts, meaning everybody has to read them." 
Ms. Michaels, who has served as  an English resource teacher for three years, is constantly pushing to expand the inventory of the RM book room. 
"The way we get them is by looking off a list of books the county has approved. Then I just see how much money I can get… [it] is just a matter of me going to the school and being like: 'I need X amount of money' and seeing how much they will give me," Ms. Michaels said. 
As a result, Ms. Michaels has been able to transition away from the old books that are falling apart at the seams and purchase newer, more durable books.
The approved books for the English department are distinguished by the grade level and difficulty, and the process can prove to be rather tedious. 
"If there is a book I want to get approved, I will pester people until I have it. If somebody wants a book approved, they need to file a form explaining its literary merit, how it's going to be used, what grade level is appropriate, [and] its value," Ms. Michaels said.
 This form is then submitted to the Evaluation and Selection Committee, a committee on which Ms. Michaels served. "The committee is a group of people who read the book, discusses the book and the form and approves the book," Ms. Michaels said.
Assuming the book makes it through that process, it then sits with other books awaiting final approval on what is known as the 30-day shelf: an online forum where the county presents each book to the public's viewing and each book is up for public comment. 
"You could see what's under consideration to be approved, so you could go and comment," Ms. Michaels said.
Acting as both a regular English teacher and as the head of the department, Ms. Michaels has the unique ability to help focus on what grade levels receive new books. 
"This year I am focusing my attention on 10th grade, but I add new books to every grade level," Ms. Michaels said. "I did 10th grade based on what they were already reading and looking where they needed a little bit more energy."
Ms. Michaels also tries to emphasize voices that she feels are missing or not accurately represented in the curriculum. She introduced "Aristotle and Dante Discover the Secrets of the Universe," featuring a prominent love story between two boys. 
"It depends on who you ask, but I think there is a push, not just LGBTQ but also women, anyone of color, any marginalized anyone. Basically everything I buy at this point is something that is missing," Ms. Michaels said.
It is because of these new introduction of books that it becomes evident that the MCPS curriculum is slowly opening up and introducing students to new voices and perspectives otherwise overlooked and not represented.
"A lot of books are now becoming new classics and the county is so far doing less and less where they are making large groups of kids read the same books, which I think is great," Ms. Michaels said.