No-shave November raises cancer awareness with spirit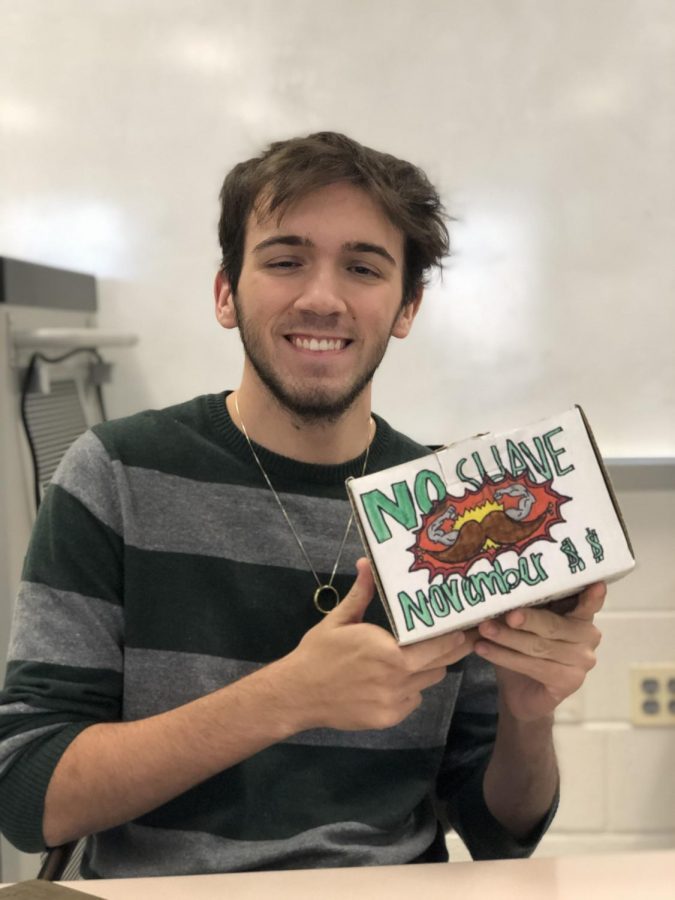 No-Shave November is a call to action for students and teachers to devote their appearances to a great cause. This month, 18 men are raising awareness and money for prostate cancer as they carry donation boxes around RM. Camaraderie and competitiveness have flourished as participants strive for the esteemed titles of Longest Beard, Best Styled Beard and Most Money Raised.
 The pool of contestants has grown since last year, and each competitor has his own reason for participating. "It's something I did last year [and] I thought I could do a better job this time around. It's really just a great cause—we're raising money to help people with cancer and contribute to the American Cancer Society," junior Pierre Zeineddin said.
For some, this cause hits close to home. "My uncle survived prostate cancer. He [recently] made it through chemo and he's going to be okay," junior Alex Grapes shared. Although No-Shave November gives its participants the opportunity to raise awareness, it often comes at the expense of their own comfort.
"Sometimes, you can wake up, and it feels like your whole face is burning," Zeineddin said. 
"
[My beard] looks god-awful—I look like one of those chinstrap penguins."
— Rob Kearns
On the other hand, Principal Monteleone has not found abstaining from shaving to be problematic. "It's more painful to shave. I'm notorious for coming in with a bloody neck," Monteleone said. "I bought myself an extra ten minutes a day."
Some contestants have received backlash from their partners. "The first [couple of days], when I had to be completely clean-shaven, my wife was not a fan and kept telling me how bad I looked," math teacher Patrick Wainwright said. 
The harshest critics, however, are often the contestants themselves. "[My beard] looks god-awful—I look like one of those chinstrap penguins," senior Rob Kearns said.
Family and social dynamics have also changed. "My kids are so not used to me having a beard. I always catch them staring when I'm not looking," English teacher Michael Arenas shared. 
At the beginning of the competition, many contestants suffered through an uncomfortable limbo. "There's this awkward phase between having a beard and not having a beard, and that's where I am now," senior Zayus Clark said. 
The participants are taking the challenge seriously, however, employing a multitude of strategies in their quest for trophies and bragging rights. "Every single time somebody donates, I let them draw something on the box," Hrozencik said. "Meth stole that idea from me."
Students and teachers alike have been throwing themselves into the fundraising rivalry. "I've been bribing my students by giving them candy if they make a donation, so I'm hoping to make the most money," Mr. Wainwright shared. 
"
It's more painful to shave. I'm notorious for coming in with a bloody neck."
— Mr. Monteleone
"This is a lot of my own stuff [from] an old box of coins I had in my room," Clark said. "I think you're allowed to donate to yourself—it's all going to charity anyways." 
Occasionally, the competitors get a little feisty. "A lot of them are chumps; I don't think any of them can really grow a beard," Hrozencik said. 
The teachers are not above sharing this attitude. "They can't match up to me; that's all I can say," science teacher Akshay Gandhi said.
No-Shave November has become a creative outlet for the contestants. "I first shaved in a weird handlebar moustache; the students loved it," Gandhi said. 
Senior Meth Munasinghe put his own spin on the challenge to raise the stakes. "If I can miraculously get $100 in donations by the end, I will dye my beard before shaving it off," he said. "The top donator will get to pick the color." 
Superstition has come into play for Arenas. "I'm a big NFL fan and my favorite team is the Steelers. Ever since I started growing this [beard], we haven't lost a game," he said. 
No-Shave November has had a profound impact on how the contestants view the world. "I see people who have beards in a new light. I see how much they struggle to maintain it and I respect them deeply," Munasinghe said. "I didn't really think I'd like to grow out my beard, but after seeing it for a while, I think I might keep it for a little while longer."