MoCo for Change marches toward a better world
Eight months have passed since over 8,000 students from the DMV area rallied against gun violence at Capitol Hill. This momentous event that gained national media attention was coordinated by Montgomery County Students for Change, an all-youth organization that fights for social justice through student activism. 
The group was founded in March 2018 when students were infuriated about a deadly school shooting in Parkland, Fla. a month earlier. 
"We were just a group of high school students from around the county that were tired of the inaction around students being brutally slaughtered in their own classrooms," junior Claire Gelillo, one of the co-presidents of the organization, said. 
Since then, MoCo for Change has expanded its focus to multiple issues, some of which include gun violence, climate change and student inequity. 
Currently, co-presidents senior Aishlinn Kivlighn, who attends Wootton High School, and Gelillo run the organization. Vice president junior May Soemin also attends RM. The rest of MoCo for Change comprises about 130 students from all over Montgomery County, making it a strong representative of the youth perspective. 
Being an all-youth organization in today's political climate comes with both positives and negatives. "The advantages are being able to catch the attention of the nation because when a group of 13- to 18-year-olds are knocking on the door of the Capitol, it definitely causes people to look," Soemin said.
However, the cons of being a student-led organization can include administrative hardships and time management, which the members of MoCo for Change have had to overcome. "It takes a while to adjust, but eventually we know a balance," Soemin said.
Nevertheless, MoCo for Change fought through these challenges and achieved significant accomplishments, including earning the Peacemaker of the Year Award in Montgomery County this October. 
In addition, MoCo for Change has lobbied senators and members of Congress into considering potential gun legislation. "By lobbying, it creates a relationship between the lawmakers and their constituents, which is essential to creating the change we need," Soemin said.
Since fighting against gun violence is one of the group's main focuses, MoCo for Change works toward attaining sensible gun laws through lobbying, protesting, writing letters, displaying art and engaging in nonviolent demonstrations. 
They favor common sense measures such as background checks, extreme risk protection orders and an assault weapons ban.
This year, MoCo for Change began to collaborate with MoCo on Climate, a student-run group that demands climate reform through protesting, legislative advocacy and student activism. 
The have supported a petition by MoCo on Climate calling on MCPS to make their buildings greener, switch to electric buses, educate students about climate change, and give excused absences for student activism.
To combat student inequity, MoCo for Change advocated for a proposal calling upon the Board of Education to perform a countywide analysis of Montgomery County's school boundary lines. 
"We testified in front of the board, attended hearings, participated in community conversations and talked to local news outlets," Gelillo said.
This analysis was performed to encourage fairness in our school system and to ensure that the Montgomery County school boundary lines are not drawn in bias towards socio-economic class. 
MoCo for Change also believes that exercising the right to vote is a big step towards solving these issues. As a result, the organization publicly supports candidates who support its stances or advocate for legislation it has pushed, all while encouraging others around the county to do the same. 
Additionally, the organization partners with the Montgomery County Board of Elections and MCR-SGA to create voter registration drives in high schools across Montgomery County.
The organization's most notable example of nonviolent demonstration was the 2018 March on Capitol Hill, a second round of which Moco for Change is planning on doing again this year. 
"It was exhilarating and watching the giant crowd from top of the Hill was the most powerful sight I've ever witnessed," Soemin said. 
The event gave many of the organization's members an opportunity to speak in front of thousands of people at the March for Our Lives protest.
Organizing events like these requires much planning, which they carry out by holding meetings at the Carver Education Center. These meetings involve hosting speakers, including Congressman Jamie Raskin, local organizers and activists from all over the nation. 
Social media has also played a major role in coordinating events by allowing them to reach out to students through platforms such as Instagram, Facebook and Twitter. 
By getting involved with MoCo for Change, students across Montgomery County work toward making a strong impact on society. "With our proximity to the nation's capitol, we have a unique opportunity to make a widespread difference. Come be a part of it," Gelillo said. 
About the Contributor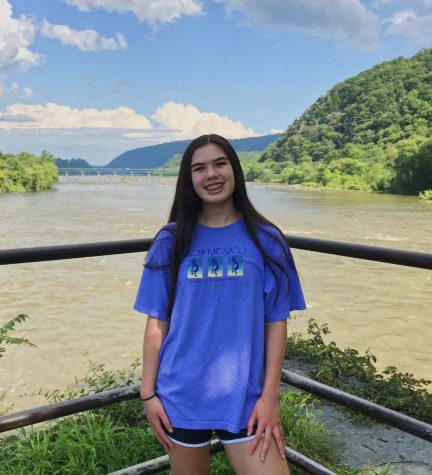 Natalie Weger, Centerspread Editor
Natalie Weger is excited to be a Centerspread editor for the Tide this year. For the past two years, she has written for the Centerspread and Features...