ESOL students share their Thanksgiving experiences
Thanksgiving is a holiday that transcends the boundaries of race, religion and culture. While its origins are deeply rooted in American history, with the first Thanksgiving having taken place almost 400 years ago as a celebration of the Pilgrims' first successful harvest, the holiday has since evolved into a day of family reunions, football and feasting. Throughout the long history of  Thanksgiving, however, its roots have remained the same: gathering together to give thanks for the past year. 
It is in this sense that Thanksgiving is for everyone; there are no unspoken terms or conditions to satisfy in order to spend time with family and eat too much turkey. Though it may seem that one has to be strictly American to participate, many immigrants to the United States have seamlessly been able to adopt Thanksgiving traditions, while also putting their own spin on the holiday by weaving aspects of their own culture into it.
However, for those still very new to the country, Thanksgiving can be an unfamiliar experience. When senior Sumain Ome first arrived in America from Bangladesh, she had no idea what the holiday was all about or how to celebrate it. But, she quickly learned to embrace its traditions. "My sister [told] me about Thanksgiving. We buy the turkey, we invite people to come [to] our home, like a party," she said. 
"
I'm thankful for meet[ing] many people in the school, and I made many friends."
— Hissel Alfaro
Sophomore Sahar Tabet, who is originally from Yemen, had a similar experience when first learning about Thanksgiving. Initially, she did not know much about the holiday when she came to America, but she found out more through reading and her teachers' explanations. Now, like any other family, she and her family celebrate Thanksgiving every year. "[I]t's just Thanksgiving. It doesn't really say like, 'Okay, you don't have to do it because of your religion," she said.
Though Tabet had to familiarize herself with the American customs during Thanksgiving, the concept of the holiday was not entirely new for her. "Yeah, we actually do Thanksgiving. It's called Shukran Day, like Thanksgiving," she said. ("Shukran" means "thank you" in Arabic.) "But it's a different day … So, in Yemen, they're like in January, or December. Different days and location, but it's actually the same thing."
Both Ome and Tabet have easily adopted the American tradition of gathering with their friends and family for a big Thanksgiving dinner, but one way that they have incorporated their own culture into the holiday is through food. Along with the typical turkey, Bangladeshi and Yemeni food, respectively, also appear on their tables. "The most famous food in Yemen is aseed … So it's like bread and a sauce, with salad, and mixed up," Tabet said.
"
It's just Thanksgiving. It doesn't really say like, 'Okay, you don't have to do it because of your religion."
— Sahar Tabet
For sophomore Hissel Alfaro, who is originally from El Salvador, foods from her home country also make up her Thanksgiving table. Her family serves turkey, but Salvadoran dishes like pupusas—thick, handmade corn tortillas stuffed with fillings like cheese, pork and beans—and baleadas—thick flour tortillas folded in half and filled with refried beans and cheese—are the real stars of the dinner.
Rather than expressing gratitude for the year that has past, Ome also shared a unique interpretation of the meaning of Thanksgiving. She believes that the real purpose of the holiday is to give back to the people around you. "I think Thanksgiving mean[s] that you have to give something to a friend, or — you're giving, so you have to give someone or something," she said.
However, like many this Thanksgiving, Alfaro is sticking to the traditional meaning of the holiday. She will be giving thanks for the people around her that have welcomed and supported her in coming to this country. "I'm thankful for meet[ing] many people in the school, and I made many friends. And I'm thankful for all my family," she said.
This Thanksgiving, Tabet is especially grateful for simply being in America. Last summer, she visited the rest of her family back in Yemen, but she was unable to return to America. "I was stuck there because of the war, the civil war. So that's why, like, I missed one month of sophomore year," she said.
Yet, she was able to overcome this overwhelming barrier, and she is now a dedicated student taking honors classes. "I work so hard to bring my grades up, and I'm so thankful because like, I have good grades so far, even though like I missed one month, but I still have like A's and B's," she said.
About the Contributor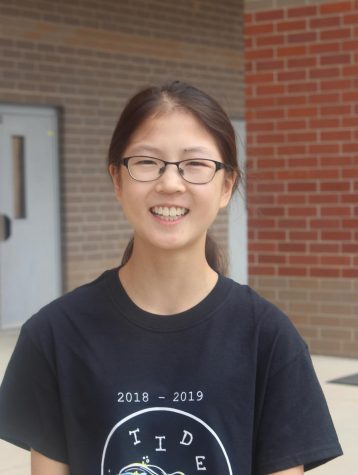 Victoria Tong, Features Editor


Victoria Tong is thrilled to serve as a co-editor of the Features section this year. Previously, she was a writer for the Opinions section, covering...