Fighting the Beast: Seniors grind through college applications
Many students romanticize senior year, looking forward to a relaxed second semester after college decisions have been finalized and high school draws to a close. However, they often forget the struggles of first semester, where they must juggle schoolwork, extracurriculars, personal commitments and the dreaded college applications. Every student has different challenges with college applications, but almost everyone has to go through the same basic steps.
The first part of applying to colleges is the initial research. There are plenty of school resources, like the Naviance filter or the Career Center, but each student has different preferences, making the personal research a difficult part of the process to navigate. When students skip over this research, they often struggle to complete later steps in the process. "I feel like I personally didn't know a lot about different colleges in the beginning, so I feel like I didn't know how many choices there were that would fit for me," senior Christine Zhou said.
There are also numerous standardized tests that must be completed and sent to colleges. While these tests are used as a means to more accurately compare students from around the world, some people regard this assessment as unnecessary and biased against certain groups of students. "If you're good at taking standardized testing, it's amazing for you. But if you're not, it's kind of bad for you," senior Fatima Imtiaz said.
In terms of school guidance, there are many readily available resources. The school's Career Center provides guidance through the application process and offers essay writing workshops. The school also maintains a Naviance system, which can help narrow down college choices and keep track of deadlines. "We strongly encourage students to use Naviance's system in addition to their own checklist system to make sure all their pieces are being sent on time," counselor Brigid McKelvey said.
However, some students find that they still lack information. "I feel like they should spend one more day coming to class and explaining everything thoroughly," Imtiaz said. 
Scholarship and financial aid applications can be a daunting and sometimes overlooked section of the application process, since there are many parts that students are unfamiliar with. "I remember on November 1st I felt confident and I was like I turned everything in, and then seven PM, I realize I have to upload so many tax documents, because schools require CSS, and FAFSA, and their own portal. It was a stressful period and I remember going through that so many times because I just didn't know," senior Emnet Kahsay said.
Of course, there are also the infamous college essays, which are usually regarded as the most challenging and time-consuming parts of the applications. These essays span from deeply personal topics to creative, mind-boggling scenarios. Not only do many colleges ask for multiple long essays, but they also require a different writing style than most students train in school. "You have to write about yourself and keep yourself as the focus of the story that you're writing, so I feel like the school, as far as the curriculum, didn't prepare us as well for that," senior Matt Gu said.
Almost everyone that has gone through the process shares the same piece of advice: start early. "The CommonApp essay will be the same every year, so if you start early…it'll be a lot less stressful than if you start late, cause senior year will hit like a brick," Gu said. This reduces last-minute panic and gives applicants the flexibility to explore and change their topics. 
Although the college application process is notoriously extensive and stressful, there is no right or wrong way to apply. Every student has a different path and strategy when approaching their application. "If you can enter into this process with the goal of making a good decision and the one that is right for you, then you will be much more successful in choosing a good match for college and the process will be much more enjoyable," Ms. McKelvey said.
About the Contributors
Julie Yeo, Features Writer
Julie Yeo has been a writer for the Tide during all four of her high school years. She has written for both the Features and Centerspread sections and...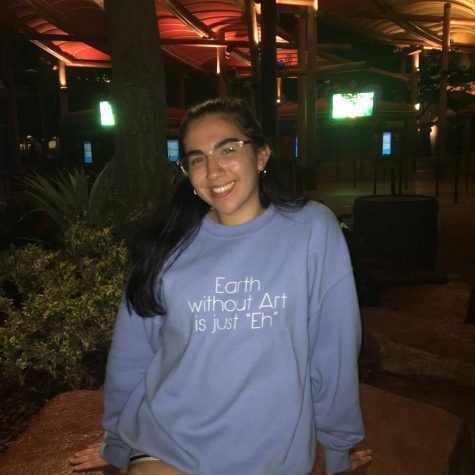 Victoria Koretsky, Assistant Features Editor
Victoria Koretsky is a junior at Richard Montgomery and the assistant editor for Features. Outside of the Tide, she loves participating in drama, playing...