Poms dances into competition season
The RM Poms are well known for their performances on the football field and the basketball court, but their captivating dance routines don't stop once halftime is over.
As fall sports are winding down and winter sports are starting up, the Poms are still going strong, training for their upcoming competition season. 
Poms practice every week Monday through Thursday and will begin practicing on Fridays as well after football season ends.
During their two hour practices, the Poms rehearse performances, practice techniques and learn new routines. "We have a lot to choreograph, which we have to change and fix for the competitions," senior captain Lucy Cole said. 
The girls begin to prepare for their competitions while football season is still going on. During this overlap, they practice their halftime performances and prepare new ones for basketball season and their competitions. "The music for this year's competition is different, and I'm excited for that," sophomore Julia Serway said. 
Poms get their first chance to show off their skills at the exhibition, which takes place on Dec. 14 at Seneca Valley High School this year.
The exhibition serves as a precursor to the actual competition; any MCPS Poms team can perform their competition routine and get feedback about their performance. "It's a good way to see how we fit in the competition," senior Avery Jones said. 
Poms competition season officially begins with three invitationals that any MCPS Poms team can participate in. This year they are on Jan. 11 at Northwest High School, Jan. 18 at Blake High School and Jan. 25 at Damascus High School. The RM Poms plan to perform in all three.
Each Poms performance about four to six minutes long and is scored on choreography, technique, difficulty level and energy level. "The routines are really tiring, you have to make sure you're keeping your energy up," Jones said.
Each MCPS Poms team belongs to one of three divisions, with the RM Poms in Division 2. The teams are given a rank within their division and get feedback on their routine as preparation for the county-wide competition. 
Following the three invitationals is the county wide competition, a required competition between all the MCPS Poms teams in their respective divisions. This year it will take place on Feb. 1, 2020 at Montgomery Blair High School.
The Poms are judged on the same points as invitationals and are given ranks within their division. "We are definitely motivated to perform well, score high and are looking forward to a successful season," junior Kaya Clark said.
The county-wide competition differs from the exhibition and the invitationals. "Counties are much more intense," Jones said. The scores and placements from the county-wide competition are the most important for the Poms as they determine if they will change divisions the following school year. 
In addition to these differences, in the county competition, an MCPS Poms team has the opportunity to win the "spirit award" for having the most spirited audience. "We need people to come out and cheer for us," Jones said. 
Leave a Comment
About the Writer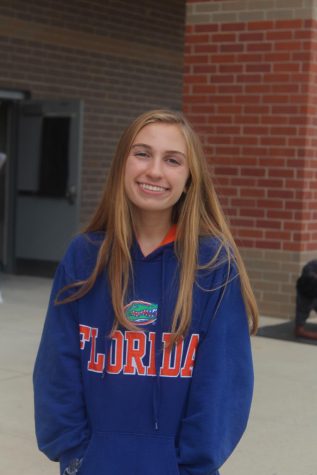 Brooke Hilliard, Center Spread Editor
Brooke Hilliard began writing for the Tide during her junior year at RM in the Features section and is excited to express her love for colors and design...