The Black Maskers power through tech week
Despite the end of the quarter last week, hundreds of students could be found running around in the school auditorium well past dusk. Some were caked with gray paint in their hair, while others wore headsets with mics. Although this may sound like a peculiar circumstance, spending over 12 hours of their day at Richard Montgomery is a common experience for those who are part of tech week. 
Tech week is the week before the opening night of a show when the cast, crew and pit orchestra come together and run through the whole performance. They treat these rehearsals as if they are the actual show nights, usually practicing with full costumes, makeup, lighting and more. For the Black Maskers, RM's drama club, last week was their tech week, where they prepared for the opening night of their fall musical The Addams Family. While overseeing the tech week rehearsals, music director Maddy Gershunsky said, "[Tech] week is kind of like a wake-up call for [the students], like, 'Oh wait, we have to work really hard to get the show up and running in less than a week,' so these hours are very much needed."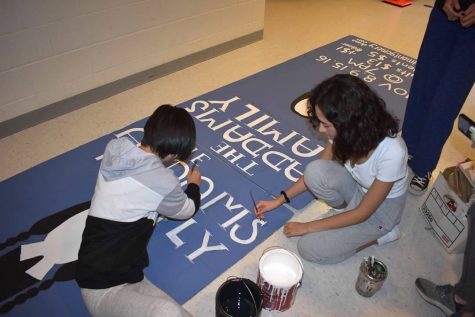 Members of the Black Maskers agree that tech week is an essential part of the process of constructing the show. "I've done this for four years, and every year tech week is when everyone improves the most, especially because this is the first time all of the cast, crew and pit work together," senior Valerie Wang, one of the dance captains, said. "Before tech week, everyone is kind of a hot mess, but we all manage to pull it together."
Staying at school until 10 p.m. for an entire week is as tiring as it sounds, but the students say that that is what makes it rewarding. "[Tech week is] really stressful but that's going to come when you have a commitment, but it's also really fun and you make a lot of memories and a lot of friends so it's worth it," freshman Diya Britto, who plays the Saloon Girl Ancestor, said.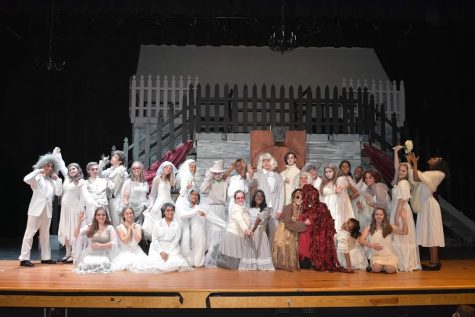 Although tech week is mandatory for all those involved during the final show nights, the Black Maskers enjoy staying after school and are dedicated to making the show a success. For her role as a set decoration chief, senior Ashley Guevara is not required to stay for all of tech week, yet she chooses too. "Even when I have a lot of work to do, I still kind of want to be here at tech week, even if I'm wasting my time just sitting around. Kim [another set decoration chief] and I describe it as a sleepover but not really, just because everyone is here until really late, and I don't think there are many other clubs where you are here until 10 p.m., hustling in your pajamas," Guevara said. 
Senior Rina Levy, a technical director and senior member of the drama board, said that she fell in love with drama her freshman year because of the community that tech week created. "All the craziness that goes into 300 people all being invested in one common goal is really exciting, and the opportunities to bond with everybody and spending these long nights together and eating dinner together are so pivotal in making the relationships that make this drama club so special," Levy said.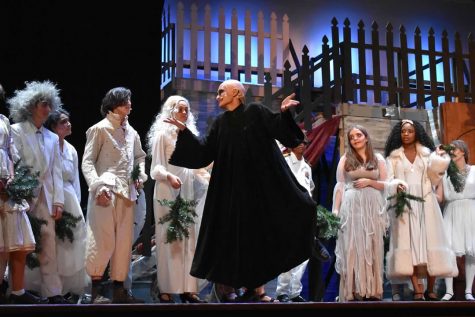 All the students who have experienced tech week have advice for newcomers on how to survive. The Black Maskers all say time management is a crucial skill needed in order to make balancing school work and tech week possible. Junior Bridget McKirgan, a running chief, said, "You have to find every down second you have and spend that on homework, and you can usually get a lot done."
Despite realizing the value of time management, crew, cast and pit all stress the significance of rest in order to survive this especially taxing week. Freshman Allison Howlett, who plays Pugsley Addams, said, "If you have time during school to do your homework, do that so when you go home you can just go to sleep because you have to rest your voice and your body, so sleep is of the utmost importance."
Liam Chen, a pit chief, supported her sentiment and said, "Have fun, and don't tire yourself out too much."
Levy shared a unique, yet extremely crucial piece of advice, which was to come to tech week with a positive attitude: "It's the people who come who are eager to give it their all and make friends and be really positive about the experience, who are the ones who have the best time."
There are still chances to see all the effort that the cast, crew and pit put in during this long, laborious week. The remaining show dates for The Addams Family are on Nov. 15 and Nov. 16. Tickets cost $5 for students and $13 for adults, with an additional dollar for tickets bought at the door.
Buy tickets at http://richardmontgomerydrama.ticketleap.com.
About the Contributor
Paris Ye, Senior Features Writer
Paris Ye is a writer in the Features section. As a freshman, this is her first year involved with The Tide. She spends her free time reading, retouching...